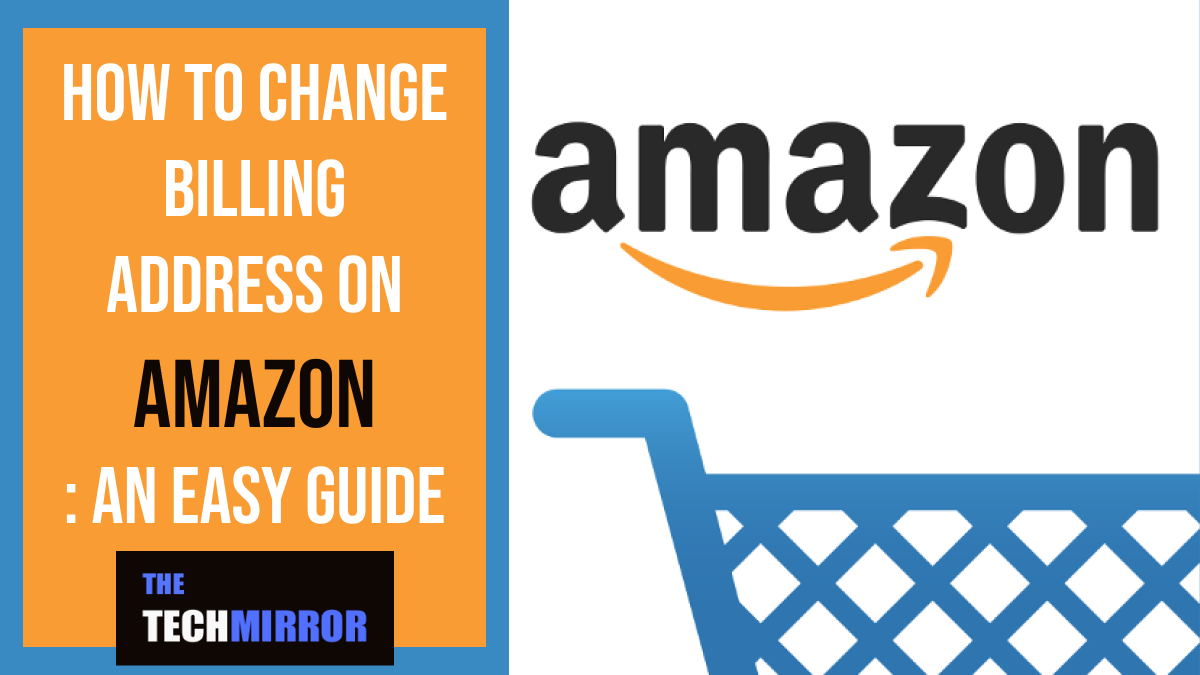 Amazon is committed to customer obsession and operational excellence. It offers a range of deliverables which include fresh produce at customers' doorstep and is always finding new ways to delight customers with entertaining stuff such as movies, music, and much more. As on operational front the best thing in Amazon is the flexibility offered to customers for adding or changing addresses for delivery and other related purposes. If you are looking for how to change your Billing Address in Amazon, you are landed to the right blog post. You can effortlessly change your address, the one registered on your Amazon account, by following a simple method covered herein.
Before heading to the process of changing billing address, ensure that you want to change your billing address. As most of the people get confuse between shipping and billing address, and it is imperative to understand what does billing and shipping addresses mean on Amazon and how these two differs. So let's first:
Billing Address VS Shipping Address in Amazon?
Consider the below mentioned definitions of the Billing & Shipping Addresses to identify point of difference between them.
Billing Address: The address which is mentioned in your personal verification document as a permanent Address is taken as Billing Address.
Shipping Address: The Address used to deliver any product after ordering. In a simple words, whenever you order any product on Amazon you have to add an address where you pick the product, that address is taken as Shipping Address.
Thus here are the differences between these two:
The billing address is the address directly linked with your payment method or card. For example, if you are using credit or debit card to make the payment for your Amazon Orders, then in such case the address linked with that card will be considered as billing address. On the other hand, shipping address is the address to which you want the goods to be delivered at.
To put this in other words, the billing address is simply a permanent address that is directly associated to your card or payment method. Moreover this billing address is stored in Amazon's database as a part of the credit or debit card details. While the shipping address is subject to vary/change from one order to another, based on where you want to receive the ordered products.
Having understood the differences, let's now get to know about How to Change Billing Address on Amazon.
Managing Address In Amazon?
Amazon allows you to add, edit, and delete addresses for orders. However, for easier order placement, you can select any of your address and make it default address.  If you wish to add or manage your addresses, following steps will help to get the job done:
Navigate to Your Addresses.
Now here you can perform any of the following tasks:
To add a new address, select Add address. You'll be asked to confirm your payment option or card number the next time you place an order using the new or edited address.
To edit or delete an address, select the preferred option from Edit or Delete provided underneath the address you want to alter.
To set a default address, you must select the corresponding link given below the address.
Note: It is to be noted that when you update an address in Your Account it won't change the shipping address on any open orders, or the ones which are on your Wish List.
Changing the Billing Address on Amazon:
You can change your billing address using either the Amazon's App as well as Website. A detailed stepwise procedure for both the methods is given as under:
Steps to change billing address on Amazon App:
Launch Amazon App on your Android or iOS device.
Locate the Hamburger icon (3 horizontal lines) on Home Page and tap it.
Then select the "Your Account" options from the list.
On the next screen, find and tap "Manage Payment Options". 
Now from the list of cards (you use for making payments for your orders) locate the particular card for which you want to change billing address.
Tap on "Edit" option and change the billing address accordingly.
Steps to change billing address on Amazon Desktop:
Open your preferred browser and go to Amazon desktop.
On the Home Page, find and click on "Accounts & Lists".
Head to the "Payment Options" on next page
Now locate and select the card for which you want to change billing address.
Click on "Edit" option provided next to the card and then go on to update billing address on next page.
This is how you can change billing address on Amazon.
Read Also:
How to Pay for Prime Now Via Amazon Gift Card
Learn Everything About Amazon Prime Music Download Limit..