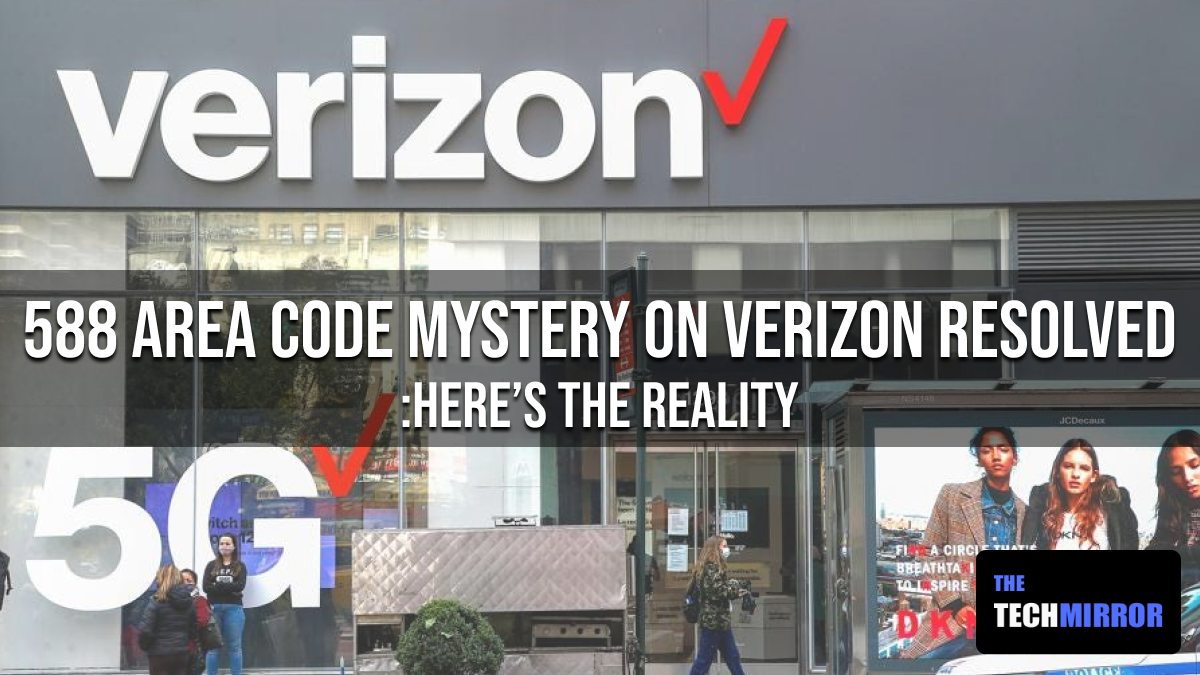 Verizon Communications Inc, known as Verizon, is an American Multinational Telecommunications conglomerate. It has gained the reputation of being the best cellular network carrier and ultimately become the first choice of many users who require services for voice calls and text messages. The company has come up with specially designed message app, called Messages+ to fulfill the needs of these users. However, a number of Verizon users reported about receiving text messages from the 588 area code but don't know what actually it means. If you also wonder about – 588 Area code and want to solve the mystery of this code, this article will help you a great deal. So let's get started and unveil the reality…
588 Area Code – An Introduction
The US Federal Communications Commission authorized the designation of the 5XX code format and introduced it into the North American Numbering Plan way back in year 1995. Personal communications services are thereby allowed to use a special non-geographic code of the format 5XX for assigning telephone numbers. One such code that is the 588 Area Code, which we will discuss here in this article.
Area Code 588 Usage:
AT&T was the first company to introduce a "follow-me" service named as AT&T True Connections using code 500 in 1995. Designed to exchange the AT&T EasyReach 700 service, AT&T True Connections service wasn't turned out to be well accommodative.
Different companies, hotels, and the rest with PBX equipment later on continued to dam the dialing of 500 as it had been a caller-paid number. Moreover some of the Phone-s#x services also used the 500-prefix, for the purpose of forwarding the calls to wide-ranging foreign countries.
Receiving Message from 588 Area Code on Verizon
Quite often the Verizon users, who are using the group messages on the Message+ app, get messages from 588 Area Code. This amazes them and many of the users get confused about what it is.
The fact is that, when you add someone who is not using the Message+ app on the Verizon network to your group texts, in that case Verizon will assign them a code. More often than not, code 588 is assigned to the phone numbers of other contacts who are Verizon users but they are not currently using the Message+ app. 
Conversely, a few users receive the message waiting in the text, along with a Verizon link name. These users have reported that they are not able to access their group chats post getting such link or text messages from the 588 code. If this happens to you as well, and you are looking for the ways to regain access to your messages then there are certain methods which may help you to fix the issue. Let's have a better understanding about these methods by taking them one by one.
Method#1 Message Restore
It is quite likely that after receiving messages from the 588 code you won't be able to use the group messages; if that's the case with you the first and foremost method you should try is to restore the message. For restoring the message, all you need is to follow the steps mentioned below:
Launch your Message+ App.
Head to the upper left corner and then tap the stacked lines to open menu.
Here from the list of available options, find and select the "restore messages" option.
After you have selected this option, you will get the messages restored.
That's it. You are now ready to go to send group messages.
Method#2 Change your Message App
If the above method didn't work well and you fail to gain access to group texts, you can try your luck with the next method on the cards.
The second method is to switch your default message app. In other words, you can change the message services as an alternative of what you are currently using. For instance, if you are using the default messaging app on your phone, you should try switching to the Message+ app and vice versa.
Thus by shifting from one messaging service to another might help you to fix this issue.
Method#3 Verify if the messages are really from Verizon
If you have any doubt whatsoever regarding the messages or codes and thinks that they are not coming from Verizon, you must verify it upfront whether they are originally from Verizon or not.
Having that said, if you keep getting text messages from Area code 588; and since you don't have any idea about the sources, then we recommend you not to keep such messages and you must delete them right away.
We also suggest you not to call back or revert to any of such text messages for the reason that they could be a scam. So as they say, prevention is always better than cure, you must be extra cautious and try to remain on the safe side by avoiding these messages from Area code 588!!
Wrapping Up
That's all we have to share with you. Hope this post has certainly brought you more clarity about the 588 Area Code – what it is and how it is used. The points laid down above in the article might have enhanced your knowledge and provided you with a better understanding to save them from being trapped into unforeseen scams and frauds.
Read Also:
Bought a New iPhone, but won't make calls on Verizon: Here's a Fix
How to Remove Duplicate Contacts on iPhone
Instagram Voice Messages Not Playing or Sending
How to Delete Recently Viewed Items on Amazon?