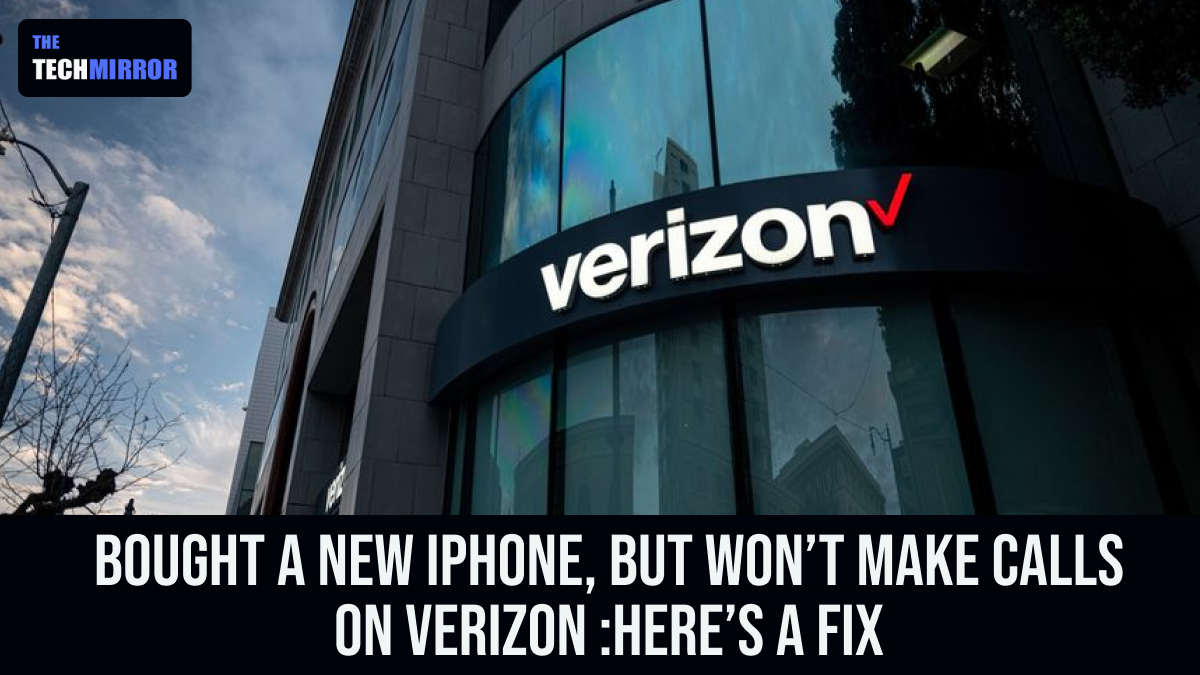 If you are a Verizon user and trying to connect with the desired person but only ended up in getting the problem of "Verizon wireless unable to make calls". Ever wonder, why "new iPhone won't make calls Verizon"?? There's nothing to get confused when you no longer can reach someone or unable to make calls via Verizon wireless network, as we are hereby providing you complete insight on this issue and let you resolve it with ease. So with no ado, let's get started…..
About Verizon:
Founded in the year 2000 as a joint venture of American telecommunications firm Bell Atlantic, Verizon is the largest wireless carrier in the United States. Headquartered in Basking Ridge, New Jersey, this American wireless network operator has around 121.3 million subscribers as of the end of Q2 2021. It was which would soon become Verizon Communications.
Despite the fact of Verizon being best service provider, you can occasionally experience "Verizon wireless unable to make calls" error on your phone. Let's go on to read forth and try to know about the reasons and remedies for this issue.
What Results In Barring Outgoing Calls On Verizon Wireless?
If you won't be able to make calls on Verizon wireless, there can be various reasons behind it. A few of the most common possibilities for getting this error are as under:
Outdated software of the smartphone.
Airplane mode enabled on your phone.
Weak network signals.
Some rare technical glitch.
What To Do When You Won't Be Able To Make Calls On Verizon?
When you are finding it difficult to make calls and facing Verizon wireless unable to make calls issue, you must try some basic troubleshooting or DIY remedies. These include,
Check for the latest software updates available for your phone and get them installed.
Switch the Airplane mode ON and then turn it OFF back again using a toggle button provided next to it on your iPhone.
Look for the signal's strength; ensure that you are getting good signal reception, and if not move to some other room or location where you can receive better signals.
If the problem persists even after applying the basic troubleshooting tricks mentioned above in the article, you can try using a few methods to resolve "New iPhone won't make calls on Verizon" issue.
Here's a brief detail of the methods you can use to fix the said issue.
Method# 1: Restart Your iPhone
The first thing you must try when you are unable to make calls via Verizon network using your New iPhone is to restart your device. As it will let you to get rid of a few minor malfunctions that may be barring the outgoing calls. For restarting your phone, you need to follow the steps given below:
Press the power button along with volume key (up or down) and hold for a couple of seconds.
You will see an screen with "slide to power off" option. Just slide to power off and turn off the iPhone.
Now wait for a few seconds and then press & hold power key to restart the iPhone.
Try making a call now and see if the problem is fixed o not.
Method#2: Reinsert The Sim Card Into Your iPhone.
One of the reasons behind getting problems in making calls through your new iPhone is that the sim card might not be correctly inserted. Thus to overcome the problem you must check for the sim card first, whether inserted properly or not. To do so you are required to perform the following steps:
Remove the case (if any).
Open SIM tray with SIM ejector.
Remove the SIM card and insert it again after cleaning any dust or debris.
Re-Insert the SIM and check again.
Method#3: Carry Out A Factory Reset On Your iPhone
The last option left with you is to Restore your phone to its factory settings. However, you must ensure to have back up of you phone's data before applying the factory rest method to eliminate the Verizon wireless unable to make calls error on your new iPhone. The steps for performing factory reset on your iPhone is as under:
Head to the Settings option from app drawer.
Scroll down and tap the General  option.
Look for Transfer or Reset iPhone andtap it.
Under the head of Transfer or Reset iPhone you will find Reset
Tap Reset and select Reset Network Settings from the bottom navigation.
Wait for a few seconds for things to get done.
Once the process is complete, you might be able to make a call.
Well, that is it.. Hopefully you may get the problem of your new iPhone won't make calls via Verizon resolved using the solutions mentioned above in this article.
FAQs
Why is my new phone not allowing me to make calls?
If your new iPhone isn't allowing you to make calls on Verizon network, it could be due to some technical glitch or software side issues. Give this article a read and maybe you will find the perfect solution for your problem?
Read Also:
How To Restore 'Account Not In This Store' Error On iPhone
Easy Fix To Completely Resolve Netflix Code NW-1-19 Error
How to pair Skullcandy wireless Earbuds to Android/iPhone
What is Cancelled Call Meaning on iPhone?