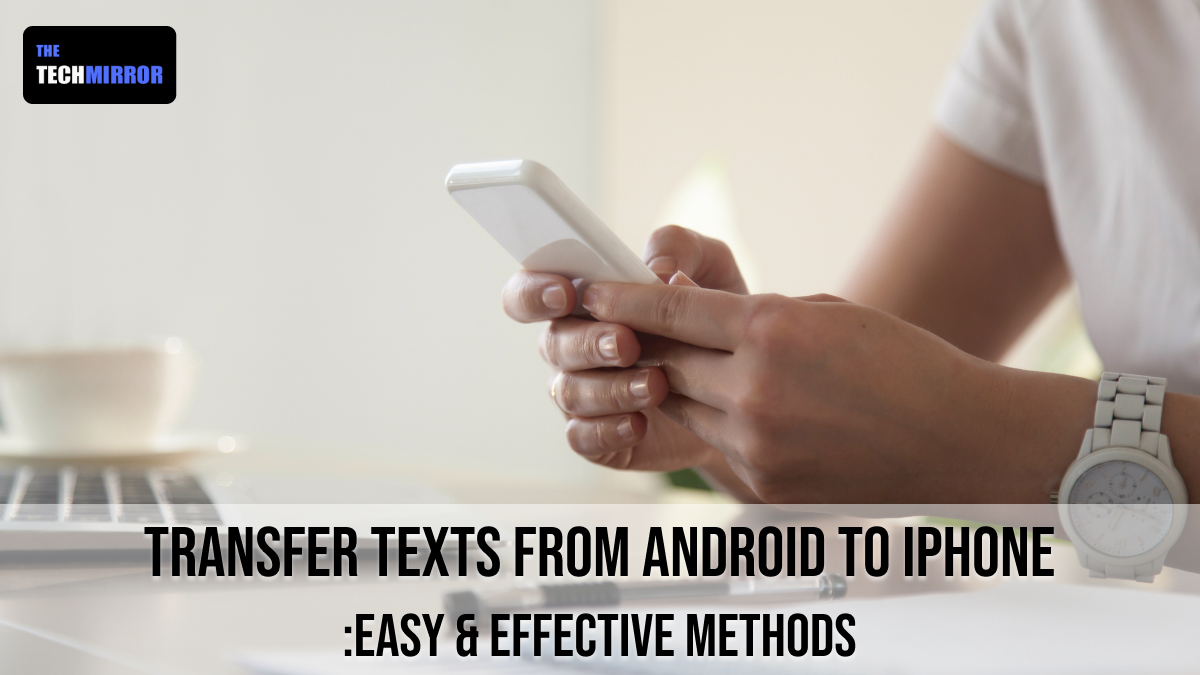 Bought a new iPhone for you or just for some other reason if you want to transfer texts from android to iphone, you must note that this can't be simply done via Bluetooth. Moreover it is not even possible to connect the said device to a PC and get those text messages copied there from.
So, you might now be thinking as if is there any possible ways to transfer text messages from Android to iPhone? Well, fortunately there are and this blog article will take you through them. So let's dive into it to discover those methods.
Transferring Text Messages from Android to iPhone:
In general, when people change their phone and purchase a brand new phone or just in case where they switch from one phone to other, the first thing they are more concerned is not to lose any data and wish to transfer every belonging may it be contacts, photos, and videos from the old phone to the new one. Though these things can be moved easily between devices the same is not true for text messages.
So if you are looking at transferring important SMS as well from your old Android mobile to a brand new iPhone, read the next section carefully. 
As per the feature and functionalities, both the platforms have a lot of dissimilarities specially when we talk about the messaging formats and apparently that is why you won't find it that easy to transfer text messages from Android to iPhone. But still you can get the job done and here's how it goes……
How to Transfer Texts from Android to iPhone?
And as there is no direct support for moving texts across these devices, you have to look for some specific app to get the task completed.
Here we have listed and discussed a few applications that might be of a great help to you for transferring data from Android to iPhone. The methods mentioned herein can also be useful if you wish to transfer other stuff too, including the likes of contacts, call logs and media files (such as video, audio, photos etc.)
Let's check out these methods:
Method#1: Transfer Texts from Android to iPhone using Move to iOS
The first method to transfer texts messages between the two devices is using Apple's Move to iOS app. This is a proven way and by far the most effective method to move SMS from Android to iPhone. Apart from that the app offers you a safe and easy navigation for moving photos, videos, contacts, and alike from one device to other.
Note: It is to be noted that this method is applicable only is case of a new iPhone device with no setup done previously.
To transfer texts from Android to iPhone, you must undertake steps given below:
Go to the Play Store and then download the Move to iOS app on your Android phone.
Take out your iPhone and then follow the new iPhone set-up process till you arrive at the Apps & Data screen.  Then make a tap on Move Data from Android.
Now go back to your Android phone, open the Move to iOS app and click Continue followed by clicking on Agree to accept the terms and conditions. Again click on Next and wait for the security code to appear.
Once you have the security code, enter it on the Android app to get going.
Select the stuff you want to transfer to your new iPhone and then tap Next. Having done that you must wait until the loading bar on the iOS device completes the task and click Continue.
That's all you have to do for transferring any data or files from your Android to iPhone.
However, as mentioned above this method is applied to new iPhone device freshly setup, and if you want to transfer texts to the iPhone which you have been using for a while now then you can use either of the methods provided below.
Method#2: Transfer Texts from Android to iPhone using MobileTrans – Phone Transfer
Next method which you can try to transfer the data across the phones is using the MobileTrans – Phone Transfer application. This easy to use app is designed exclusively to move data on a single click from one phone to other phone.
The app works well across-platforms to transfer data and files of all types. It is very promising app to move your messages, contacts, photos, videos, audio files, apps and so on. To your surprise user can even transfer chats and backup data for WhatsApp, Viber, KiK to your new device.
Here's how to transfer SMS from Android to iPhone device using MobileTrans – Phone Transfer:
To begin with open your preferred browser on your PC/Mac and navigate to the official website of MobileTrans – Phone Transfer 
Now get the MobileTrans – Phone Transfer application downloaded and install it on your device. 
Once installation is complete, open the application and then select the Phone Transfer option.
Now get both the Android and iPhone connected to the PC/Mac via USB/Lighting data cables.
Allow the software to detect both these devices, having that done mark Android phone as the source and iPhone as the destination. (Note: if the app selects them the other way as default, you need to alter it by clicking on "Flip" button.)
Thereafter select the Text messages option or else some other stuff that you wish to transfer. In case you don't want the existing data on the iPhone (if you are transferring data to a used phone instead of a new one), you can do it by checking the option "Clear data before copy".
Just click on the Start button to initiate transfer and wait until the process completes. Once completed, you can safely remove the connected devices.
Method# 3: Transfer Texts from Android to iPhone using Send Anywhere
Another application which can help you with the transfer of text messages from Android device to iPhone, Send Anywhere. It supports wireless transfer of data and uses WiFi Direct to move content between devices. The app is readily available on both App Store and Play Store.
Note: Send Anywhere application can also be used for transferring data and files via Windows, MacOS, Linux systems, Chrome Extension.
Following are the steps to be performed for using Send Anywhere to transfer texts from Android to iPhone:
First of all, go to respective app stores and then get Send Anywhere app downloaded and installed on your Android mobile and iPhone.
Once the app is installed on devices, open it and allow for the necessary storage permissions.
Next choose the suitable option in both devices, in your case: select Send on Android and Receive on iPhone.
Select messages from the list, when asked for what do you wish to transfer and then click on Start to initiate transferring. (Note: you can also select other file types as per requirement.)
Before moving the data or files, your Android device will generate a security code which you have to enter on the iPhone to verify the connection. Once verified, go on to tap the Upload button.
That's all you have to transfer texts from Android to iPhone device.
You have now successfully learned a few easy and effective methods to transfer text messages from your Android device to the iOS device. The methods mentioned above are risk free and can be deployed anytime you buy a new iPhone and/or switch from Android to iOS device. Either way, you can manage to transfer texts from Android to iPhone using the aforesaid ways.
Read Also:
How to tell if text message was read on Android
Get Rid of Accidental Text: Here's How to Delete Messages on Snapchat