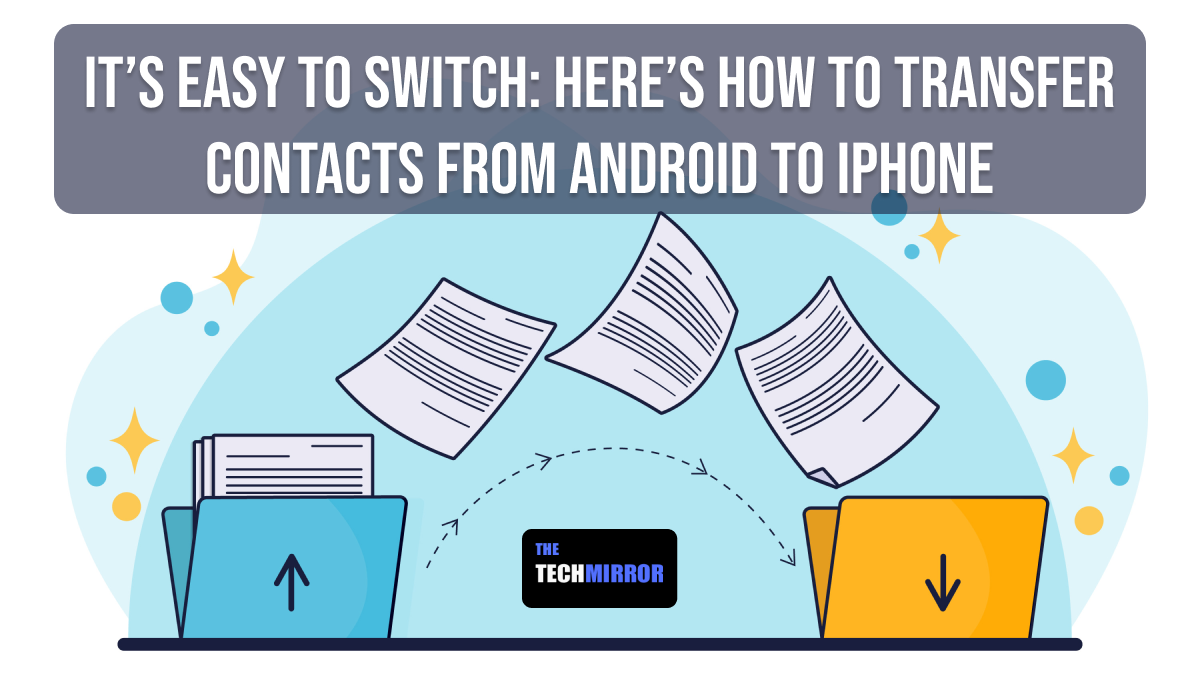 If you wonder how to move from your Android device to new iPhone, and seeking help for transferring contact and other stuff from the later to recently bought mobile. Well, here's a walk-through to get you started with how to transfer contacts from Android to iPhone.
Switching from an Android phone to an iPhone appears to be an intimidating experience, considering an entirely diverse ecosystem used by the two. However, that's not the exact reality. You can yourself experience that how easy it is to switch when coming from an Android to Apple. This article will let you know five proven ways about how to transfer contacts from Android to iPhone and make the transition smoother.
So let's get started and be ready to transfer stuff you care about most from your Android mobile to iPhone.
Transferring Contacts from Android to iPhone: Here's Five Proven Ways
Whether you have bought a new iPhone or just otherwise, if you want to transfer contacts from Android to iPhone, you must note that Android users can transfer contacts from their phone over to an iPhone by means of a few easy methods. Hence, there's nothing to worry about how to have a go at it.
Well, we have got you covered with proven ways to transfer contacts from Android to iPhone. So let's dive into it to discover those methods further.
How to Transfer Contacts from Android to iPhone
In order to transfer contacts from Android to iPhone you can make use of a common Google account. Alternatively, you can use the SIM card for the said purpose and get the contacts transferred to your iPhone. In addition to these methods, you can opt for manually transferring contacts via VCF file or can even take help of some third party apps.
But the best method by far is to use the Move to iOS app developed by Apple. It is specifically designed and meant for transferring your data. Let's take a deep look into how these methods really work.
Method#1 By Google sync
The first proven method to transfer your contacts is by using Google account. However, this method only works when you have already synced your phone's contacts to your Google account. So, before you give it a try first ensure to sync your contacts with Google account. Here's how to turn on Google Sync:
How to turn on Google sync for contacts:
To begin, go to the Settings app.
Now head towards Passwords & Accounts.
Thereafter tap on your Google account and select Account sync.
Just ensure that the toggle button next to Contacts is turned on.
Once done with that, wait patiently and let your contacts sync.
After the contacts get synced, you can easily transfer contacts using steps provided as under.
How to transfer Android contacts to iOS using Google sync:
Open the Settings app on your iPhone
Then head to Contacts
Now select Accounts and then tap on Add account.
Here, enter your Gmail account and ensure that the Contacts checker is on.
Once you are through with this, your contacts get transferred to your phone!
Method#2 Using your SIM card
The next worthy method to transfer your contacts from Android to iPhone is via SIM card. This method is quite useful in transferring contacts even when you are offline or don't have internet connectivity. However you must have the contacts stored on your SIM.
Once you have a SIM card with contacts saved or stored on it, all you have to do is to insert your Android phone's SIM card into the slot provided on your iPhone and then turn it on. Thereafter you are required to head to Settings > Contacts > Import SIM Contacts. That's it. This will initiate the transfer process and in some while you will get the contacts saved on the iPhone's Contacts.
Method#3 With Move to iOS app
Move to iOS app allows you to securely transfer your contacts, text messages, photos, videos, emails etc. from your Android phone to your iPhone. Just download the Move to iOS app to get help switching from your Android device to your new iPhone using following steps:
Before you begin, first download and install the Move to iOS app on your Android device.
After you have installed the app, open it and follow instructions.
When you initiate the set up for your new iOS device, locate the Apps & Data screen. Here, tap Move Data from Android to continue with the transfer process.
On your iPhone, tap Continue when you get to see the Move from Android screen. It will then give you a ten-digit or six-digit code. Wait for it to appear and then enter the code on the Android Move to iOS app.
This will let your iPhone to create a temporary Wi-Fi network. Tap on Connect to join that network on your Android device.
Now, select the content to be transferred from your Android device and tap Continue and wait till the transfer process complete. Make sure to keep both the devices near each other and plugged in to power to avoid inconvenience or interruptions.
Once the loading bar finishes on your iPhone, tap on Done button on your Android device. Thereafter tap Continue on your iPhone and then follow the onscreen instructions to finish setup for your iPhone.
Note: If you have already completed the setup, then you are required to delete your iOS device and start all over again. If you don't want to go that way, you can just transfer your content manually or using other methods mentioned herein.
That's it your content, including contacts is now transferred to your iPhone.
Method#4 Through a VCF file
Next method on the list is to manually transfer your contacts from Android to iPhone. This can be done by creating VCF file of contact and then transferring it over to the iPhone. Now just open it on your iPhone to get the contacts. Here's how to apply and use this method:
How to transfer Android contacts to iOS manually:
Turn on your Android phone and go to the Contacts.
Tap on the three-dot menu button located at the top-right corner.
Now tap on Select all followed bytapping on the Share button.
Then select how you want to share the file. You can simply pick Gmail and send the file.
Next open your email on your iPhone and extract the VCF file.
Once extracted, tap on the file and select the Share button.
Thereafter select the Contacts app and then tap on Add All Contacts.
That's it. Your contacts are just transferred to iPhone.
Method#5 Via third-party app
The last method which can be used for transferring contacts to iPhone is the use of several third-party apps. In case the above mentioned methods didn't work well for you, just get some authorized and trustworthy app to facilitate the process of switching to an iPhone. For example Copy My Data (Android/iOS) is one of such tool that may serve you with transferring of contacts at ease.
Summing Up:
That's it. You have successfully learned about how to transfer contacts from Android to iPhone. The easy and effective ways provided above might be greatly helpful to keep your contacts intact and transfer them from one device to other. With the deployment of these proven methods you the task of switching is no more challenging.
Read Also:
Transfer Texts from Android to iPhone: Easy & Effective Methods
How to tell if text message was read on Android