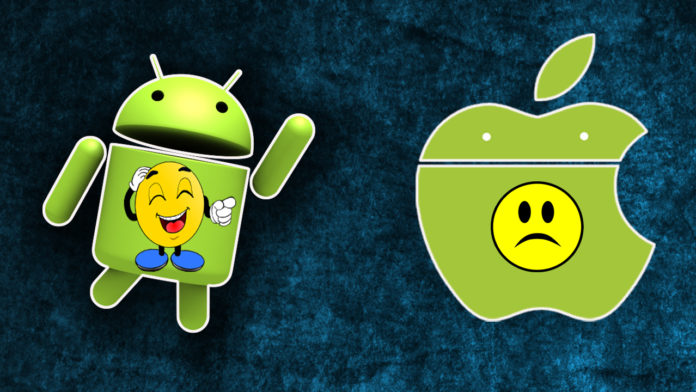 Nowadays, smartphone users mainly consist of Android lovers and iPhone fans. But sometimes there is a debate as to which phone is better – Android or iOS?.
iPhone is known for its security and refinement, but when it comes to customizable and flexible, Android is well ahead of iPhones.
What can Android do that iPhone/iPad can't?
Let us find out 10 such features present in Android, but missing from iPhone's operating system iOS:
1. Backup to Google Photos in the background
Google Photos is an amazing service that offers unlimited backups of photos and videos captured on your phone at free of cost. Even though there's some compression, the quality is still acceptable.
Now, although there is an iOS app for this service, it doesn't reliably backup photos when the phone's on standby – that's because Apple doesn't have APIs (Application program interface) for apps to perform tasks like uploading content in the background.
Read Also: How to send WhatsApp message without adding contact
Whereas on Android not only will photos sync when your phone is asleep, you can even set a rule so that they start uploading only when the phone's on charge.
The only way to easily backup photos on an iPhone today is through iCloud, which has a monthly subscription fee over the first 5GB – though it does not compress your images.
2. Phone Calls Recording
Another feature which is missing in iPhone is to record phone calls. Apple does not provide this options for its users. Also, it doesn't allow developers to build their own apps to record users phone calls, for the purpose of preventing viruses and hacks.
But sometimes we may wish to record our phone calls with our loved ones, friends, lovely kids, family, etc. for capturing sweet moments.
Hence for this purpose Android is the best option. Sure, there are some hacky ways around doing this or by using third-party subscription services on iOS, but it isn't as easy as installing an app on an Android phone. Apps like Automatic Call Recorder can record every call by default as AMR file which can be shared through email or cloud storage.
3. Smarter Files Management
Android allows you to directly install any phone cleaner. Thus it makes users accessible to clean and free up space as well as speed up their device in a more convenient way.
However, iOS user can only delete apps and clear cache to get more storage.
Also, many Android smartphones contain a memory card slot, which you can insert an SD card to come with your needs for storing more new apps, high-resolution photos and videos, even music library.
On iOS, if you want to attach any file other than photos in the mail, then you have to open the app that contains the PDF file, select the 'share' button, and choose an email receiver, which then creates a new email.
In Android, one can just select the file by holding for some seconds and automatically it gives the option of sharing.
4. 3.5 mm jacks and music interface
Android phone allows 3.5 mm jacks so that a user can put any headphones or earphones an enjoy his/her desired music whereas in iOS it's not that easy. In iPhone users have to use a connector for the same because they don't have that 3.5 mm jack portal.
Read Also: Top 5 Best Earphones Under Rs. 1500 India 2018
Also one can download the music directly from Google or any website whereas in iOS or iPhones it has to be connected via computer or laptop. Later one can download iTunes and then sync it with the phone.
5. Smarter calling and messaging
Truecaller, a really the most popular feature in the smartphone is available on both Android and iOS. But the most beneficial thing about the app – where you get to see names of identified unknown callers when a call comes in, is possible in Android only. In iOS 10, a new API allows Truecaller show an incoming spam call, but it won't show names of every caller. It only shows live caller ID if the person calling you has also installed Truecaller.
The Android app also syncs the call logs wherein names of unknown numbers is listed in a chronological fashion. You can even use it in place of a default dialer. In comparison to that, in iOS, one can only see a log of people whom you've called using the app, not every call.
Further, there are various useful third party SMS apps that have added functionality. For example, True Messenger replaces unknown numbers in SMS conversations with names from the True caller database, and even segregates spam SMSs from legitimate ones. Also, there are cool apps like Textra that are more functional than the default SMS app that your Android phone typically comes with.
6. More Free Apps & Games
Some users reported that the same apps that one had to buy on App Store are free on Google Play Store.
Also, the fact is that Apple App Store offers fewer free apps than the Google Play Store. It has to be noted that Apple has strict App Store guidelines while Google provides more freedom on this issue.
Additionally, Google offers a two-hour grace period for users to free try on the paid app, supporting uninstall, and you will not be charged for the app you may unlike. What a user-friendly & excellent design.
7. Google Maps is Better on Android
You can install Google Maps on the iPhone, but not as a default app. The Apple Maps app is still missing many important points like complete streets and neighbourhoods and it still sends on weird routes very often.
On Android, Google Maps offers transit directions in a large number of cities. Also, it provides better driving directions, a deep point of interest search that works more often and it is integrated into the phone so that addresses open into Google Maps unless you opt for an alternate mapping service.
8. Android Widget Support is Better
On Android users can select widgets to show on the lock screen as well as a home screen. Hence this way weather information, a live calendar and other information that each user finds important are available on screen at one glance.
Whereas on iPhone users can add some widgets, but they are only in the Notification Center. Also, Apple is notoriously picky about what the widgets can do and what they cannot do.
It's easier to tap a widget on the home screen rather than going into Notification Center, count to three for all the widgets to load and change the location of the one you want to select and then just click on it to go ahead.
9. Split Screen Multitasking on Android
The top Android phones such as Samsung and LG provides the option to use two apps on-screen at the same time. Such kind of multitasking makes it possible to chat and look at a document or work and view a content without a second device.
On a small phone screen, there are limits to such feature, but it is an option that we enjoy on Android.
Running two apps on the screen at the same time is not possible in iPhone so you need to switch back and forth if you are talking to someone about a webpage or document. Apple added support for this to the iPad, but not yet in iPhone.
10. More Mobile Payment & NFC Options
The iPhone 6s and iPhone 6s Plus contain NFC through which users make mobile payments. However, that is the only function with only one option Apple Pay.
Whereas in Android phones users can use NFC to control phone settings, trigger tasks like turning on car mode or setting the phone to home mode.
Read Also: WhatsApp Payments: Know the procedure to set up and secure your payments
Android phones have a feature of Android Pay and even an option of Samsung Pay. Using Samsung Pay one can pay on normal credit card machines without advanced NFC chips.
Finally, you need to figure out if an Android phone is better than the iPhone for your needs and your preferences. But if you are trying to decide this list of things that Android can help you with, then the above points will definitely lead you to right decision.