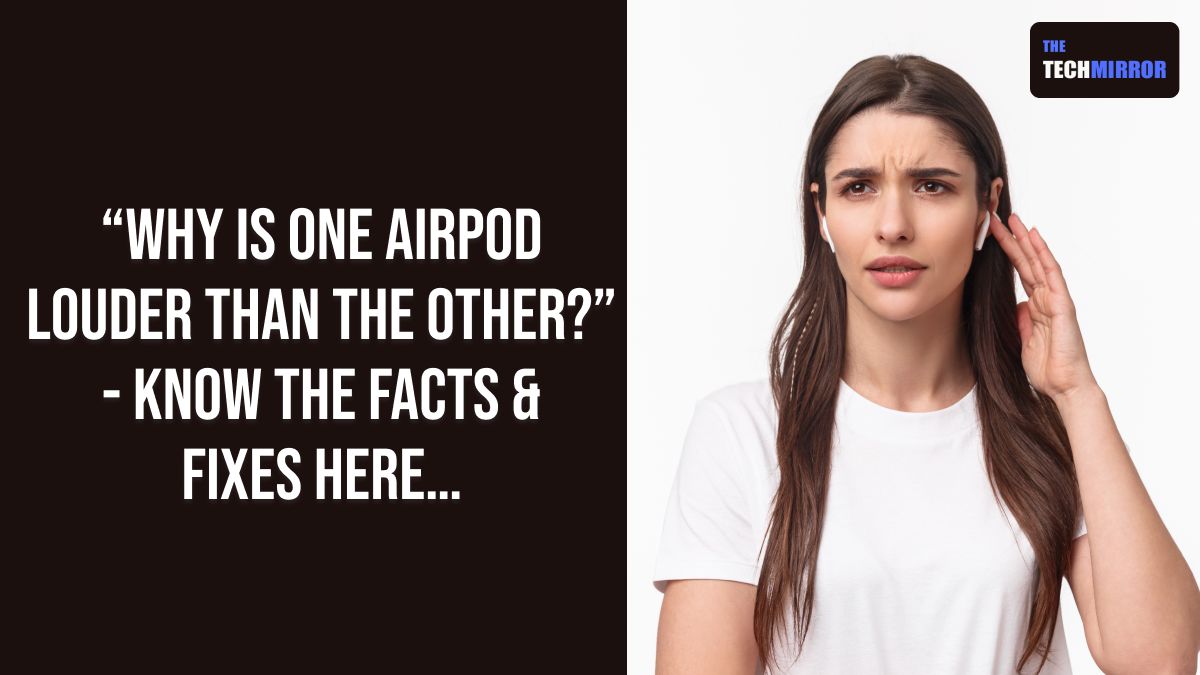 If you are facing issues with the volume level on your AirPods and feel that either one of your AirPods (left or right) is a bit louder than the other; you're not the only one who is experiencing this problem. Having realized the most frequent issue with AirPods if you seek to get some solution, here's is a must read.
This blog article will let you find an answer as to "Why is one AirPod louder than the other?" It will make you aware of predominant reasons that can be attributed to this problem and also shares with you some simple yet sound solutions to fix this AirPods issue.
So let's get straight to the point…
Reasons Why One Airpod Sounds Louder Than The Other One
In case one of your AirPod (be it left or right) is sounding louder than the other one and you want to fix this issue, you should first try to understand the reasons behind it. Before jumping to some random fix you must look into the potential causes attributed with its occurrence. There may be different possibilities giving way to this problem situation, so you should first know the reasons for better rectification of the issue. Here are some of the potential reasons causing "one AirPod louder than the other" problem and key points that you must take into consideration before fixing this problem:
junk accumulated on your AirPods
imbalanced audio signal
network connection error
software glitch or minor hardware issue
possible software bug
damaged AirPod
Having understood the potent causes which may lead to the situation where one AirPod sounds louder than the other one, now let's move towards seeking viable solutions to fix this issue.
Fixing "Why Is One AirPod Louder Than The Other?"
Solution#1 Clean AirPods and Charging Case
Dirt, dust, or other material might damage the hardware of your AirPods or Charging Case. So, you must always keep your Airpods and the Charging Case in good health by cleaning them periodically.
As AirPods are not water and dust-resistant, you need to check for some dirt or other material accumulated there on. In case you find any debris or dirt, clean them with a lint-free cloth or a new soft toothbrush. Also ensure that the mesh on each AirPod is clean.
Also your AirPods may not charge properly if the Charging Case gets clogged with debris. Hence, make sure to keep it clean and clear as well.
Note: For better cleaning you can try damping the cloth or cotton with water or alcohol. But don't use the water or alcohol overly as it can likely damage AirPods speakers which are quite delicate.
Solution#2 Adjust the Audio Volume Balance
One of the common causes of this problem situation is an uneven adjustment in volume balance. But obvious, your AirPods will sound louder on one side if you fail to balance audio volume.  You have this option available in the Settings of your iPhone by which you can increase or decrease the volume according to your preference.
To fix the volume difference on your AirPods, you need to undertake following steps:
Head to the Settings section on your iPhone
Now go to General and then tap on Accessibility.
Here under "Hearing", change and adjust the audio volume balance between the left and right AirPods with the help of a slider provided thereon.
If this solution did not work well for you, try other ways mentioned below to fix the problem.
Solution# 3 Restart your iPhone
If the problem is due to some random software glitch or minor software or hardware issues then restarting you iPhone might be of great help. Letting your iPhone to restart/reboot enables it to begin afresh the next time it is powered on and possibly solve such issues. Here's how to Restart your iPhone: 
Press and hold the volume button and the side button and wait until the power off slider appears on your screen.
Now drag the slider to the right to turn off your device.
Wait a while and then turn your device back on, by pressing and holding the side button (provided on the right-hand side of your iPhone) till the Apple logo appears on your device.
Note: If your device is frozen or unresponsive, you need to force-restart your device.
Solution#4 Reset AirPods
Another way to fix minor software flaws, or even to resolve an error in connection, you must try to reset your AirPods. For resetting your AirPods, you have to perform a pretty simple process as mentioned here under:
Take out the Charging Case of your AirPods, press and hold the Setup button
Now wait until the status light flashes amber and then turns to white
After it starts flashing white, release the setup button 
That's it. You have just successfully reset your AirPods.
Now to pair the AirPods afresh with your iPhone and once you are done with that, check if the issue of one AirPod sounding louder is fixed or not. 
Solution#5 Try Your AirPods with Another Device
If the problem still persists then you must try to connect your AirPods on some other device. By pairing them with an alternate device you will be able to identify the actual problem and check whether your AirPods are faulty in some way.
To serve your purpose, you can possibly get to connect your AirPods with other devices including Mac PC, Macbook, iPad, iPhone. Once the connection is successful and the Airpods work well with the alternate device then maybe the problem is not with your Airpods, but it is your first device which is causing the error. Thus you can reset it by using Solution #6 given below. However, if the AirPods fail to function well on alternate device as well, then it is time for you to contact Apple Support for assistance (refer Solution#7 in this regard).
Solution#6 Reset All Settings
If nothing goes your way after trying all the above solutions, it is probably the only option left to you. By tapping on Reset All Settings on your iPhone, you could likely fix the issue. Here's how to return the Settings app to its factory default settings following the steps provided as under:
Lastly, tap on Reset All Settings. Quoting Apple here, 'resetting all settings includes  — your network settings/Wi-Fi passwords, the keyboard dictionary, the Home screen layout, location settings, privacy settings, and Apple Pay cards are removed or reset to their defaults.' So, it means that none of your data is deleted.
How to reset all settings on iPhone
Open the Settings > General > Reset
Then go on to tap Reset All Settings
You will now be asked to enter your iPhone's passcode, type your passcode to continue
Tap the Reset All Settings option once again and you will get to see a progress bar 
Wait until the process completes, your iPhone will automatically restart after it 
Once the reset process is done, try to see if your AirPods functions normal or not.
Solution#7 Contact Apple Support and Ask For Repair & Replacement
Last but not the least; the final fix is to contact Apple support and sending your AirPods for repair. If your AirPods are well within the warranty period you can even call for replacement of the same. You can choose to have a conversation over a phone call or personally plan a visit at your nearest Apple Store.  
Summing Up:
We hope that you have found a satisfactory answer as to why is one AirPod louder than the other. Moreover, the above methods will help you resolving this problem situation. Thank you for reading this blog article! Do visit us to learn more about similar tech related problems and get feasible fixes.
Read Also:
Is It Possible To Turn On Airpods Without A Case? – Learn It Here…
AirPods Connected But No Sound? – Easy & Effective Solutions