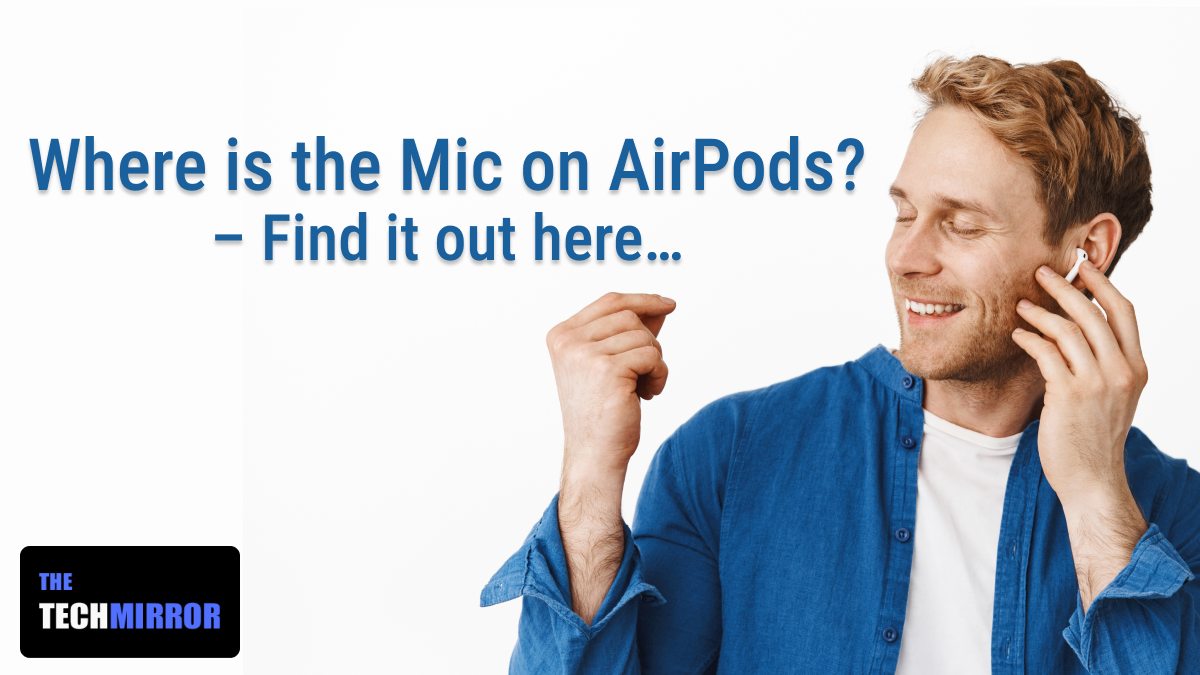 Apple has always been regarded as the company designing and delivering the products of premier quality. And AirPods by Apple too are designed so perfectly that they give the users the utmost satisfactory experience. But most of the users are not sure and keep wondering about where is the Mic on AirPods?
Well to answer your query, we have compiled this blog post that will let you understand everything about Mic on Airpods. So, let's dive into the topic to explore more.
Apple's AirPods let you to make or take phone calls and also allow you to instruct Siri. The design for the product is just on another level with microphones on the Airpods have been planned in such a way that you can ever thought of. Here's where is the Mic on AirPods and how they work?
Where is the Mic on AirPods?
If you talk of the Mic on AirPods, it is placed on each AirPod. Interestingly, as per the default settings, Microphone is set to Automatic, and you can use either of your AirPods to function as the microphone. However in case when you use a single AirPod, then that AirPod will act to be the mic for you.
In addition to that, you can also set Microphone to 'Always Right' or 'Always Left' as per your preference. Thus you will be able to have either the right or the left AirPod ready to work as the microphone when you remove any one of it from your ear or put the same in the AirPod case.
More About Airpod Mics?
Standard AirPods have a mic on both sides, which you'll find at the end of the stem close to your mouth. These mics are meant for user interactions using Apple's virtual assistant, and are activated via the key phrase 'Hey Siri'.
With the help of it you can ask Siri to read messages, check for weather updates, go at switching music playlists and much more. The microphones also let to pick up your voice while making a phone call or answering an incoming one. Every pair of AirPods has noise-reducing microphones, located at the bottom of the main shaft of each of them. These function to lower background noise and thereby making AirPods work great for calls. To ensure the safety of mic, there is a small metal guard over each of the microphones that may prevent the mic from being broken.
The top-of-the-line AirPods Pro wireless earbuds comes with four microphones in it. Two are placed and used quite similar to that of the ones in the standard AirPods while the other two microphones are in fact located in the section of the earbuds that fit in the ear. These mics hear the sound and make sure to pick up any leak-through.
AirPods Microphone Not Working?
If you are having problem with your microphone on AirPods, then you must note that there might be more than a few different reasons for it. The predominant reasons which can stop your Mic on AirPods to work correctly may include –
dirt inside microphone holes
minor bugs or hardware glitches
wrongly configured settings
defect or damage
Having understood the reasons for Mic on AirPods not working, let's learn about some ways by which you can make them working fine.
Method#1 Clean the Dirt
While using your AirPods for a long time the microphones are likely to get dirty. They may accumulate a lot of dirt, dust and other particles inside the holes during the course of time. Thus, you must ensure to clean them out and get rid of the dirt.
Method#2 Reconnect your AirPods with iPhone
Another method which you can try is to establish a fresh connection. Putting the AirPods back in case and then reconnecting your iPhone after taking the AirPods out again from the case may resolve most of the audio problems with AirPods. All you need to do is to just have to place your AirPods into their charging case, take them out after some time and then start using them again by establishing a new connection.
Method#3 Restart your iPhone
You can also fix this problem simply turning your iPhone off and back on all over again. If the problem with mic on your AirPods is anywhere relates to your iPhone, like a software driver, bug or other glitch, restarting the iPhone can be the easiest method to get the things back on track and going.
Method#4 Check the Mic Settings
It is quite possible that the problem is because of your active microphone Settings. To ensure and rectify the issue you need to check the Settings related to your AirPods. Here's how to check if your AirPods is correctly configured to use both mics:
Put the AirPods in your ears and get them connected to your iPhone.
Open the Settings on your iPhone.
Tap on Bluetooth and then click on the Info icon.
Locate your AirPods from the list of Bluetooth devices.
Now just tap on Microphone.
Finally enable the option of Automatically Switch AirPods by tapping the toggle button provided next to it.
Method#5 Update the AirPods Firmware
At times you may experience this problem when your AirPods are running on an outdated firmware. In such a situation, you can fix it by simply going to settings > General > About > AirPods and here you can search for the updates and get the latest version of Firmware for your AirPods.
Method#6 Repair or Replace Your AirPods
If nothing works for you and the problem still persist even after trying all the above mentioned method, you are possibly having defect or damage in your AirPods. All you can do about this is to contact Apple support team or visit your nearest Apple store to seek help. You can either ask for repair or get the replacement for your AirPods if they are in warranty period.
Summing Up:
On the whole, a lot of users have no idea and are curious to know where is the Mic on AirPods? From the discussion above you might have a clear understanding on it. Just to remind you, standard AirPods have got two microphones for allowing interaction and calls, while high-end AirPods Pro includes two extra inward-facing microphones for improving sound quality and cancel noise.
Thank you for reading. Hope you find the above information handy.
Read Also:
Is It Possible To Turn On Airpods Without A Case? – Learn It Here…
AirPods Connected But No Sound? – Easy & Effective Solutions