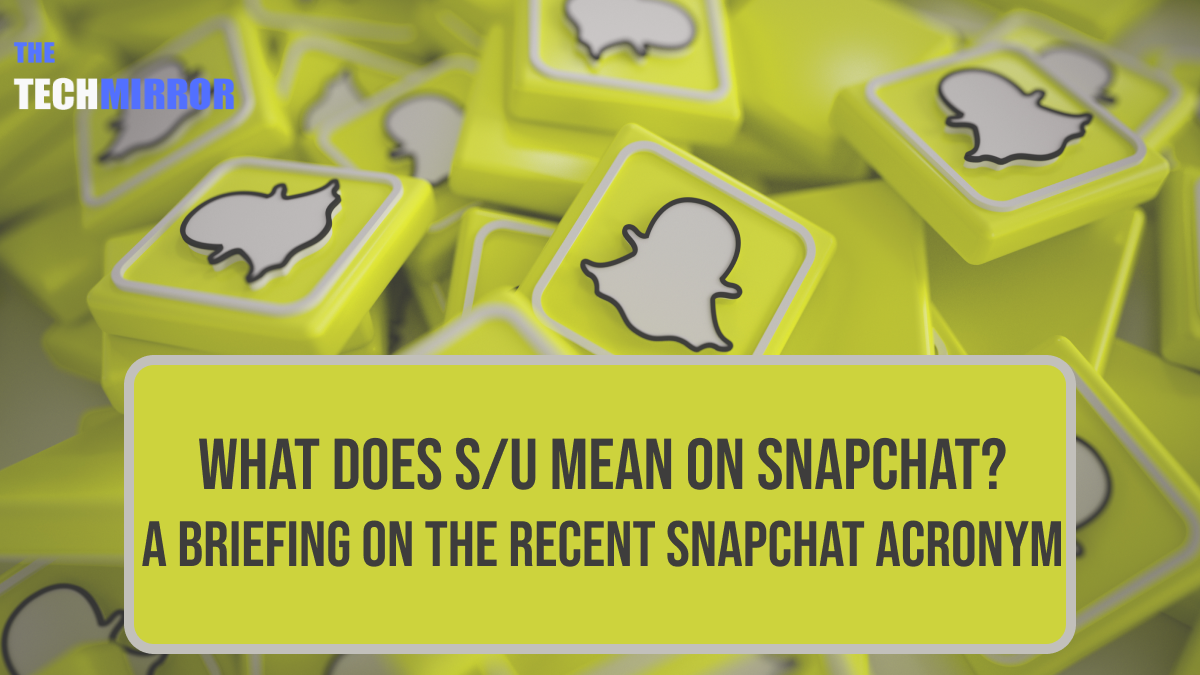 Snapchat ranks amid the trendiest picture sharing social media application. It offers plentiful features for the users to enhance their engagement level, however at times a few of the features turn out to be troublesome. In addition to that there are a number of frequent acronyms used by others can even be more puzzling. One of such acronym that keeps users guessing all the time is S/U on Stories. If you are the one who have no idea as of "what is the meaning of S/U on Snapchat stories?", this blog post will make you understand What does S/U mean on Snapchat?, and how to use S/U while creating Snapchat story?
Read forth know more details on this topic.
S/U meaning on a Snapchat Story
SU is extensively used acronym on messaging, dating and social media apps like, facebook, Instagram, Snapchat etc. In such context, SU means an action which seeks a user to swiftly access specific content or functions.
On Snapchat story, s/u or su is used in the same regard. Putting it in simple words, S/U refers to "Swipe Up" and on Snapchat it is a sign of redirecting user to some specified destination. While having a view of story on Snapchat, if you "swipe up" it will provide you with an option to start a conversation with the said person. Thus S/U or SU on story might mean an invite to act in response to anything posted in the story.
Moreover, it is usually intended to asks you to swipe it up in order to see something or just to send you to a different location be it some webpage, social media profiles or similar, via an attached link to an affiliate website.
Purpose of S/U:
People like to post stories with SU for several reasons, primarily if:
They want to redirect you to some specific page or link to an affiliate website. (In case they have the purpose to sell some stuff through affiliate and make a little commission.)
They wish to post a wide-ranging story and call people to initiate chat with them. (In case they just seek attention)
They fancy playing a kind of swipe up game. (In case they simply post a list of things and ask you to s/u and respond with a few specified option.)
So after having the basics of SU, if you too want to post a Snapchat story with S/U read the section below.
How to create Snapchat story with S/U
Here is a stepwise procedure to help you create story with S/U, get DMs or play swipe games and so on. Just follow the under-mentioned step to serve your purpose:
Launch Snapchat and log in to your account
Go to Stories.
Select My Story and add any picture or media file you wish to share.
Click on link attach button
Give a link you want to send to the viewers (like webpage link, Instagram A/C link or any other), followed by search.
Lastly, find the Attract to Snap button and click it.
Here you go… your story is on and ready to swipe.
By following the above steps you can ask your story viewers to get redirected to any destination you prefer.
Conclusion
Hope, you have understood the meaning of S/U on Snapchat. By and large, this feature is used for marketing in addition to increase number of followers and viewers on some other social network or an affiliate website. Share the article with the one who want to know what does S/U mean on Snapchat?
Read Also:
How To Change Snapchat Notification Sound – A Short Manual
How to Tell if Someone Unfriended You on Snapchat
Here is a complete guide about Snapchat Face Meanings