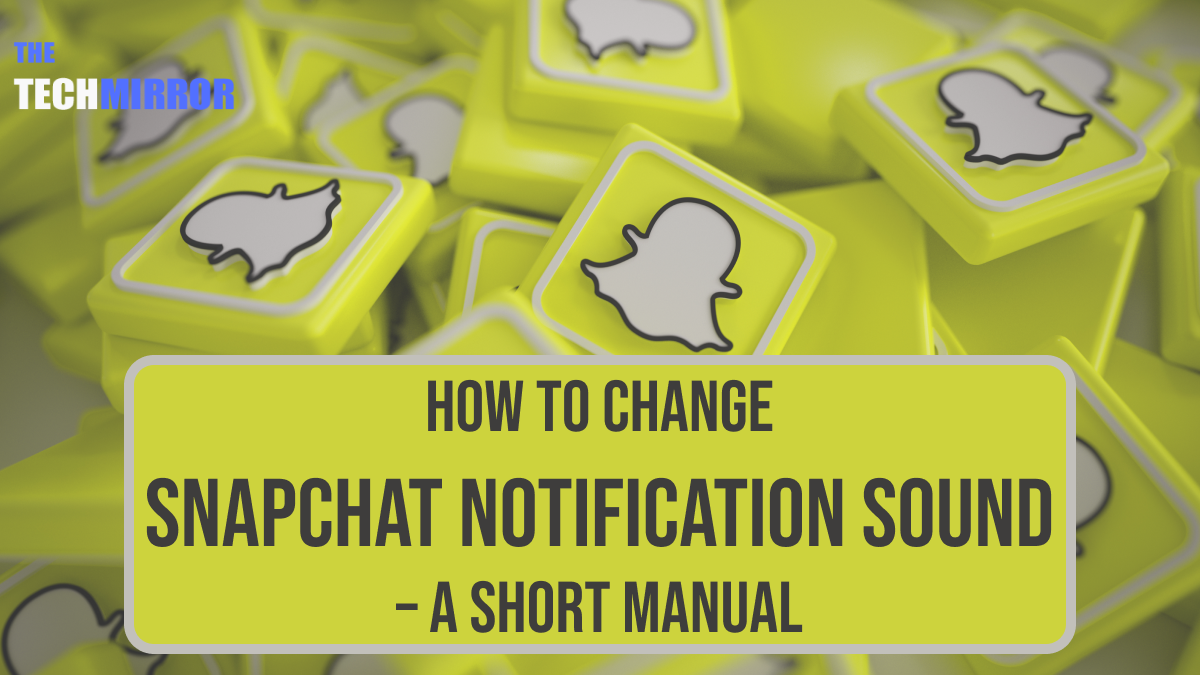 Snapchat has been constantly building its community base for a decade now. Ever since it was launched in 2011, Snappers (Snapchat users) are being offered with unique way of telling their stories via images and videos on Snapchat timeline. As Snapchat user you will certainly receive a notification from the app whenever someone sends you a message/snap, adds you as a friend, mention you in a snap, alongside many other occasional memories or events. Considering the fact that you don't want to miss out on any of these alert amid notifications from other application, you might have thought of changing Snapchat notifications sounds.
Well on that note, this tech blog post is a must read for you. As it address to one of the most frequent query from Snapchat users often ask i.e.; how to change Snapchat Notification Sound on Android and iPhone devices.
So let's get going to know how to change the Snapchat notifications sounds on each of these devices.
How to Change Snapchat Notification
Before getting started it is to be noted that Snapchat Application is available on both the Play Store as well as the iOS App Store. While Andriod and iOS versions of Snapchat work equally well, the sound settings do vary largely on Android and iOS devices.
As a result of that one need to practice a different method altogether depending on the device being used. This article gives you a complete understanding on how to change Snapchat notification sound. Continue reading to explore more….
Changing Snapchat Notification Sound on Android
Let's first discuss the method for Android users. Though the basic process remains the same you may come across some minor variations based on the version of Android on your device. The below steps will help your cause, in case you are using Android 10 or later.
Open Snapchat App on your phone
Go to Settings option provided on the Homepage. Here, you will find options related to different settings for your Android device.
From the given options under Settings, tap on "Apps & Notifications" to control app-level settings.
Now tap on "See All Apps" option to get the list of apps installed on your phone.
Look for Snapchat App in the list and tap it.
An App info screen will now appear on your device; here you have to select Notifications.
Then on the Notification Settings screen tap on Snaps and Chats.
Select Advanced option provided under the head Notification Category.
It will open a list of options including Pop on Screen, Vibration, Sound and so on. Select "Sound"
Now select a ringtone of your choice or proceed with your custom ringtone.
By this means you can change Snapchat Notification Sound. Once you are done with it all notifications coming your way from Snapchat will have the newly set alert/ringtone. Not only that, you can similarly also update ringtone for audio/video calls on Snapchat via "Call from Friends" or "Missed Call Option".
Note: As the above mentioned steps relates to system-level settings, making any change to the ringtone is not limited to Snapchat but will be reflected to all calls from other applications.
Changing Snapchat Notification Sound Via System settings:
Go to Settings
Tap on "Sound and Vibration."
Search for "Notification Sound and Vibration" by scrolling down the screen
Select a system sound of your choice or a custom Ringtone from your collection.
Once you are through with these steps all the alert notifications you get from now on will have the similar sound that you have just selected.
Changing Snapchat Notification Sound on iPhone
Opps!!! It may be a shocker for all you iOS users…
As to your misfortune iOS onlyworks withpre-build sounds for Snapchat message alerts. There exist no options for iPhone users to change the default Snapchat notification sounds for alerts.
Now you might be questioning that if I can change tone for other Apps including WhatsApp, Facebook, than why not for Snapchat?
Surprisingly, it has nothing to do with Apple rather a blemish of the Snapchat development team that has not endowed iOS with an option to change the alert tone.
Nevertheless, the good on the part of iPhone users is that they can still change the sound for Snapchat audio/video calls. Unlike the default notification sound, there is no such restriction of default tone for audio/video calls from the development team. As a result while getting a call on Snapchat, it will play the same ringtone which you have set for any other regular call.
iPhone users are required to just perform the step by step process given below to change the ringtone for Snapchat audio/video calls:
Head to the Settings icon on your iOS device.
Now make a tap on Sounds & Haptics.
Select Sound and Vibration Patterns to change the sound provided under the Ringtone option. You will have a wide variety of tones that you can choose.
Note: Just similar to that of android the above mentioned steps too relates with the system-level settings, thus making any change to the ringtone is not limited to Snapchat but will also be reflected to calls from other applications.
Read Also:
How to Tell if Someone Unfriended You on Snapchat
Here is a complete guide about Snapchat Face Meanings