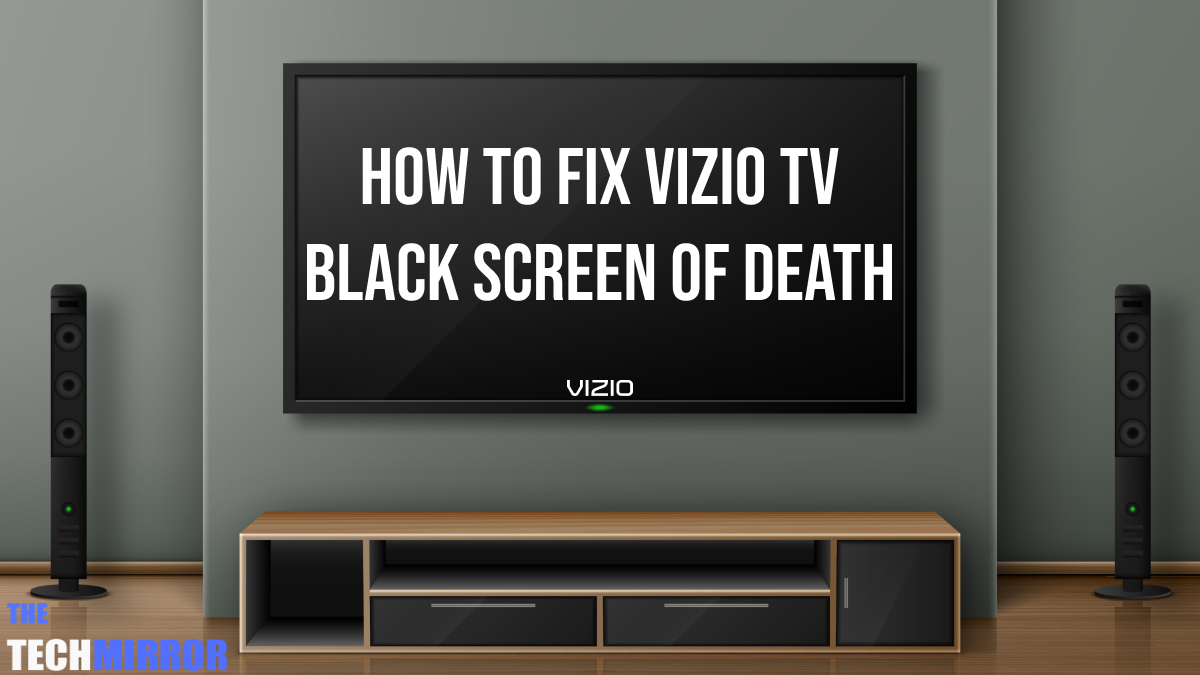 Vizio offers high end technology & powerfully immersive products within your means. It is branded for good deal TVs and is taking over the market at a rapid pace ever since its inception. Though its TV sets are claimed to be of a superior quality; many of its users have encountered with an unexpected technical trouble usually referred as Vizio black screen of death.  
Reportedly, many Vizio TV black screen death happens for no clear cause. And if you are one of such users facing Vizio TV problems, below are various suggested methods to fix the Black Death Vizio TV panel.
Why Vizio TV will not turn on?
When a Vizio TV screen suddenly falls out, there may exists many root reasons. But the most popular reason behind Vizio TV not turning on is a fault on one of the power supply panels. Modern day Televisions may have multiple power supply boards plus a T-Con board and many other machinery components.
A Vizio TV Black Screen of Death is probably due to failure of one or more of these pieces, but you must try to figure out beforehand whether the issue is related to it or not. Instead of hurrying to service repair you should try hands on undertaking some basic fix.
How to Fix Vizio TV Black Screen of Death:
In order to know the exact reason one must perform certain steps which may also be considered as some homely hacks.
Fix 1: Check the Power Links
The right approach is always an easy one. There is no need to panic; and first and foremost you must ensure that there are no loose power links. Carry out underlying steps to check the connections and power:
Go for turning the TV off and then unplug the power.
Long press the TV's power button
Release it after a while (at least 30 seconds)
Now plug the power cable in for turning TV on.
If that doesn't work, proceed to the next fix.
Fix 2: Sound Check
To perform sound check process follow the steps as mentioned underneath:
Power on the TV set
Ensure that volume is enabled
Increase volume via remote
Try to recognize sound or vibration.
If you can listen to the sound properly it means there may be an issue other than the sound component. Proceed to next fix if the problem persist.
Fix 3: Flashlight Fix
If you have a Vizio TV black screen with sound, but no picture, you can narrow down the problem by applying the "flashlight" test. This will shed some definite light on the problem in hand.
Turn on the TV and find a powerful flashlight.
Stand in front of the TV set and focus the flash light on TV screen by placing it couple of inches away from it.
If you find any picture appearing on the screen, it means there might be a failure in the TV's inverter panel.
Beside the above mentioned there are few more approaches to fix the problem related to Vizio TV Black Screen.
Read Also:
Fix 4: Power Board Replace: 
It may be very difficult for a layman to remove or repair the power panel, as there may arise one or the other compatibility issues between the devices. The basic reason for this is the model number which varies from one TV to another. Hence it is not advisable to get it done at home without seeking help from any technician. However if you have some elementary knowledge about circuits and electronic equipments you may proceed to fix it by your own. Here's what you need to get it fixed:
A fluffy towel or fabric to cover your TV show.
A screwdriver for Philips-head (the scale changes depending on the height of the screen).
A reservoir for replacing all the screws out.
Steps to fix Power Board:
Place the TV on a covered surface face down.
With the screwdriver, detach all the rear screws.
Check for all the fuses on screen. (these may likely be 5 in numbers)
Ensure that none of the fuse has blown out. As at times the root of the issue may be a burst fuse rather than the board itself.
Locate and disconnect all wires connected to the control board.
Take off the twists that bind the board and remove it. Put the new board in place and then screw it carefully.
Make sure to reconnect all the wires and cables links.
Place and lock the back cover of the set.
Power on the TV and check if the fix succeeded.
Fix 5: Fix Other Failed Components
Alike the power board, when the inverter board or any other component of your TV set fails, you can apply more or less same procedure it get the issue resolved. If you can perform the fix go ahead with it, if not better to take services from some verified TV technician.
Before making any move cross verify for the warranty. If your Vizio TV is still under warranty period, you must call Vizio Technical Support for assist.
End Note:
Hopefully, by trying the measures covered above, you may get to resume normalcy of your TV set. If your TV still doesn't function, please ask Vizio and get your TV patched under warranty (if applicable) or seek technical repair work at some nearest service point.
Read Also: