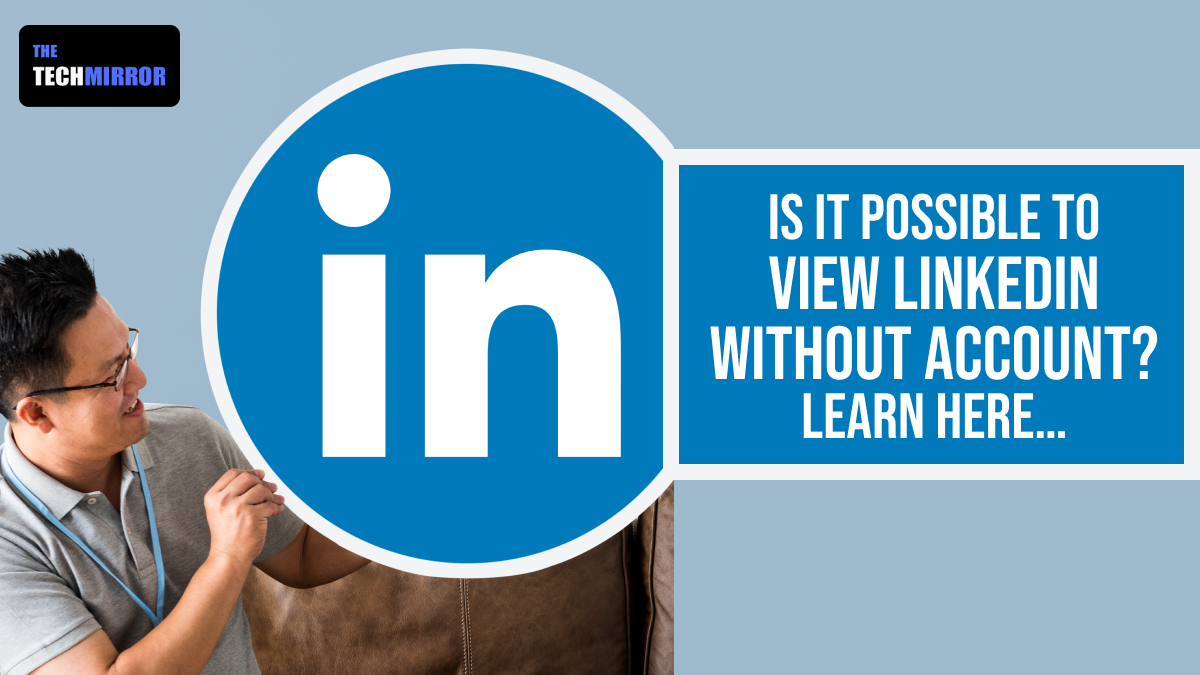 LinkedIn is the most preferred network used across the world by millions of professionals to stay connected with like-minded people. While sharing your professional life and activities with your connections, many a times you have faced a situation in which you wish to view quite a few LinkedIn profiles anonymously. So if you wonder about how to have a go at it or even thinking of ways to view Linkedin without account, here's a must read for you.
We have compiled this blog article to provide you an insight on the possibility of viewing LinkedIn profile without having/logging in to an account on LinkedIn. It will also tell you about how to change your profile browsing mode to view other LinkedIn profiles as anonymous.
So, let's find out the answers here and put an end to your curiosity…
About LinkedIn Profile:
A LinkedIn profile allows you to sign up and share your professional life with your connections. You can search for other professionals on LinkedIn by entering their name on search bar. Whenever you look at someone's profile or conversely, if a person looks at your LinkedIn profile; the reason is quite obvious-it's nothing but an interest in the profile.
But what if you don't want to reveal that you have visited the profile of certain LinkedIn user? Here's how to view LinkedIn profile as anonymous.
View LinkedIn profile anonymously
Usually, when you visit profile of a certain user, that person will also come to see your profile picture, name, location and history. However you can visit someone's profile without the other users being aware of your name. To do so, the only thing which you have to ensure is to turn on the private mode wherein you can view LinkedIn profiles anonymously. Let's first check out the stepwise process to change the browsing mode.
How to change your Browsing Mode (Using LinkedIn Mobile App)
Step 1: Launch the LinkedIn app on your phone and log in to your profile by entering valid credentials.
Step 2: Once logged in successfully, click on the 'me' icon located at the top of your LinkedIn homepage.
Step 3: Thereafter, tap on the 'settings & privacy' options from the dropdown menu.
Step 4: Now, select 'visibility' from the left of your screen.
Step 5: Here under the visibility of your profile & network tab, click 'change' provided next to the profile viewing options. You can opt for any of these three browsing mode options:

Your name and headline
Private profile characteristics (i.e. job title and industry)
Private mode

Step 6: Just select the one and your changes will get saved automatically.
Note: 1) If you are registered for a Premium account, then while browsing in private mode you can still be able to see the list of people who viewed your profile in the last 90 days. However you cannot view the names of private mode viewers who have visited your profile.
How to change your Browsing Mode (Using Desktop Version)
Open your preferred web browser and navigate to LinkedIn.com
Login to your LinkedIn account by entering valid username and password.
Head to the Account section by clicking on the three buttons located at the top-right corner.
Now, click on Settings & Privacy.
Thereafter, click on the "How others see your LinkedIn activity" option provided on the left panel.
Click on "Profile viewing options". Here you will get to see three options (just similar to the ones as mentioned in above method)
Finally, select the "Private mode" to be completely anonymous when you view someone's profile on LinkedIn from now onwards.
That's it. Now when you will view someone's LinkedIn profile, it will show you as a LinkedIn member on that person's 'who's viewed your profile' section. While browsing in private mode the other person will only get a message saying "this person is viewing profiles in private mode" and no further information of yours will be shared.
Now a question comes, what about those who do not have an account on LinkedIn; is it possible to see a LinkedIn profile without logging into an account?
Is it possible to view Linkedin without account?
Well if you are wondering about the possibility of viewing a LinkedIn profile without having an account, the answer is yes as well as no!
Yes, you can view LinkedIn profile without being registered or view linkedin profile without signing in 2024. Every member on LinkedIn is allowed to settings with respect to the visibility of their profile (as discussed above in this article), thus the person can opt for a public or private profile. If a person has set his profile completely public (which is also recommended) letting members and non-members to visit it, you can view the said profile even without having an account. For this you need to just type the name of the person on Google's search bar to find their profile and view it. Here's how to get it done.
Steps to view LinkedIn Profile without account
Open incognito mode on your preferred web browser
Now, find out the person's LinkedIn profile URL on Google using a query as "site:linkedin.com/in "anahcra infotech"".
Open the link and you are ready to go.
That's it!!!! Now, you will be able to see LinkedIn profile anonymously without having an account.
But in case where the person has opted for a more restricted visibility and thereby made the profile visible only to LinkedIn users, or even just the members of their professional network. You won't be able to see their profile without being connected.
Summing Up:
Kudos! You have just learned about the possibility of viewing LinkedIn profile without account and additionally understood the ways to see a LinkedIn profile anonymously. All you need to do is to change your browsing mode or else browse LinkedIn in Incognito mode. Hope you find this blog article useful and apply the methods mentioned herein to view LinkedIn without account.
FAQs
Can you view LinkedIn profile without signing in 2024?
Yes, if you have a link to their profile, you can check the LinkedIn profile without singing in.
Read Also: