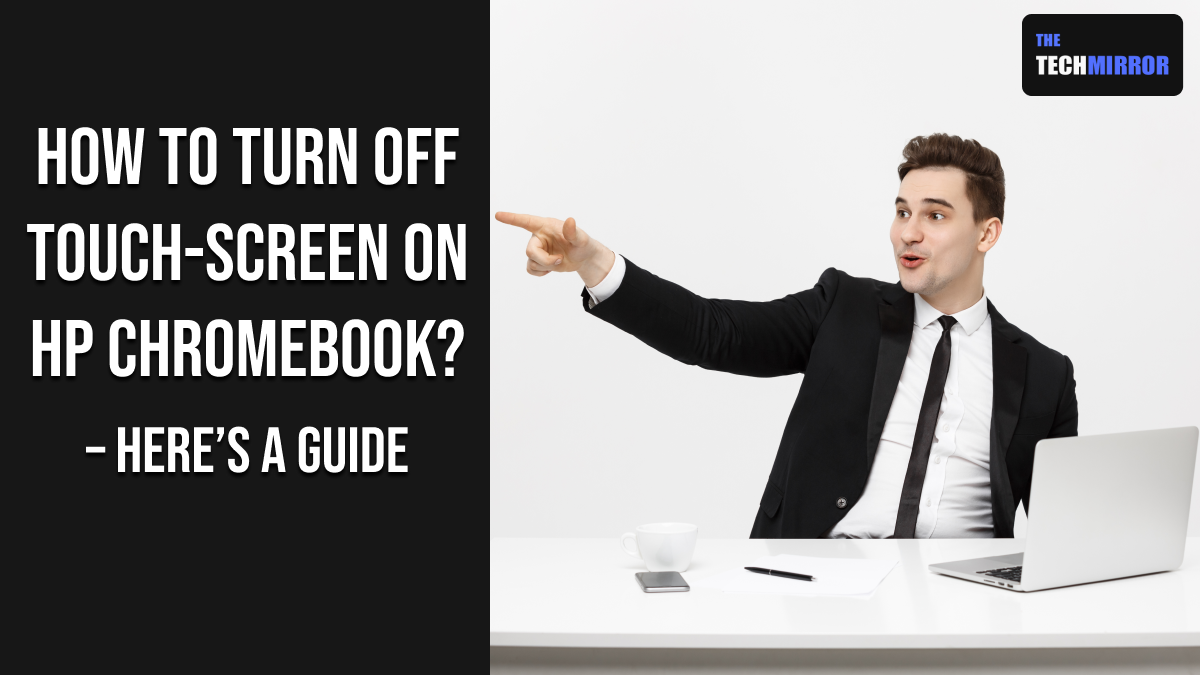 HP Chromebook, the next generation laptop is redefining computing. These laptops come with the built-in features which enable you to be more productive and more relaxed at the same time. The sophisticated, stylish, and versatile series of device let you work faster and smarter without taking a finger off. But quite a good number of users don't prefer a touch screen for their laptop and therefore enquired about "How to turn off touch screen on HP Chromebook?"
This blog article is exclusively compiled to address this common query from HP Chromebook users. If are the one among them and looking for a way to disable the touch screen feature on your laptop, here's a must read for you.
But before we start discussing the method to turn off touch-screen on HP Chromebook, let's first get the basics right about touch screen and how it works.
What Is A Touch Screen?
A touch screen acts as an alternative to input devices like a mouse or keyboard, used for navigating a GUI (graphical user interface). Technically speaking, it is basically a display device by use and functionality and let you to interact with a computer using your finger or stylus.
With the evolution of modern communication system, almost the whole thing around us has turned into a touch screen allowing you help to communicate with a computer monitor or other interactive machines. All over the place you will find one or the other person using the touch screen. Consider an example of booking a seat for travel or movie show or to visit some restaurant for a dinner date. Touch screen have been seen here and there and hence become a substitute for navigating the graphical user interface.
Let's check out the reasons for growing uses of touch screen.
Why Use Touch Screen?
There are a lot of reasons why people prefer touch screen over other physical input device or methods. The most predominant reasons behind the rising popularity of touch screen are listed as under:
It appears to be fancy and attractive.
It is quite handy to use as compared to a physical input device, such as keyboard or mouse.
It can be an economical means.
Despite these benefits users at times want to disable the touch screen feature on their laptops. The next section of the article will let you understand a step-wise process to disable touch screen on HP Chromebook. Here's how to turn off touch screen on HP Chromebook.
How To Disable/Turn Off Touch Screen On HP Chromebook?
As to your surprise, you will find that turning off the touch screen on your Chromebook is pretty effortless. For doing so you have to enable the Debugging keyboard shortcuts option. Unlike other regular laptops, Chromebooks have simpler features and having that said; you can easily turn off the touch screen of your Chromebook by performing following steps:
To begin with, launch the Chrome browser on your Chromebook.
Thereafter, go to the address bar and type in "chrome://flags/#ash-debug-shortcuts".
Once landed on the next screen, look for Debugging keyboard shortcuts. (If you find it difficult to locate it, try to use the control F option and search it there on).
Now, click on the Enable option to allow this feature to turn on.
Having performed the above steps, just restart your Chromebook and see that the touch screen on your device won't be functioning anymore.
That's all you need to do for the purpose of disabling your Chromebook touch screen. Hope you find this method to turn off touch screen on HP Chromebook handy and will use it for your good. Still, if you have an element of doubt about having a go at it, try to contact the service center to seek more professional help in this regard. Thank you for reading our blog, keep visiting us for more tech related articles!
Read Also:
How To Install Google Chrome On FireStick & Fire TV?
5 Ways To Disable A Laptop Keyboard