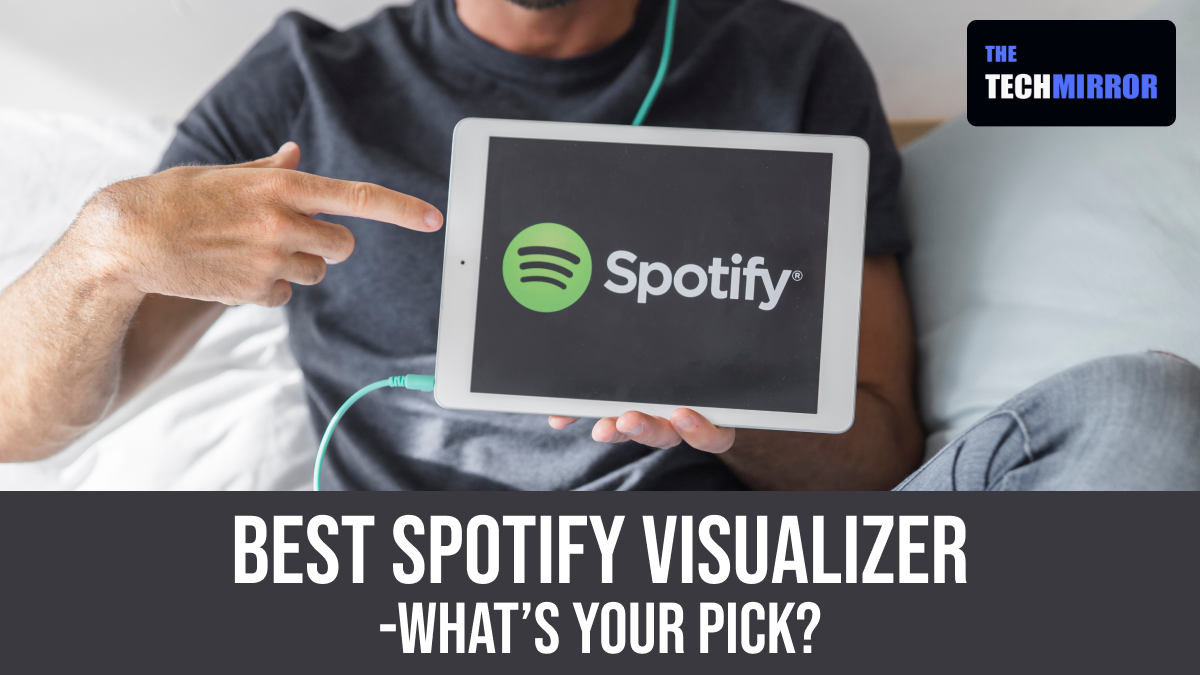 Spotify ranks high among the best music streaming softwares, but users often complain and talk about one of the shortcomings associated with the app; and that is an in-built Spotify visualizer. It would appear aesthetic enough when a music visualizer syncs with music on Spotify. 
To let go full screen album artwork or abstract visuals along with your favorite music track, most of the media players and electronic music visualizers are equipped with a distinct feature called Music visualization. As a Spotify user you may miss out on this feature but luckily, numerous music visualizer softwares are available nowadays which may be used on your Spotify app.
We have compiled a list of best Spotify Visualizers and provided a briefing relative to each of them in this blog article.
Music Visualization Feature:
Often seen in music players, Music visualization in general refers to the creation of animated imagery on a piece of music. Music visualizers functions by extracting digital information from the soundtrack in frequency and/or waveform via several display rules, and then make it appear on the screen in specific visualization patterns. They consider the beats and rhythm of the music and preview the best visualizations subject to it.
The Best Spotify Visualizers
Spotify lacks the feature of set visualizations. To add to the listening experience for music lovers who prefer music with visualizations, here's valuable information about visualization tools specially meant for Spotify. Let's go one to find the one you need…
Inbuilt Spotify Music Visualizer
The first among equals is the Spotify's own in-house music visualize.  This Inbuilt Spotify Music Visualizer requires a prior activation before you can start using it. To activate the tool you need to go to the Spotify search bar and there type Spotify: app:visualize; followed by that you must select the best generator from the available options.
However there's a drawback of this tool as this feature is compatible only with the desktop version of Spotify and works only with older versions.
Spotify Web Visualizer
Spotify Web Visualizer is the next music visualizer on our list. As an extension available on Google Chrome, this tool will let you to go full screen whilst enjoying your preferred music on Spotify.
Though the visualizer only provides visualization subject to the album or track art of the song and not present plentiful visualization options, yet it can be considered as one of the most convenient alternatives for Spotify visualization.
Online (Web-Based) Spotify Visualizer
Kaleidosync Spotify Visualizer
Kaleidosync Spotify Music Visualizer, is an exclusive online visualization system for Spotify music lovers. It requires no downloading and you can access the application by navigating to its official website. Just make sure to log in to your Spotify account via entering valid credentials and when you play the music, it will straight away provide with different Spotify Music visualization options.
Compatible with Windows as well as Mac, Kaleidosync is available for both Spotify Free & Premium. It offers you attractive animated pictures with multiple functions like Zoom, Brightness, Sides, and even RGB to custom your visualization experience. You can get music visualizer in Full Screen just in one-click and also be able to see track information and album artwork as per your requirements or preference.
Wavesync Spotify Visualizer
Wavesync Spotify Music Visualizer is another online music visualizer which let you to have beautiful colorful wave-shaped animated pictures waving along with the song being played on Spotify.
This feasible Spotify music visualizer comes with a feature that shows the track information and album artwork on your screen as soon as you start playing the song. Wavesync is available for both Free & Premium members and is very well attuned to Windows & Mac Systems.
Tessellator Spotify Visualizer
Similar to above two music visualizers, Tessellator Spotify Visualizer is yet other tool for watching image visuals of soundtrack on Spotify. The application can be used directly by visiting its web-site and then log in to your Spotify profile and start enjoying the music with visualization. The most appealing thing about Tessellator is that it displays images with 3D objects, ranging from pyramids to surfaces, cubes to net structures, with wavy textures and alike.
This visualization tool makes it possible for you to see the song titles and contributing artists and let you to skip the song, shuffle the playlist and so on. The application is available only for Spotify Premium.
Spotify Visualizer for Mobiles
Spectrum
Spectrum is a Music Visualizer meant exclusively for Android and iOS users. The app is user friendly and quite easy to use. You can get it installed on your device to play music on Spotify with psychedelic images according to the sound-track being displayed on the screen.
You can create some definite filters for viewing. The app has bothfree and a paid version available for users. The paid version, consisting of all the content, surely provides you with more viewing options and you won't get to see banner ads, full screen ads or other promotional stuff like watermarks and so on.
PotPlayer
PotPlayer is free to use software and you can get it download from App Store and Google Play Store. This third-party audio visualizer offers some of the great real-time visualizations based on the intensity of the music. The best thing about PotPlayer is that you need not have to log in to your Spotify account to enjoy visualizer.
During the music being played, it shows the title, music formats, sample rates, and other useful information on the screen. It also provides you with the options to skip or stop the sound-track, control the sound and other similar functions.
AIMP
AIMP is one more music visualizer for Spotify. It offers you different visualization options namely; Analog Meter Night, Analog Meter Classic and CoR's Aorta 1.1. You can not only play audio tracks on this but videos as well. Available for Windows and Android devices, this tool can be used on Windows PC, Mac, and Mobile phones. 
Having downloaded the app, you must select the appropriate display mode for your Spotify tracks. This can be done by navigating to the settings and then on visualization select your preferred option.
Other Spotify Visualizers
VLC Player
VLC Player is one of the most popular media players with a built-in music visualizer. This free application is readily available for use and can easily be downloaded from the VLC website. While playing Spotify music with VLC you can enjoy all the available music visualizations. In addition to that you can also be able to see metadata of the soundtracks including titles and contributing artists on the animated shapes.
The application is evenly compatible with Mac and Windows operating systems and is available for Spotify Free as well as Premium.
iTunes
For Mac, iTunes is the ideal Spotify visualize. It has inbuilt visualizations and can be used to easily sync your Spotify music to iTunes.
You can enjoy a number of great visualizations by easily changing the animation effects via simple keyboard shortcuts.
Windows Media Player
One of the most commonly used media players is Windows Media Player.  This preinstalled default player on Windows operating systems has visualization feature. To enable its music visualizer you need to click on the "Switch to Now Playing" button provided at the lower-right corner and then click "Play" to play a song.
Then make a right-click on any open space, select "Visualizations," choose from collection category followed by clicking the visualization to apply it.
Summing Up
That's all from our side. For better choosing one for yourself, we have provided you details of some selected Spotify visualizer which are worth taking into consideration.
Read Also:
Is Spotify not showing on Discord? Here's how to Fix it…
Easy Steps on how to change Spotify Playlist Picture