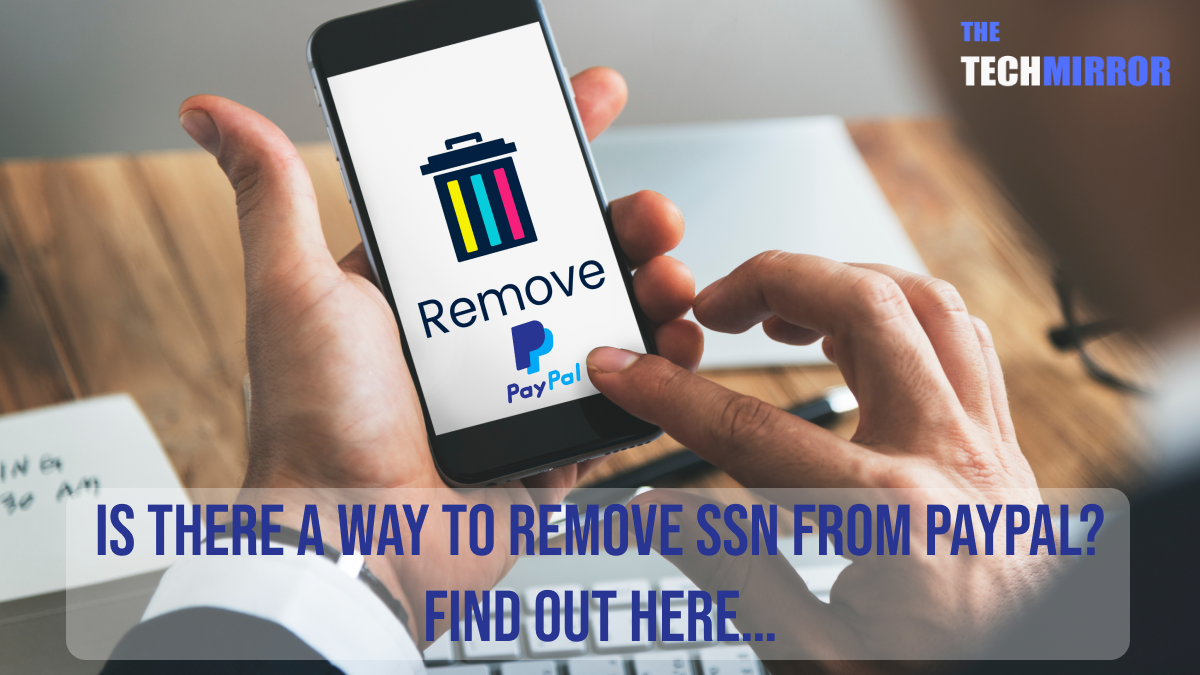 Are you having security concerns and wondering that is there any way to remove SSN from PayPal account?
Prior to answering the question, How to remove SSN from PayPal?, let's first get to know a bit about SSN and also the reason why PayPal asks you to add the social security number (SSN)?
About SSN and why it is required by PayPal?
Social Security Number (SSN) is a nine-digit number issued by US government to its Citizens, permanent residents as well as other temporary working residents. This numbers serves as one of the chief identifiers for people residing within the frontiers of the United States.
Most of the wallet applications ask for your SSN for security reasons. In addition to that, PayPal alike other online financial service providers need to have the users' SSN as per the legitimate compliance.
In case you are casual buyer on PayPal, it is not mandatory for you to add SSN and we can ignore any such attempts from PayPal when it asks you for SSN or EIN info. Conversely, it is necessary for you to add your SSN or tax number when you collect online payments from PayPal customers or perform other commercial transactions. It is to be noted that the government officials are free from providing SSN details.
Having understood the rationale of PayPal asking for user's SSN; continue reading this article to find out the possibility to remove SSN from PayPal, and method to do so, if any.
Can you remove SSN from PayPal once it has been added?
The answer to this question is a big No. It is not possible to remove SSN from PayPal, once it is added to your account.
Being an online financial service provider company PayPal try its level best to ensure secured account online and digital transactions. Despite of all the security checks there is every possibility that people may create fake accounts, via a false name and mobile number.
To avoid such ill-treatment, PayPal does not permit its users to change the Social Security Number (SSN). Once SSN is added to the user account it becomes unproblematic for PayPal to have clear identity of respective account holder. As each person is issued a unique SSN there is no chance that it could be duplicated and hence, PayPal rely heavily on SSN to maintain genuineness of customers as well as restrict fake accounts.
Irrespective of the type of account (may it be a Personal or Business); PayPal won't allow you to change the SSN. The reason being it keeps the individuality of an account as well as it is mandatorily required while maintaining records for sales or credit information.
If you still wish for a way out to remove SSN from PayPal, write an email to the PayPal support team.
Though once added you can't remove your SSN, still you may contact the PayPal support team and provide them with a genuine reason to revoke the number. So if you have a valid reason, one and the only possible way to remove SSN from PayPal is by sending a request mail to PayPal Support in this regard.
Follow the below steps to send an email:
Hi PayPal Support Team,
I have a PayPal account with the name (Your Name Here), and the email id (Your email here). During the account creation process I have added my SSN details, but due to some personal reasons, I would like to remove the said SSN details from my PayPal account.
I hope you consider my request and will do the needful at the earliest. If you require any further information from my side, kindly contact me on my email id or phone number (mention your phone number and email-id here).
Thanks & Regards,
Your Name
Submit your ticket and stay awaited hoping for the support team to remove SSN from PayPal.
This is how you can get your SSN removed from the PayPal. Hope this works and your work gets done easily. Stay tuned to TheTechMirror for more tech support and queries related to fintech.
Read Also:
How to block someone on PayPal?
Why Does PayPal Need My SSN? : Here's An Answer
Handy Guide on How to Change Your PayPal Password
OnlyFans PayPal Payments: Feasible or Not? Check it out here…