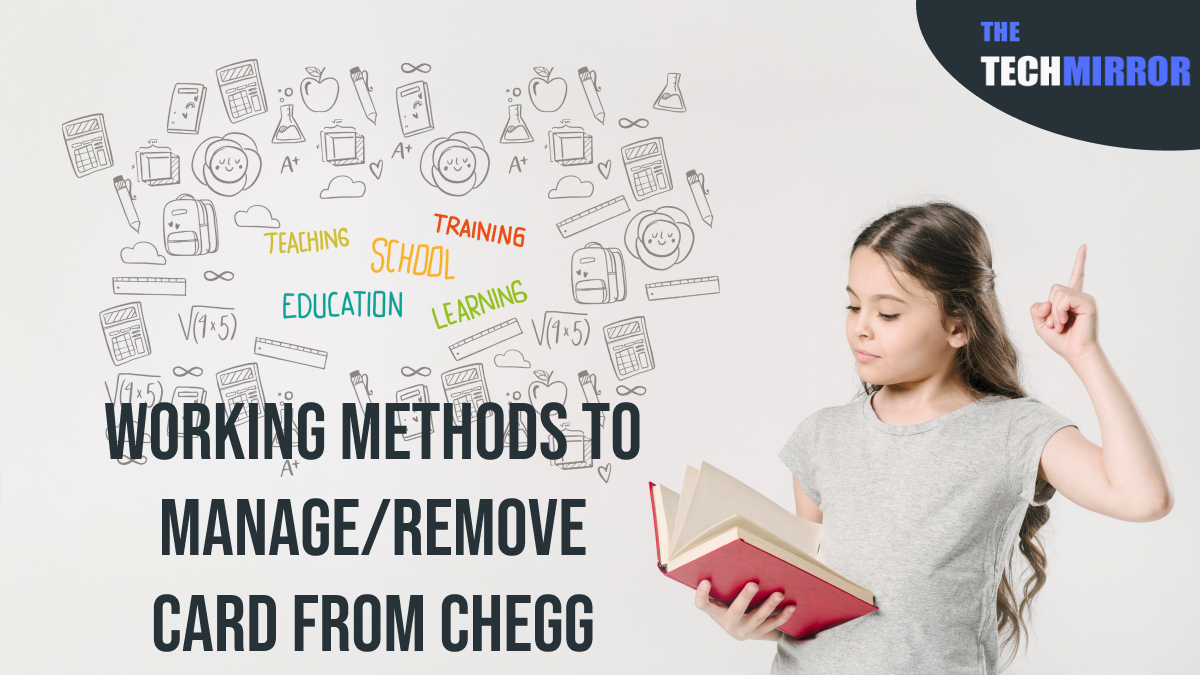 With a Chegg Study subscription, you can access 24/7 access to online tutors in addition to course materials in hundreds of subjects. You have the option of using it on your computer or downloading the app on your tablet/ mobile phone. To enjoy these benefits you need to have an account registered with the Chegg. Your account must also contain a valid payment method to pay for or renew subscriptions. But what if you want to change or remove card from Chegg? Here you will learn a brief intro to Chegg and also how to remove payment method from Chegg in 2023?
A Brief Intro to Chegg
Chegg was founded in 2005 by Aayush Phumbhra and Osman Rashid, students of Iowa State University, as a reasonably priced textbook rental company for college students. Over the years the company has grown in shape and volume. Currently it offers learning resources for students enabling them superior understanding of their schoolwork. It has in store 37M Expert Q&As, 6M step-by-step Textbook Solutions, video walkthroughs, practice sets, and much more.
How to Manage Payment Method/Credit Card on Chegg?
To change your payment method on Chegg, you are required to perform following steps: 
Log in to your Chegg account.
Find "View my payment info" button used to know your current payment method(s).
Click the button next to Add a new card option and enter your payment details.
Then click on Save changes.
To update current payment method, click Edit.
Make changes to each field by adding new payment information and click Save changes.
How to Remove Card from Chegg?
Note: There is no direct option to remove a payment method, if you wish to remove card from Chegg you need to contact the support team via call or sending a message via chat.
As there is no direct way to remove your card from Chegg, you can remove it by asking the Chegg support, or pausing your subscription or by deleting your account. Once the account is deactivated, you will then be able to remove the payment method, be it the credit card or other.
Contact Chegg at:
Call Chegg support number: 855-477-0177 or
Connect with them on WhatsApp chat support number: 408-351-0942
You need to provide them with your email ID and last 4 digits of your card so they can check and remove it from your account.
Pause The Subscription
If you are unable to get your card removed from the chat or call support, you can also pause your chegg subscription as they provide you to pause an account subscription. Here is how you can do that-
Visit your Chegg account and click on the profile icon located at the top right corner of your dashboard and select "My Account".
Just under the "Orders" tab you can see the details of your current subscription. Click "Cancel subscription".
That's it! Now, you won't be charged monthly by Chegg. Still, if you don't want your card details to remain available on Chegg, you can opt to delete your Chegg account by following the steps given in next head.
How to Delete Chegg Account?
Even if Chegg offers a range of services at affordable charges, users often have their own reasons to delete Chegg account. One of the reasons could be the removal of card details from account. No matter what your reason is, you can go through the steps given below to delete Chegg account easily.
Deleting Chegg Account:
Deleting Chegg account is not that straight but we are providing you some easy methods to get it done.
To start with you must confirm that whether you want to just cancel your subscription or delete Chegg Account as a whole. It is to be kept in mind that deleting your Chegg Account, removes your entire profile and you won't be able to avail the Chegg services anymore.
You must cancel all active subscriptions before deleting your Chegg account. Thereafter you can try any of the methods mentioned below to delete Chegg Account.
Method 1: Deleting Chegg Account via Chegg Website
You need to follow the below mentioned steps to delete Chegg Account via Chegg website
Navigate to Chegg, official website of the company
Log in to your account with valid username and password.
Now head to My Account.
Then Click the 'Chat Icon' / 'Contact Us' option provided at the right-hand corner.
Select 'I want to close my Account'. Make sure to close all pending transactions and other active subscriptions. If you have any due or ongoing subscriptions, cancel them by clicking on 'CANCEL MY SUBSCRIPTION'
If not then proceed further by clicking 'Chat with an advocate.'
Answer the confirmation questions being asked to you and then submit your request stating that you wish to delete your Chegg Account.
Method 2 : Deleting Chegg Account via Request E-mail
Log in to your email account (preferably the one which is registered with Chegg)
Compose an email and mark it to "jack@chegg.com".
Mention subject as "REQUEST FOR ACCOUNT DELETION" or "ACCOUNT DELETION."
Write the actual reason why you want to delete your Chegg account in the body section of the mail. (Don't forget to mention your Chegg account details and email-id used while creating the account which will help the support team recognize the account belongs to you)
Sent the email to submit your account deletion request.
Alternatively, you can also delete your Chegg account by approaching the Chegg support team via social media handles. You are required to navigate to your Twitter or Facebook account and make a tweet or post with the tag @CheggHelp. The Chegg support team will respond to your query and get you necessary assistance for account deletion.
FAQs
How do I remove a card from Chegg?
If you want to remove a card from Chegg, you can contact the Chegg support and ask them to close your account and remove the card. Follow the above mentioned steps to do it quickly.
Read Also: