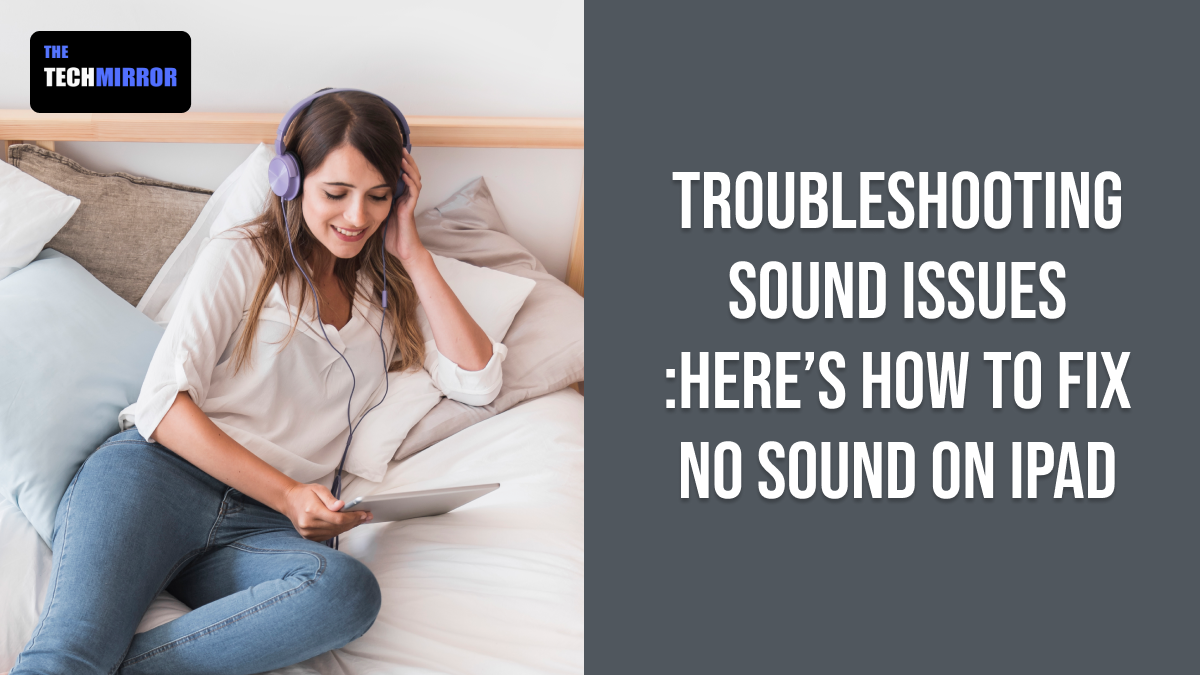 Apple ranks among world's most trusted brand and the company has invested a lot of money, time and resources to make its products as good as possible. Despite of all the pains there may arise a few tit-bits, one of such is covered here in this article.
Do you own an iPad and is it sounding a little low? Are you bothered with no sound on an iPad? This post will let you know the reasons as if why this happen, and also make you learn a few fixes to get your iPad sound louder and better.
So why wait for, let's dive into this troubleshoot guide and resolve the no sound on iPad problem by your own.
Why Does My iPad Have No Sound?
When it comes to the reasons behind No sound on iPad, there are possibly two set of forces acting upon it; one technical and other physical. Below is a briefing on reasons as to why an iPad might not be able to play any audio.
Technical forces behind the occurrence of this problem include software or hardware glitches, presence of small bug or virus, or other major system flaws which are bit difficult to overcome. Additionally, there could also be technical problems like inappropriate or incorrect settings that are quite easy to fix.  
On the other hand, Physical forces such as damage as a result of dropping your iPad, wear and tear of speakers, water spilling over iPad or dirt accumulated on speakers etc.
Having understood the reasons, let's move to know about solutions to resolve the problem. Here's how to fix no sound on iPad.
Method#1 Restart Your iPad
If you are facing the no sound problem on your iPad, you can first try the basic troubleshoot to fix this issue. Just restart your iPad as it will resolve most of the software glitches which could prevent sound from playing. Here's how to restart your iPad:
Press the Power Button and Home Button simultaneously for a few seconds.
Now swipe "Slide To Power Off" once it appears on your screen.
After you are done with it, wait a while and then press and hold the Power Button again to turn on your iPad.
Alternatively, if your iPad device doesn't have Home Button, you can restart it using following steps:
Press and hold the Power Button and Volume Up button together for a few seconds.
Then swipe "Slide To Power Off" after it shows up on the screen.
Now wait a few seconds, and then press and hold the Power Button to turn your iPad back on.
Method#2 Turn Silent Mode Off And Make Sure Your Volume Is Up
Another thing which you can try to resolve this problem of no sound on iPad, is to turn off the Silent Mode on your iPad. As Silent Mode not only mutes sounds for incoming calls as well as other notifications, but it can also cut sound from a few apps such as games.
So you must ensure that your device is not in Silent Mode. Whether you have forgotten to turn it off or just mistakenly enabled it, here's how to turn Silent Mode off on iPad:
In case your iPad has a mute switch on the side, all you need to do is to flip it a bit and make sure it isn't red. However if you own an iPad that doesn't have a mute switch, you are required to perform following steps:
Open Control Center by swiping down from the top-right or swiping up from the bottom (as the step may vary depending on your iPad model).
Once you are on Control Center, locate the bell icon. (Note: The icon will be colored in if Silent Mode is turned on and is neutral if not.)
Finally, tap the bell icon to switch it to neutral and turn off the Silent Mode.
But, in case you don't have a mute switch and also couldn't find the option to turn off Silent Mode in Control Center, here's what you need to do:
Head to the 'Settings' app on your iPad.
Tap Control Center, and then click the green + icon provided next to the Silent Mode option.
Now add the Silent Mode option to Control Center in the Settings app (if not added before)
That's it. You will now be able to see Silent Mode in the Control Center and you can disable/enable it using the steps above.
Once you have turned off the Silent Mode, make sure your volume level is up all the way. This will fix no sound on iPad problem in general.
Method#3 Turn Mono Audio On And Off
Next method on our list for fixing 'no sound on iPad' error is to reset mono audio by turning it on and off back again. In order to reset mono audio from your iPad's audio settings, you must undertake following steps:
Open the Settings app on your iPad.
Then tap on Accessibility followed by tapping Audio & Visual option underneath the Hearing header.
Now, select the option called Audio & Visual
Tap the switch provided next to Mono Audio, turn it on and then off again. It should turn green, then back to neutral.
Having performed these steps check your iPad sound whether working fine or not.
Method#4 Check Your Bluetooth Connection
It may be possible that your iPad might be connected to some nearby Bluetooth device, like a speaker or AirPods. If that happens, then the audio is likely to play from that device instead of your iPad. Thus, you may need to check if your iPad is connected to a Bluetooth device or not. To do this:
Head to Settings menu and then tap on Bluetooth.
In case any of the devices in your Bluetooth settings say Connected, just tap on the blue 'I' icon and select Disconnect.
Now, disable Bluetooth.
Open Control Center by swiping down from the top-right or swiping up from the bottom (as the step may vary depending on your iPad model).
Under the connectivity panel, locate and tap the Bluetooth icon so that it becomes white.
Try to play the music on your iPad and check the sound again after performing above steps.
Method#5 Repair/Replace Audio Parts
When you are pretty sure that the problem is due to some physical damage; as if you are clear of the fact that you have in recent times submerged your iPad or else you know that you just dropped it by mistake. In case of such events where the iPad audio stopped working immediately after its happening, then you must approach some technician to seek repair or replacement of speaker or audio parts or buy a new one.
Method#6 Contact Apple Support Team
If nothing works well for you and still there is no sound on iPad, finally it's time for you to contact Apple Support Team seeking assistance. You must reach out to Apple Support and ask them to diagnose the problem and let you know how to fix it precisely.
That's it. We have just covered quite a feasible ways to fix a no sound on iPad issue. Hope these methods turn out to be handy for you in troubleshooting sound issues on your iPad.
Read Also:
The Best iPad Video Converter for 2022: What's Your Pick?
Meaning of Background App Refresh and How it functions on iPhone, iPad & iPod…