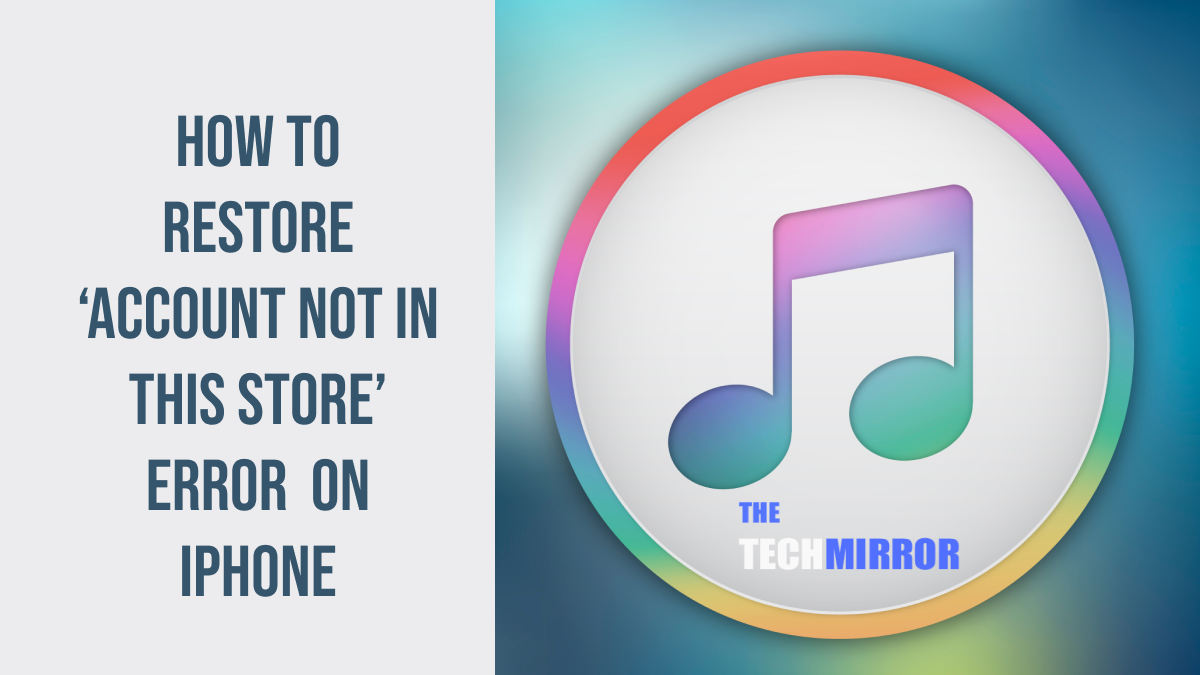 As iPhone user you might have obviously seen an app store error popping up your screen while you try to download, install or update an app on your device. The error reads, "Account Not In This Store. Your account is not valid for use in the US Store. You must switch to US Store before purchasing."
Well if you are worried how to fix this issue on iPhone, read through this blog post and get to know ways to get rid of this app store error.
What is 'Account Not In This Store' Error
Quite often users face this problem and it prevents them from purchasing some new app from Apple store with a message Account Not In This Store.
This app store error comes into sight time and again if you are away from your native country. For instance, when you visit another country or region for a personal or professional purpose, may it be a business tour or family vacation. To be specific, if in recent times you have moved to some other country or region then you might require updating your Apple ID. With just an update corresponding to that region or country you can easily fix your iTune and App store hitch.
How To Change iTunes Store Back To US
You can effortlessly switch to US iTunes store. Different alternatives that work well to change iTune and App store when you find that your account is only valid for use in the US store. To help you in this regard we have covered the most proven methods with details given as under:
Method #1 – Changing your Country or Region for the iTunes and App Store:
For the purpose of making a desired change you are needed to change your local settings, i.e.; to make an effort for changing your country or region for the iTunes and App Store. Moreover, if you are a member of some Family Sharing Group, you should also confirm the country and region settings.
Changing your Country or Region for the iTunes and App Store:
You are available with options of updating the country via your iPhone, Mac, or even by browsing through the Web. It's only up to you which one to choose depending on your convenience. However we are providing the step by step process for each of these options to get the task done:
Updating the Settings with iPhone
Open Settings
Then go to Media and Purchases
Now head to your Apple ID
Tap to View Apple ID
Then Select Country/Region
Change it by choosing appropriate Country or Region from the list
Now confirm to the Terms and Conditions and click Agree
Provide a payment method by entering your current address and the billing address.
That's all… Finally tap on Next and you're done.
Updating the Settings on Mac
Open iTunes on your Mac
Login to your Apple ID
Go to Account appearing at the top of the iTunes window and select View My Account.
Enter credentials of Your Apple ID.
Now select Change Country or Region.
Make appropriate selection from list of country or region and then click on Change.
Continue by agreeing to Terms and Conditions as well as Apple Privacy Policy.
Enter details of new payment method and billing address
Lastly click Save to complete the process.
Updating the Settings via Web Browser
Open Saffari.
Search for AppleID.
Click official Apple website for support.
Login by entering Your Apple ID and Passcode.
Tap on Account and select the Edit option.
Now feed your new country or region.
Add details related to new payment methods.
Provide new payment information and billing address
Click on Save to confirm.
Before trying your luck to fix the issue by changing the country or region you must ensure the following points:
Spend all store credit available on your Apple ID.
Cancel subscriptions, including Apple Music or wait till the expiry of such subscription.
Avail memberships, pre-orders, movie rentals, or Season Passes
Wait for completion of store credit refund process (if any).
Get a valid payment method for your new country or region.
Download previously purchased apps, music, movies, TV shows, and books.
Take back ups of stuffs on the device.
Method #2- Check for Any Restrictions on iDevice
Beside applying steps provided in method on you must ensure that your Apple ID doesn't have any restrictions effective on your device.
How to Check for Any Restrictions on iDevice
As to resolve this issue on hand you are also required to check for restrictions (if any) related to your iTunes store account. Perform following steps to check any restrictions:
Head to Settings.
Now select Screen Time.
Tap Content & Privacy Restrictions.
Note: For older versions of iOS, you can simply check for restrictions by opening Restrictions under the category named General.
Method #3- Sign Out and Log In Back of iTunes & App Store
With all the above methods, to fix this account problem you can also try to Sign Out and In of iTunes & App Store with your Apple ID.
How to Sign Out and Log In Back of iTunes & App Store
Since the problem can also be fixed by merely signing out and signing in back to your iTune store. The procedural step to be followed for this is given below:
Tap on Settings
Open Apple ID Profile
Then go to iTunes & App Stores
Now as you tap on your Apple ID a pop up appears with option
Tap Sign Out
Once you are done with it sign back in again with your ID and passcode
Other Potential Solutions to Fix 'Account Not In This Store'
Keep toggling WiFi off and on for a few times.
Make sure that you're connected to high speed Internet.
Verify space on your iDevice.
Check for system updates from Apple.
Contact Apple Care for professional tech support.
Concluding Remark:
That's how you can restore Account Not In This Store error on iPhone. Hope you have found this article useful, for more of such reading stuff keep visiting us.
Read Also:
Want to know 'What does the half-moon mean on an iPhone Status Bar?'
Here is How to turn off Amber Alerts on iPhone or Android