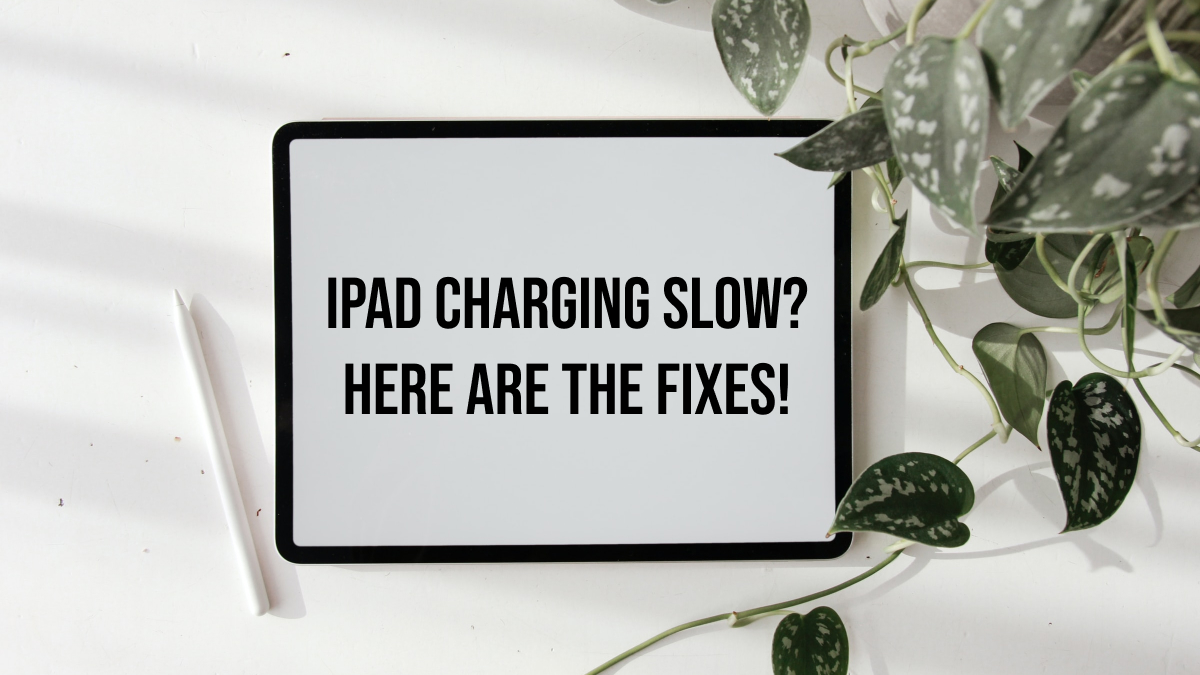 Every time you gotta rush to a meeting, the first thing you do after waking up is plugging-in your iPad to the charger. Then, you finish rest of your work, come back and get shocked because it isn't fully charged yet! Now all you can ask yourself is "why is my iPad charging slow"? If you really don't have a clue why is your iPad charging slow in 2023, here we've got an answer for you. We've brought some easy fixes mentioned below that you can try yourself and get your iPad to charge faster.
Easy Fixes for an iPad Charging Slow in 2023
The very first thing you should do is to make sure if you're using genuine accessories. If you're using any third party's USB and power adaptor, replace it with the genuine one. In case you're using the right accessories, below are the fixes you can give a try.
1) Check If Accessories Are working Fine
Maybe its not your iPad but the accessories which are causing this issue. So, first check the charging equipment.
Check the adaptor: Is your adaptor really working fine? Try exchanging the adaptor with one of your iPad owner friend and see if it makes any differences to charging time.
Look at the cable: If trading your adaptor doesn't make any change, you should check if there is some problem with your iPad's USB. Try using a different charging cable with same adaptor.
The wall outlet: If your USB cable and adaptor are working fine, maybe the wall outlet or the specific socket is main culprit. Check if you're getting the same problem with different power sockets.
2) Try Restarting and Make Sure If your iPad Up to Date
The next fix we suggest is, try restarting the device. There are chances that your iPad is having caching issues or maybe its legging. Restarting the iPad may fix it. You can restart the iPad by holding down both Power and Home button, on models with no home button, restart the iPad by pressing Power Button and Volume Up Button together. Try charging again after the device restarts.
Also, you should make sure if your device is up to date or not. An iPad with older software version may also face charging issues due to bugs. You can check for the updates by heading to Settings app > General > Software update. If you see any new update available, follow the instructions on your screen and update it.
Done performing this? Try charging the device and see if there is any improvement.
3) Clean the Charging Port
Dust or debris may block your iPad from charging faster. The easiest thing you can do to clean the charging port is by blowing into the port forcefully for 2-3 seconds. (Do not spit or put any external objects like tissue, needle, chemicals, water or anything to clean the port.)
Try charging again and see if the problem is solved.
4) iPad Needs a New Battery?
If you've tried the above methods and still you're stuck with an iPad charging slow, check if your iPad needs a new battery. If the iPad is 2+ years old and you haven't replaced the battery yet, maybe now is the time to purchase a new battery.
However, there is no way to find your iPad's battery health. Because Apple doesn't allow you to find battery health like you can do with your iPhone. You'll have to take your device to the Apple Store. A battery replacement may cost you about $99 at Apple store. Also you can look for third-party repair centers if you want to get it done at a cheaper price.
5) Take it to the Apple Store
We've tried to mention every possible and easy fixes in this post but if still nothing works, it is time to take your iPad to the Apple store. They will run some tests on the device and let you know what actually is causing the problem.
To Contact Apple Support : Click Here
How To Make Your iPad Charge Faster?
If you want to make your iPad charge faster, here are the tips that you should know.
Upgrade to a Fast Charger
The newer models of iPad supports a fast charger. But if you're still using a 5W adapter, you should get a 20W charger ASAP. You can find affordable fast chargers on Amazon and at your nearby store.
Don't Use When It is Charging
Don't play games or chat or stream videos on your iPad when it is charging. Let it charge peacefully! Using the device while charging also consumes the battery and make it charge slower.
Prefer Not to Charge in Your Car
Everyone has a car charger but most of the vehicles do not allow you to use more than 5W of power. So, charging your iPad at home would be faster than charging in your car.
and, to fix your iPad charging slow problem, read the methods mentioned above.
Read Also : Apple Spring Event Mac Studio, iPhone SE 3, iPad Air 5 and more
Read Also : Troubleshooting Sound Issues: Here's How To Fix No Sound On iPad