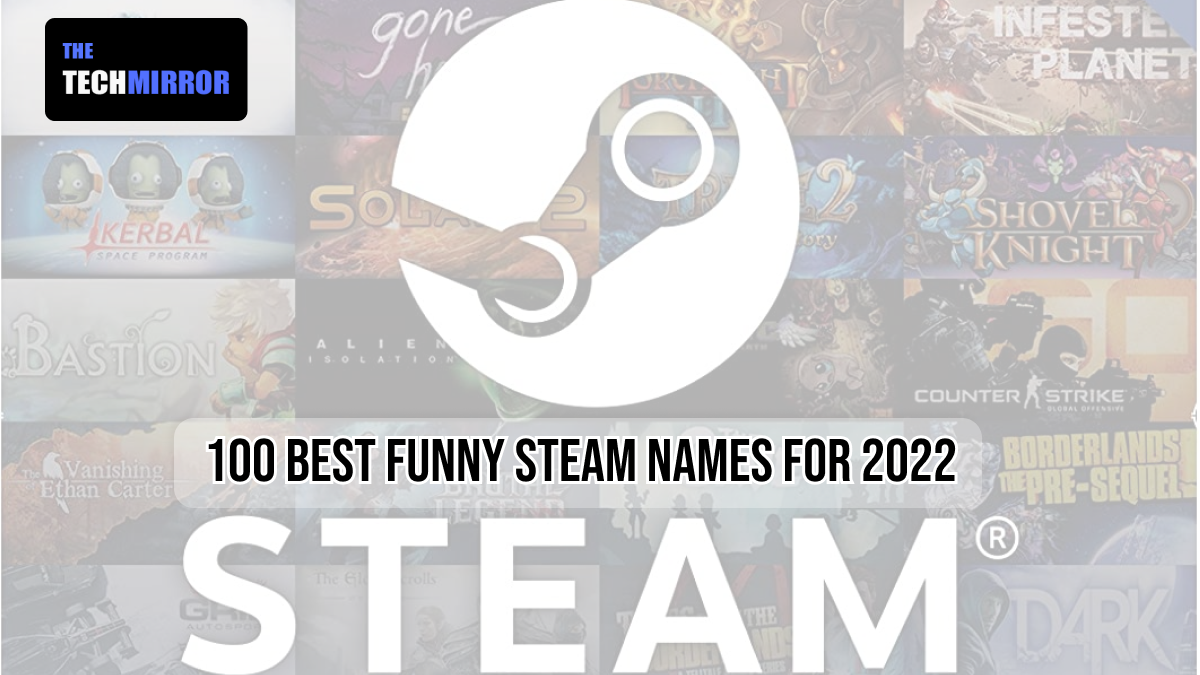 If you are looking to change your profile name on Steam and need to have some fresh and funny Steam names. Here's an exclusive list of best funny steam names.
About Steam:
Steam is a cloud-based gaming platform, which enables its users to play games that they have bought or downloaded to their Steam accounts, accessible from any computer. It also let the users to store a wide-ranging compilation of games in their Steam accounts and cloud to save the space on their device.
In addition to this, another popular feature of this gaming library is that, users can chat among themselves whist enjoying their favorite game. Quite similar to the likes of WhatsApp and Discord, Steam too supports text as well as voice chat where users can add friends and chat with them either one-on-one or in group.
Users can either play with the real-life friends or other gamers whom they don't know in person. But whatever the case may be they have a propensity to use funny Steam names that can be easily kept in mind and recalled in fraction of seconds.
How to set up an account on Steam?
You can set up your Steam account using a couple of ways mentioned below.
Creating account Using Steam client application
To use Steam, you need to get the Steam client or app downloaded and installed on your computer. Following are the steps to be performed in this regard:
To start with, navigate to the official website of Steam and get the steam client application downloaded on your computer.
Now launch the steam client application and then click on create new account option.
Make the necessary entry to fill up the form and then click on the continue button. Once you have done it, a verification email will be sent to you.
Go to your email inbox and verify the account.
Thereafter choose a username and password followed by clicking on complete signup button.
That's it. You have now successfully created an account on Steam. You can now access the entire library of games, software, and forums available on the platform.
Creating account using steam website
Navigate to the official website.
Locate and click on Join Steam button.
Now click Create My Account. Fill up the form by providing valid information. Also ensure you enter a valid email address to proceed with the process by clicking "Continue".
Go to your email inbox and verify the account.
Thereafter choose a username and password and then click on 'Done'.
Lastly confirm your account sign-up by clicking on complete signup button.
How to change your Steam profile names/usernames?
The Steam profile name is the one by which other users can know you on Steam. Username usually shows up on the top right corner of your home page. Whenever someone on Steam wants to contact you it will be done using this username only. If at the time of setting up an account you have missed to register with some funny Steam names, you can always change it at any time later using the following steps:
Launch Steam and login in your account
Click on the username section provided at the top right corner.
From the dropdown menu select the view profile option.
Thereafter click edit profile.
Now type in a fresh and funny steam name and click on save button.
This way you can manage to alter your Steam username. Below is a list of some Funny Steam names to draw inspiration from.
Acid face
Master thief
Error404
In_jail_out_soon
ICantPauseItMom
only2days2live
Master of the all
Just A Teen
i_was_a_mistake
AllGoodNamesRGone
Prince Charming
Mr.RIGHT
InternetAnut
Snackluver
google_me_now
Im a S₳V₳GE
. down_with_the_kids
A ALIEN
Ghostfacegangsta
Do_not_disturb
DevilsAdvocate
hugs_for_drugs
HEART hacker
Back bencher
Yellow Bulldozer
name_not_importan
SmokinHotChick
SpiderPIG
Dark Rabbit
Granny's Tuna
DeathWish
Ebola
Hungry beast
Trust_Me_Im_Lying
invalid_username
LawOfTheStreets
Red Testament
knifeGang
Penguin Hugger
DisasterMaster
Angry Groceries
PlzJustDie
CapnBloodBeard
xOGirlmania
Lover Boy
SilentWraith
SeekNDstroy
MouseRatRockBand
MurderedByAGirl
VENOM Spider
THE_RICH_DOG
Mickey mouse
Crazy Beatzzz
MR. Popeye
< Busy hands >
Gunner boy
Vigorous_carrot
BoyZZZ Played WELL
Uncommon Name
Name doesn't matter
Mrs Crunchy Nose  
Old Wade
Unique 555
prince_charming
LOVEYOU3000
MouseRatRockBand
HuntY0uD0wn
Last_Warrior
Jesus Burger
dumbest_man_on_earth
rejected_by_you
DontHarrassMe 
my_name_is_in_use
black_knight
DisasterMaster
Snipernova
Mindcontroller
fast_and_the_curious
hello_im_creepy
who_am_i
RAMBO_IS_REAL
Heavy driver
RockYourDead
NXT_IS_U
Alcoholic Chora
MrsStyles
I_Shoot_You_Die
Noob!!1
Champain
been_there_done_that
I_Do_Destruction
im_confused
Playboy
Selfish Soldiers
Grieving Butchers
Inimical Thugs
Organic Punks
Tonight Gamer
Captain Jack Sparrow
Terrific Tornado
Read Also:
The Ultimate Discord Server Names for 2022
Pick the Perfect Name: Here's the List of Aesthetic Roblox Username
Looking For Good Xbox Names? Here's A List To Pick From