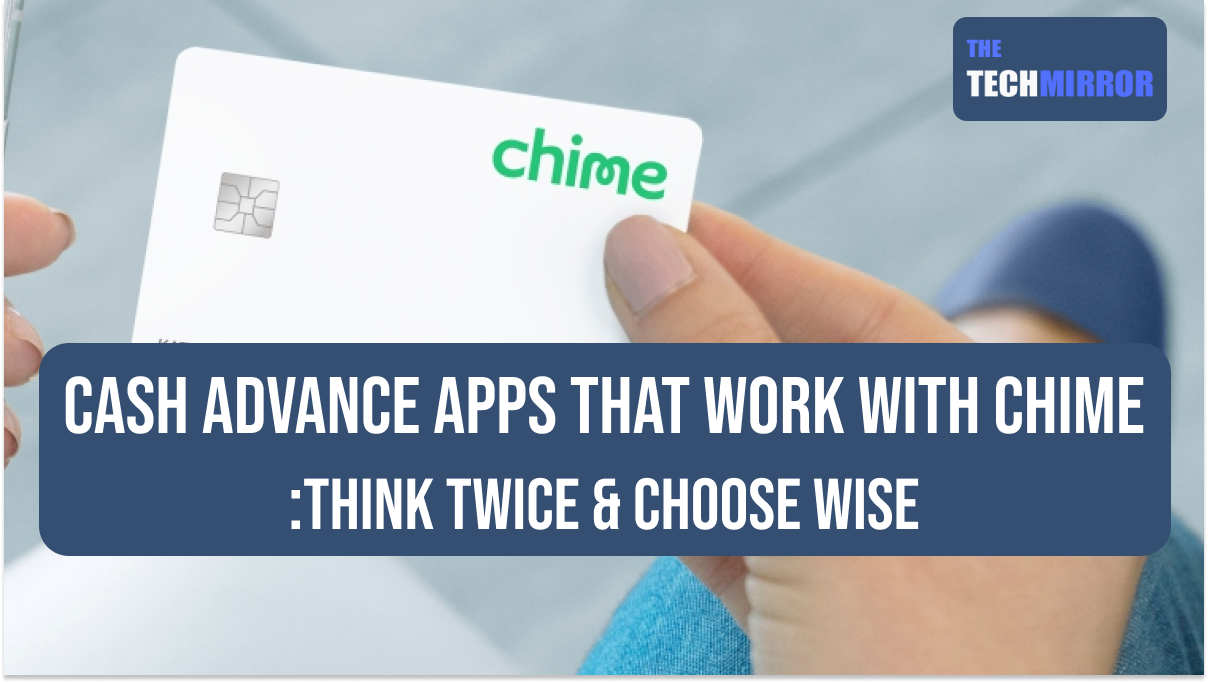 No one can be certain of Future. Bad time or emergencies can come at any time. Putting it in more simple words, just think of a situation when you have to make payment at a cash-only retailer with no cash available in your wallet. A cash advance seems to an option which might get you out of such situation. Keeping similar contingencies in mind, where you will need cash in hand but don't have adequate funds at your disposal, learn how cash advance apps can help you. Additionally if you are a Chime user and want to know which are the various cash advance apps that work with Chime, this article is a must read for you in 2023.
But before exploring that, let's have a clear understanding about Cash Advance and Cash Advance Apps alongside the benefits you can reap out from using them.
What Is a Cash Advance?
A Cash Advance is a short-range cash loan intended to meet an unforeseen expense or emergency. In other words, Cash advances are characteristically a straightforward way to obtain fast money.
In essence a cash advance is short-term loan, an easy and convenient means to get money when you're facing financial crunch.
Despite the fact that you would like not to rely on cash advances on a regular basis, you might have to use them in case you are short on finances and not capable to pay for an immediate expense.
About Cash Advance Apps:
Cash Advance Apps are handy for you when it comes to making payments for expenses like rent, fuel etc. These apps lend you funds in advance prior to your payday to cover necessary. On the other hand, some apps possibly will even offer loan funds without linking to payday.
These apps are a simple, swift, and more suitable way to get an advance. Although cash advances are likely to have a high-interest rates and fees, cash advance apps are always a better option without risking the over-draft of your checking account.
A few of the popular cash advance apps are Albert, Brigit, Cleo, Dave, Earnin, Klover, MoneyLion etc. But all of these apps aren't supported by Chime. So to find out the answer as to which cash advance apps that work with Chime continue reading forth.
Cash Advance Apps that work with Chime:
As a Chime user, if you want to know for cash advance apps that support Chime; here's a brief note on the different cash advance apps and there compatibility with Chime.
Albert- Albert is one of the most commonly used cash advance apps that works fine with Chime. Albert allows you to borrow funds against your next paycheck. However the limit of advance depends upon your income and usually falls in a range of $100 – $250.
The best thing to experience is that there is no interest or late fees for the same, but works on a monthly subscription fee of $3.99. Adding to that if you wish to have an instant advance, you should have to pay a delivery fee amounting $4.99.
Branch – The nextapp on the list is the Branch app. It does allow advance against your paycheck, and though the app work for Chime users is has a condition for the same. In any case to be eligible for cash advance from Branch app, the Chime users have to put their direct deposit in the respective Branch Wallet. 
While deciding the cash advance amount to be lent Branch takes into consideration your wages as well as the total number of work hours you have put in (generally the cash advance is capped at $500 a pay cycle). Although, Branch charges no interest on cash advance but if you wish to get funds immediately a fee amounting $3.99 is payable.
Brigit- Brigit is amongst the most widely used cash advance apps with a user base of over 1.5 million. This budgeting app permits users (for those who qualify) to obtain an instant advance of $250. Once having set an account on Brigit, you'll be allowed to apply for a cash advance against your next paycheck. By availing Brigit's free plan, you can seek financial assistance, insights into your finances, as well as overdraft notifications. However, in order but to use the cash advance service feature, you're required to register for the paid plan costing $9.99 for a month.
It is to be noted that as per official information on its website, Brigit mentions to be no longer supporting new users who are banking with a Chime account, and cites connectivity issues as a reason for the same. This clearly shows that Brigit app had earlier worked with Chime (and may continue to work for a few old users) but is not going to support the services anymore.
Chime SpotMe– To get an advance you can also go with Chime's own product called Chime SpotMe. This app allows you an overdraft in a range of $20 to $200 with no charges. To be eligible for it you only require having a minimum direct deposit of $500. However the actual limit is subject to your past activity and account history. To get registered on Chime SpotMe, you are required to go to the Settings Tab and check for the eligibility.
This app can lend you funds (up to the relative overdraft limit) for any purchase via Chime debit card beyond your cash balance. With Chime SpotMe you can only make purchases via Chime Debit Card and are not allowed to withdraw or transfer funds to someone else. 
Cleo- Next on the list is Cleo, an AI powered chatbot app which functions as a money management app. It allows the user to link a bank account so as to analyze deposits and spending pattern. Cleo is one of such apps which work well with Chime for cash advance. This app also allows you to have a loan of funds (Salary advance)depending upon the spending habits and fund balance. Not only that, getting a Cleo Plus service will let you to have a salary advance of $100.
Dave- Dave is another cash advance apps that have no issues for users banking with Chime. It allows users to link their Chime Account and thereby provides cash advances to meet small expenses capped at $75. Users having their Chime bank account linked to the Dave will receive a notification whenever their account is short of cash. This enables them to add cash and help in keeping away from overdraft fees. Dave provides the user with an option to apply for a cash advance of $200 at max against their upcoming paycheck. Dave operates on voluntary tips and also charges a monthly fee of $1.
Earnin- Earnin is the next pick on our list of cash advance app that work with Chime. Even though, there is not much of clarity about the same. Since Earnin claims that their service is offered only to a few selected Chime users on a test basis and they are still working on improving it and yet to render complete support.
As far as the functionality of the app is concerned, Earnin keeps a record of your daily earning at work, using information related to payment schedule and total number of hours worked. It allows you to withdraw maximum of $100 a day, or $500 of their paycheck, in a pay period.
However Earnin lets you borrow the cash equals to your expected earnings in the pay cycle. And then as soon as your paycheck gets credited to your account, Earnin will automatically debit the said borrowed amount.
Earnin is free to use and doesn't charge any interest and charges, but it does ask for a tip in case of advance on your paycheck.
Klover-The Klover app is another paycheck advance app that is compatible with Chime. It does not check for your credit score to lend money. Having qualified for cash advance you are required to perform minimum of 3 direct deposits. And the amount of cash advance on Klover ranges in between, $100 – $500.
The app does not charge any direct fee or interest against the advance, as an alternative, it receives money all the way through advertising, showing you custom ads as per your profile.
MoneyLion- Money Lion is yet another top ranked cash advance apps known to support Chime. This mobile banking app offers cash advances and early paycheck access. The membership based service is provided with an instacash option (without interest) of get $250 in advance. In addition to that it gives short term loans.
On the other hand, if you don't have an account on MoneyLion and need to get funds instantly from it then you'll be charged with a fee. 
Summing Up:
Cash advances can be beneficial for some urgent needs; a cash advance is a speedy and easy method to gets funds. But previous to borrow a cash advance, ensure that you are completely aware of all the fees, interest, and costs associated with it. And though Cash advance apps are considered to be a low-priced alternative in comparison to overpriced Payday Loans and overdrafts, you should be careful to stay away from overusing them.
We recommend you not to rely too much on such apps for your cash requirements as they may also lead you to debt trap. 
Hope this post has given you valuable information about the Cash advance apps that work with Chime. Think about all your options twice and choose wise. 
Read Also:
Deposit a Check with Chime: Learn the Start-to-Finish Process
How to Change PayPal from Business to Personal
Transfer Money from PayPal to Cash App: Here's Practical & Feasible Way