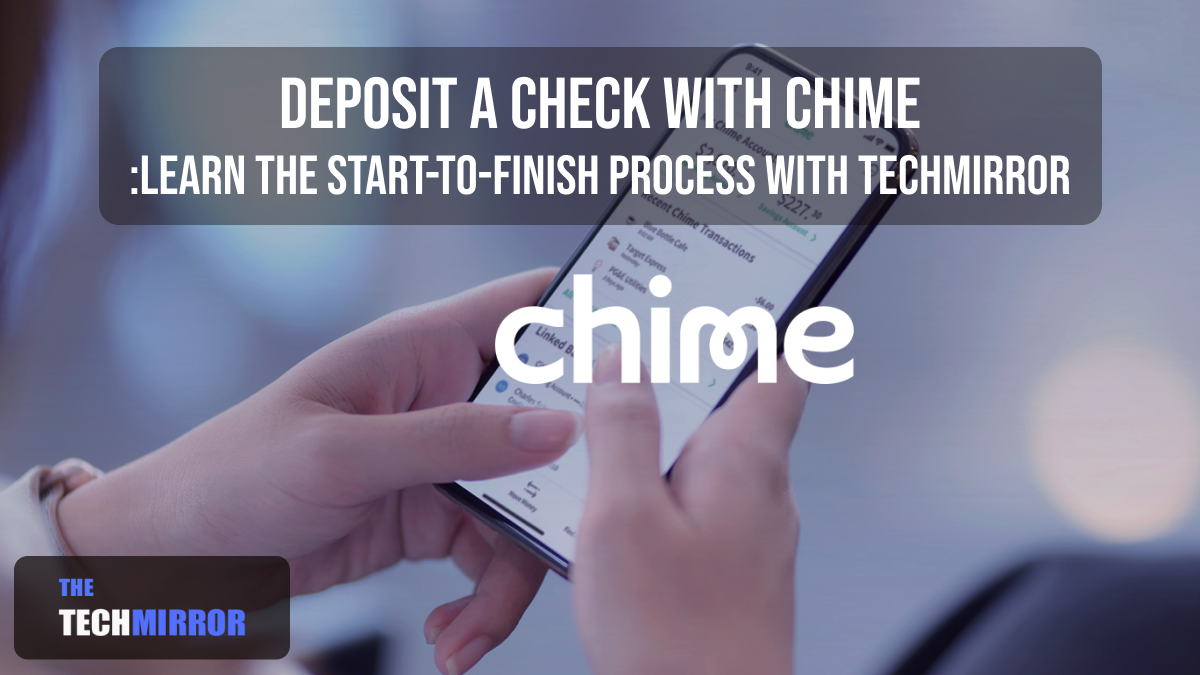 Chime is one of the most chosen digital banking services for technoid Americans. As contrary to routine check deposition at bank branch it allows you the ease of depositing check from your home. If you're a Chime account holder and have no idea about how to deposit a check with Chime, this blog post will make you understand the start to finish process for a mobile check deposit using their mobile app.
About Chime:
Chime, an American financial technology company, is committed to change the way people think about banking. Founded by Chris Britt (CEO) and Ryan King (CTO) in 2013, as an alternate to traditional banking Chime is building a new class of online bank account which aids members get a hold by making managing funds easy and free. Their modern day banking operations aren't based on overdraft, monthly service, minimum balance, or other consumer fees, rather rely they aim at providing better, lower-cost banking options for Americans. Chime has driven innovation, inclusion, and access from corner to corner in the banking industry.
How to Deposit a Check with Chime? 
The conventional method to deposit checks in bank calls for, visiting the bank branch to physically drop the check which is quite a time consuming affair. Alternatively you could send the check by mail which also has certain drawbacks. To overcome these problems, Chime offers the ease of mobile check deposit (also referred as photo check deposit) via digital means from your own place.
You can deposit a check with Chime via Mobile Check Deposit on Chime App which is as simple and convenient as you could ever ask for. All you need to do is just take a photo of check and send it to bank using the App.
Below are the steps which you need to undertake for depositing the check with Chime.
The Start-to-Finish Process to Deposit Check with Chime
Launch Chime Mobile App on your mobile device.
Go to the "Move Money" option provided at the bottom of your screen.
Now tap on the "Add Funds" option.
From the given options find and select "Mobile Check Deposit"
Go on to make selection about the account type (from checking or savings) to which you are depositing the check
Enter the Check details and amount
Write "For deposit only" on the reverse side of your paper check and sign it.
Then after take a photo of both sides of the check (front and back portion) using your mobile camera. While taking the picture please ensure that camera lens is clear and there is proper lighting so you can capture details appropriately. Details on both sides of the check must be readable in the photo to keep away from chances of its rejection.
Thoroughly review the details (including the account number, amount and alike) once again on the recorded images.
Confirm and submit to deposit the check.
How to Mobile Deposit Stimulus Checks with Chime
Stimulus Check Mobile Deposit is an exclusive service feature available to users who are active on Chime Spending Account as well as Chime Visa Debit Card. Keeping in mind the handiness of users and facilitate faster payout Chime App provides a separate tab for stimulus check deposit.
To use this feature you are required to open the Chime App and take the path as: Move Money > Mobile Check Deposit > U.S. Treasury.
In case you have received a paper check as government stimulus payment, then you should take into consideration the points mentioned below for successful deposit:
The name written on the check must be same as that on your Chime Spending Account
For joint stimulus checks, in any case one filer's name must match the name registered with the respective Chime Account- if it don't match then it could not be accepted
It is mandatory to sign at the back of your paper check and place a note "For deposit to Chime only". (In case of joint stimulus check, signatures of both filers are required on the back of the check)
Key Points to be Remember while Depositing Check to Chime Account
If you are unable to get the Mobile check deposit option on your Chime App note that this deposit feature will be auto-enabled on Chime once you receive a minimum of $200 Payroll direct deposit to Chime account. This will get activated within 30 days from the date of such direct deposit. (some old account holders may still have this feature enabled anyways)
Subsequent to you submit the Check; it appears under your pending transactions. There after it typically takes a few hours for your check to get accepted or rejected.
Once a Check is accepted by Chime, it needs next 24 hours to reflect the credited amount in your account. Thus in general circumstances it will reflect only on the next business day except for weekends.
The cut off time for depositing a check is 5 pm on any given day.
The deposits are restricted to maximum amount of $2000 a check and a maximum of 10 checks a month.
Checks can usually get rejected owing to the verification problems related with the check details or payer information.
Final Words:
You can easily deposit a check with Chime Mobile Deposit in just a few clicks on your mobile device. This article has covered the start-to-finish process to deposit a check with Chime. While depositing a check using Chime app it is required to note some key points as mentioned in the article.
Read Also:
Why Does PayPal Need My SSN? : Here's An Answer
How to Transfer Steam Money to PayPal Account