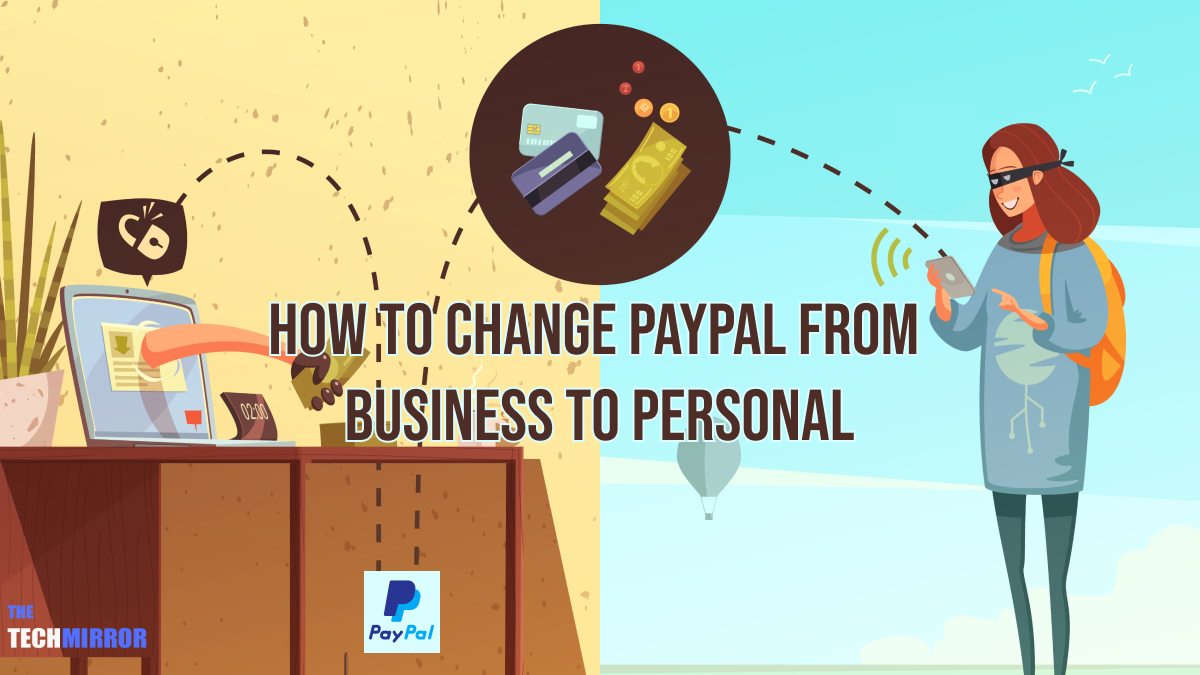 PayPal alongside other digital financial service providers have brought a revolutionary change in the way people deal with money and make monetary transactions. PayPal's secured online accounts allow users to send and receive funds. As an active PayPal account holder, if you have no idea regarding how to switch the type of account on PayPal from business to personal, be vigilant and read through this blog post to have a precise understanding about how to change PayPal account from Business to Personal.
Before getting into the details of whether and how to change PayPal accounts let's first understand the types of accounts PayPal offers to users and benefits associated with each of them.
Different types of accounts that PayPal offer:
PayPal users are provided with two distinct types of accounts depending on their needs. You can either opt for a Personal or Business account. Here's a brief about these accounts:
Personal account: If you simply require the account to pay for the online purchases and transfer money to your family members and friends, a Personal account may serve your object. With a Personal account you can:
Pay back to any person.
Send money to individuals as a gift.
Buy or book stuffs online.
Business account: Apart from the Personal account one also go for Business accounts without paying any addition fee. Business account is recommended if you are online merchant who function under some company or group name. A Business account allows you to enjoy following benefits:
Work under your company or business name.
Accept payments via debit card, credit card, and bank account at a minimal charge.
Allow access to your account up to 200 employees.
Register yourself for premium PayPal products like PayPal Checkout.
Initiate a dedicated email for your customer service issues.
How to change the type of PayPal account:
Once you open an account with PayPal, you can easily switch the type of account that you have. You can switch it either way i.e.; upgrade Personal account to Business account or downgrade Business account to a Personal account. So let's get into the discussion as How to switch PayPal account from one type to another.
Changing your Personal account into a Business account:
If you wish to move towards a higher range of services, upgrading your Personal account on PayPal is a good pick. There's an direct option available for it and you can get it done by performing the steps given below:  
Log in to you PayPal account.
Head to Settings.
Click Upgrade to a Business account.
Now provide your business information and then click on Agree and Continue.
This way you can change or upgrade your PayPal account from Personal to Business.
Changing your Business account to Personal account:
If for some reason you no longer want to operate Business account and decided to downgrade it to Personal account, there isn't any direct method available to you. However the only feasible way by which you can downgrade your PayPal account is by contacting to PayPal customer support team. You need to follow the steps below to get the desired task complete:
Navigate to www.paypal.com, official website of PayPal
Login to your account by entering valid credentials
Now look for the Contact option provided at the bottom left corner of the page. Click it to proceed.
This will route you to Help Center page, here click on "Account profile and set up" and then select "Upgrade or downgrade your account" option. 
After that scroll down a bit and click on "Email us"
As it redirects you to Email Customer Service section, you are required to enter your first name, last name, email address and then write a request message that you wish for a change of business account to personal with a valid reason for it.
Click on "Send email" to submit your request.
This is it..!! You will now receive a confirmation that "your email has been sent successfully". However it will further take an estimated response time of 24 hours from customer service end to change your PayPal account from business to personal.
Alternatively, there is another solution to get in touch with the PayPal support team via their chat assistant (Chatbot). You must take following step by step method to contact a support agent via the chatbot.
Navigate to www.paypal.com, official website of PayPal
Login to your account by entering valid credentials
Click Contact option given on the bottom left of the page.
This will route you to the PayPal Help Center. Scroll down and click on the Message Us option.
Now The PayPal Assistant, i.e.; the chatbot, will try to solve your query. 
If you wish to use this option to talk with the agent, keep answering questions until chatbot asks, "Would you like to transfer this conversation to an agent?" Click yes to continue.
If the agent is available, he would respond to your queries. 
In comparison to method 1, this gives you far quicker solution.
Read Also:
How to Transfer Steam Money to PayPal Account
Why Does PayPal Need My SSN? : Here's An Answer