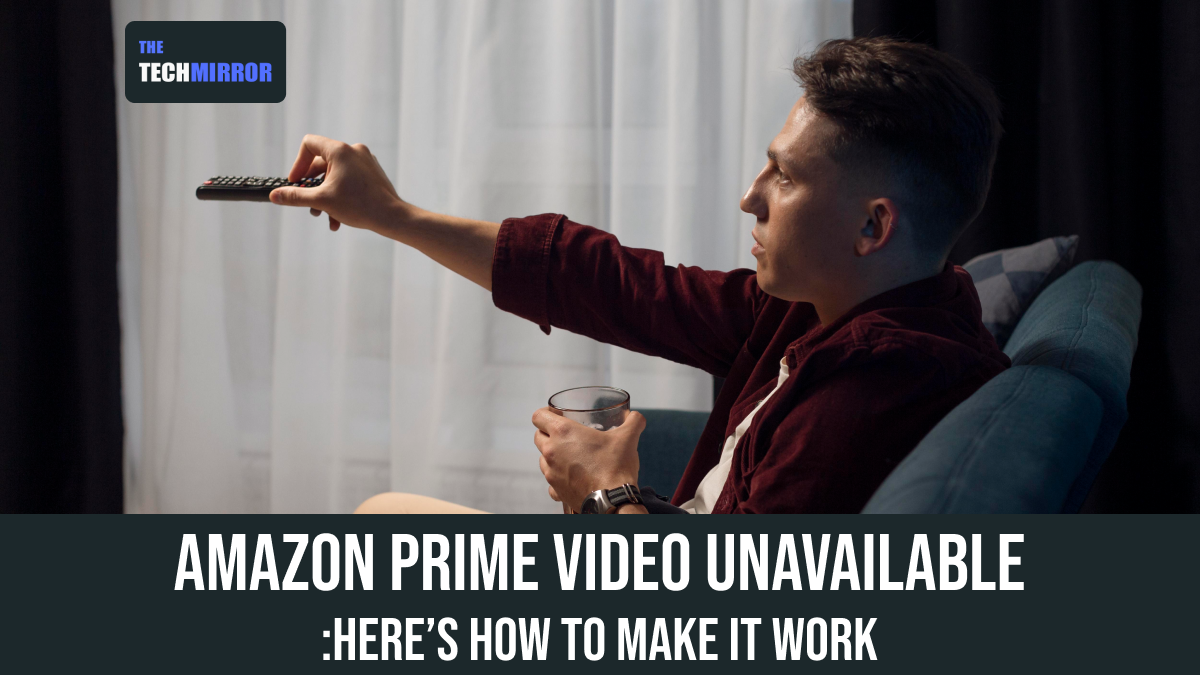 If you have encountered with the "Amazon Prime Video Unavailable" error message while trying to stream your favorite movie or TV show on the Amazon Prime network? Are you eager to know why this message pops up on your screen and what to do for getting out of this weird situation?
Well, we have compiled this transcript to make you learn about the reasons which results in the occurrence of the Amazon Prime Video Unavailable error. By reading this blog article you will also come to know the solutions available for fixing this issue.
So let's get started and explore more about the "Amazon Prime Video Unavailable" problem and possible ways to get rid of it.
Causes of the Amazon Prime Video Unavailable Error:
Amazon Prime is certainly one of the most convenient means of entertaining yourself when staying back at home. However, it becomes quite annoying when you are interrupted by Amazon Prime video unavailable error when trying to stream some specific movie titles or particular TV shows. After a thorough study of literature on this error, we have enlisted the most common reasons primarily responsible for causing the "Amazon Prime this video is currently unavailable" error. These reasons are:
An Outdated App
Unavailability of Title
Quality of streaming video
Enabled "Do not Track Request"
Enabled Incognito Mode
Installed Antivirus on your device
Browser Issue
Domain Issue
VPN Issue
Issues with HDMI Cable
Regional (Location) Issue
Security Issue
Server Outage in your area 
Now having known about some basic reasons behind the occurrence of Amazon Prime Video Unavailable Error, let's try to get over these reasons by addressing them one-by-one and learn about the solutions to fix this issue completely.
Fixing the Amazon Prime Video Unavailable issue:
Fix#1: Update your App
As an outdated or obsolete app may result in getting this error thus the first fix that we recommend is to get rid of the older app version. This can be done by keeping your apps up to date. You can either look of latest updates available for the app or else get a fresh install of the app with all the recent updates available for download on the "AppStore" (foriOS devices) or on the "PlayStore" (forAndroid devices.)
Fix#2: Check for Title Availability in Your Location
It is quite possible that you are receiving this error due to the fact that the content you want to view is not being available for viewing in your area or country. As some of the content is exclusively meant for viewers of a particular area or country and if that is the case here, you can't do anything but just to wait in hope for it be allowed for viewing in your area.
Fix#3: Change the Stream Quality
One of the most common causes for video being unavailable is the streaming video quality. When you are using an Internet connection with a low bandwidth it becomes difficult to stream videos in their original quality. As a result you won't be able to load high-quality videos and usually ended up in getting such errors. To overcome the issue, you can change the quality of streaming video.
To lower the video quality and getting a seamless streaming, click the "Gear" icon while playing a video and then keep changing to different qualities until you reach the one that suits the bandwidth of your connection. Apply the changes and see if the problem is resolved.
Fix#4: Disable Do Not Track Request In Chrome
You must note that a few privacy settings on Chrome browser acts against Amazon Prime. When you enable the "Do Not Track Request" option it refrains Amazon from carrying out certain actions and consequently you get this error. However you can fix the issue by disabling the Do Not Track Request. To do so follow the steps given below:
Open your "Chrome" browser and select the three vertical dots provided at the top-right corner.
Then select "Settings" from the new drop-down menu.
Scroll down the Settings window to find the "Privacy and Security" option.
Here click the "Cookies and Site Data" option.
Now uncheck the toggle option provided next to "Send A Do Not Track Request" to disable it.
Once you have disabled the option, try to see if the error is fixed or not.
Fix#5: Quit From Incognito Mode
In case you are streaming Amazon Prime on the Incognito mode in your browser you are more likely to encounter with Amazon Prime Video Unavailable problem for a few reasons. It is all possible that you get to see the website crashes with an error 7031 occurring.
In order to get rid of this situation you can simply switch back to a normal browser window and then try to stream the videos thereon to check if the error persist or not.
Fix#6: Turn Off Anti-Virus
Another handy way to resolve the problem is to turn off your Anti-virus software which might be causing obstruction in the even functioning of Amazon Prime and other similar apps. You need to follow the steps mentioned underneath to get the job done:
Go to the search bar provided next to the Start menu
Type and enter "Windows Security" and then make a click to select it.
Now select "Virus & Threat Protection" and thereafter scroll down to find "Virus & Threat Protection Settings".
Under this settings click the "Manage Settings" option. You will get to see three different security settings.
Turn "OFF" the "Real-Time Protection" by toggling the button.
When asked for permission grant, click on "YES".
That's it. Head back to the streaming app and check if the error is fixed or not.
Fix#7: Switch To Chrome Browser
You may be experiencing the video unavailable problem on Amazon Prime due to some browser issues. Hence we suggest you to switch to a recognized browser such as Chrome instead of browsing the application on some unknown or less familiar browsers leading to incompatibility issues. Just navigate to the official Chrome website to install the latest version of Chrome and hopefully you will get the problem fixed with it.
Fix#8: Switch the Streaming to another Domain
If the problem is due to Domain then probably you can get it resolved by switching the Domain. Just like many other users you can easily get t o fix the problem by trying to stream Amazon Prime using either of the following links:
Now if you are using .com switch to the .ca domain or conversely if you are streaming from the .ca domain then switching to .com may serve the purpose for you.
Fix#9: Turn Off VPN
Another reason behind the error is the use of a VPN service. VPN usually changes your exact location and thus it becomes difficult for Amazon Prime to identify your real location and thereby accessing certain movies or TV shows. To have a proper streaming we recommend you to turn the VPN "OFF".
Fix#10: Replace Your HDMI Cable
For better streaming and viewing experience Amazon requires and recommends you to have a cable which works with either HDMI 1.4 or HDMI 2.2. And as a matter of fact using anything lower to that quality may result in this error. Moreover incompatible HDMI cables can also cause the Video Unavailable error, hence you must ensure to use a high-quality HDMI cable to fix the problem.
Fix#11: Change Amazon Prime Region
If you are facing some regional or location related issues on Amazon such as your Amazon Prime account is linked to some other region in-place of your real location. To overcome the problem you can change and update the account settings by using following steps:
Navigate to Amazon.com and then log into your account via entering valid credentials.
Go to the "Accounts And Lists" option provided on the upper right of the site.
Here under Accounts and Lists, find and select "Your Content And Devices".
Then, go to "Preferences" and make a click on the arrow located to the right of "Country/Region Settings" where you will see your presently selected country.
Soon after you will get a notification appearing on the screen, click on "Learn More".
Then, select "Update Your Default Kindle Store" or "Transfer Your Kindle Account To".
Once you are done with it, go to "Home" using Home button on remote of your Amazon Fire TV.
Head to the "Settings" and then go to "My Account". Here, click on "Deregister".
To conclude the procedure, you need to register your device back again by re-entering your Amazon account info for your new country.
This will likely sort out the Amazon Prime vide unavailable issue.
Fix#12: Enable Two-Step Verification
Considering the security concerns, Amazon too like other services recommends you to enable two-step verification on your account. If you fail to get this extra layer of security, then possibly it will cause such issues. You can enable two-step verification on Amazon by performing underlying tasks:
Navigate to Amazon.com and then log into your account via entering valid credentials.
Go to the "Accounts And Lists" option provided on the upper right of the site.
Click on "Your Account" from the drop-down menu.
Then select "Login And Security" on the new window.
Look for "Advanced Security Settings" and thenclick on the "Edit" button provided next to it.
Now click on "Get Started" to initiate Two-Step verification process.
Enter your phone number on which you wish to get the code and then click on "Send Code".
After getting the code, enter it in the specified field and then select the "Verify Code And Continue" option.
Finally, click on "Got It" to turn on the 2-step verification for your Amazon account.
With a bit of luck, setting up the 2-step verification may help you to get rid of the Amazon Prime Video Unavailable error.
Fix#13: Verify the Amazon Servers Outage
You are likely to get the Amazon Prime video unavailable error owing to the server outage in your area. Servers may crash because of heavy traffic or alternatively they can be down for some maintenance work. You can know about the Amazon servers' outage on this website for checking the real-time status of server.
If this is the reason why you are experiencing the particular streaming related problem, you can't do much but to wait until the outage passes by.
Read Also:
Amazon Prime Subtitles Not Working: Here's How To Fix It & Play In Sync
Learn Everything About Amazon Prime Music Download Limit..
How to Pay for Prime Now Via Amazon Gift Card