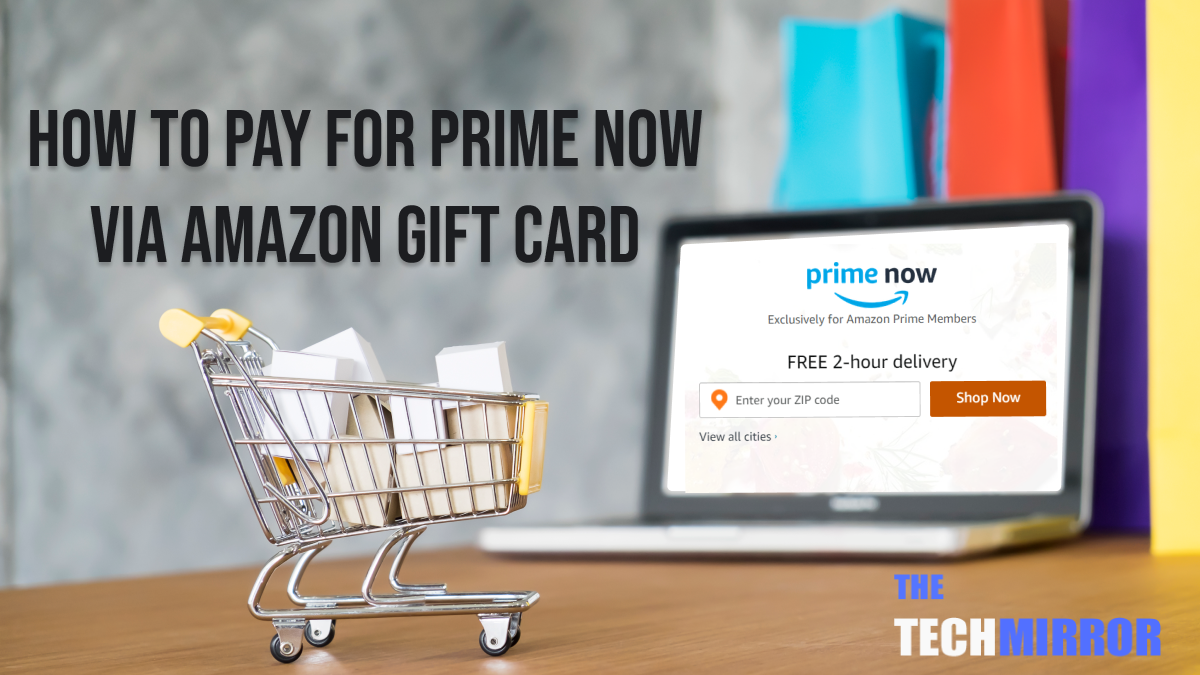 Prime Now by Amazon promises to make your shopping easy. The application is meant to order grocery and other items and get them delivered to your place. It permits several modes of payment while placing the order and completing the check out process. However there is a frequently raised query from most of the users that; "Can I pay for Prime Now using Gift Card?" or "Is it possible to pay for Prime Now Via Amazon Gift Card?"
We are here with an answer for you. Continue reading forth to explore Prime Now Gift Card and find out the possibility and process of using Amazon Gift Card for Prime Now payments.
A brief about Prime Now:
Prime Now, an exclusive and ultrafast delivery service of fresh produce, meat, seafood and many more stuffs meant for Amazon Prime Members. It is available in only few selected cities in countries like United States, France, Germany, India, Italy, Spain, and the United Kingdom.
How does Prime Now work?
You are required to enter your ZIP code, search for the stuff from Prime Now, or a local store, and get the item added to your cart. Subsequent to that, complete check out process using your existing Amazon Prime account. Once you are done with it Amazon's local courier partners will deliver your purchases at your door step.
What items do you sell on Prime Now?
Prime Now makes your routine life so easy and hazel free. It deals into a wide range of items spread across dozens of categories, such as household items, groceries, electronics, gifts, seasonal items, and many others. In addition to that Prime Now keeps on delivering your purchases around the clock, from early morning to late evening, for all week days without fail. However, the delivery charges differ depending upon order type and size.
Using Amazon Gift Card for Prime Now:
You can only access and avail benefits of Prime Now if you are subscribed to the Amazon Prime Membership. As the application will request you to login with the Amazon account during the check out you must have an active Prime membership to proceed.
You are provided with multiple payment option to choose from. These payment methods on Prime Now consist of Credit and Debit cards, Amazon.com store cards, Amazon Pay balance, or even the Gift Card and Promotional Codes from Amazon.
As one of the options given under Payment methods on Prime is 'Redeem a Gift Card', you can consequently use Amazon Gift Card for Prime Now. To know more about how can you use Amazon Gift Card for Amazon Prime Now payment, read for the stepwise method that can be used to redeem your Prime Now gift card.
Steps for Using Amazon Gift Card for Prime Now:
Go to Amazon Prime Now.
Log in to your Account by clicking "Sign In" option provided on the top right corner. (make sure to use the credentials for active Amazon Prime membership account).
Choose the preferred items and add them to the cart. Once done with selection of shopping items, click the cart icon at the top right to continue.
Now select "Proceed to Checkout."
Go on to enter the necessary details such as "Delivery Address," "Delivery Time," "Mobile Number."
Find "Payment Methods" option at the bottom of the page. Select "Gift Cards and Promotional Codes" listed under Payment Methods.
Enter the Amazon Gift card detail and/or Coupon code to be redeemed.
As soon as you enter the required detail, you will be allowed to use the amount of the gift card for making payment against items which you have shopped from Prime Now.
In Conclusion
We guess this article has helped you in getting your questions answered and query resolved as to how you can use Amazon Gift Card for Prime Now. If you want to read more of such articles keep visiting us…
Read Also:
How To Fix Amazon Video Not Working on Samsung TV error!
Amazon gets hold of the Wondery to rule out Apple Music, Spotify