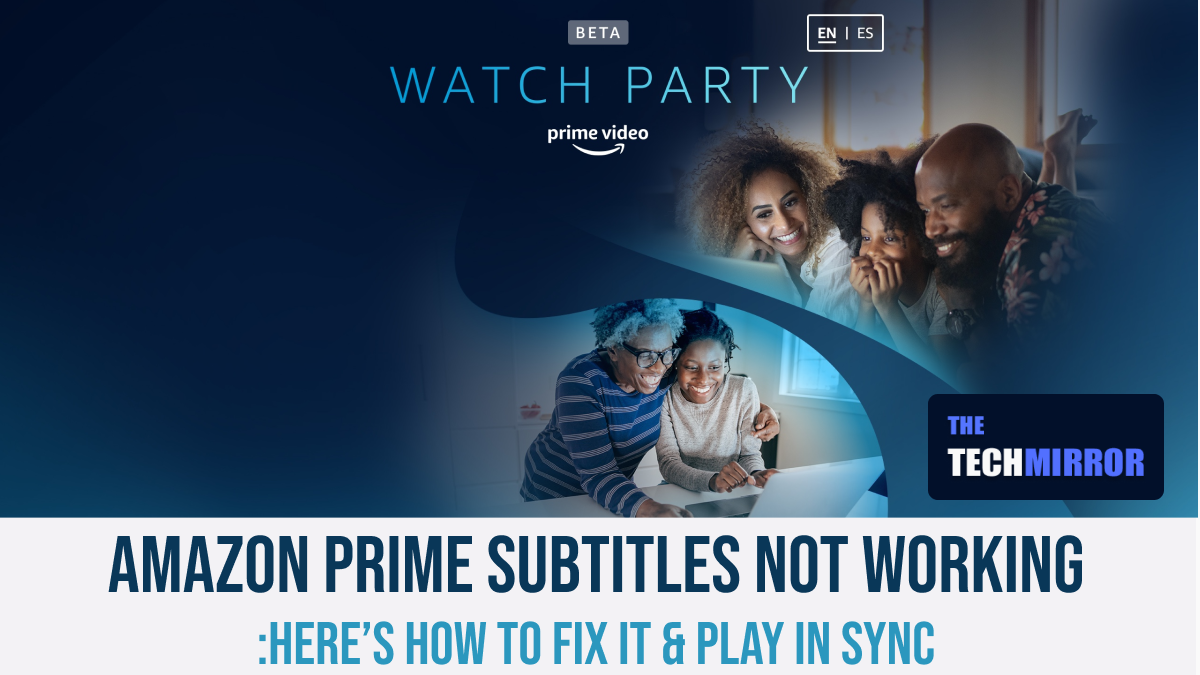 With Amazon Prime it is quite easy to find TV shows and movies all in one place. You can watch and enjoy video content from your preferred channels with an add-on subscription to these channels of your choice. Thus it is one of the most liked destinations for movie maniac and tele series lovers as they can watch specific movies or shows of other languages by turning on Amazon Prime Video subtitles. But at times users find it irritating as Amazon Prime subtitles not working in sync with the video on screen.
If you are also having a poor viewing experience as a result of subtitles running out of sync. Here is a guide for you to understand the reasons as why subtitles do not work in sync with the video and how to fix this subtitles issue on Amazon Prime.
About Amazon Prime:
Amazon Prime Video, also commonly referred as Prime Video, is a subscription based video on-demand OTT streaming service of Amazon.com Inc. Introduced on September 7, 2006 as Amazon Unbox in the United States; the service has countless video content from every hook and corner of the world. Amazon Prime primarily distributes movies and TV shows produced by Amazon Studios or licensed to Amazon, as Amazon Originals. It also has an expanded video library to include content add-ons, hosting content from other providers, live sporting events, as well as video rental and purchasing services under Prime Video membership or the Prime subscription. 
Subtitles issue on Amazon Prime Video
Technically, all pre-recorded movies and TV shows comes with text captions synchronized with corresponding video frames. However in some cases users experience a time lag between the two and hence then it becomes quite difficult to use them. From time to time they have a delay of around three to six seconds, which causes a poor experience for viewers and they find it hard to hear the characters and read subtitles which are not playing in sync with the video.
Reasons behind Amazon Prime subtitles not working in sync
If you are experiencing subtitles issue on Amazon Prime as the closed caption not working in sync, there may be a lot of reasons for it. A few of predominant reasons are enlisted below:
Subtitles are turned off
Video don't support any subtitles
App version is obsolete (out of date)
Closed captions are encoded in format not supported by your device or TV set
Fixing the Subtitles issue on Amazon Prime
In order to fix subtitles issue on Amazon Prime Video you can try any of the following methods:
Method #1: Turn on subtitles
The first and the basic fix to solve the subtitles issue is to turn them on. However the method may differ depending on devices. The simplest way to turn on subtitles on Amazon Prime is by:
Launch the Prime Video app
Play the video of your choice which contains the subtitle
Once video begins to play, head to the Menu option
Now tap on Subtitles, and then tap on the On button.
On the contrary, you can turn off subtitles on Amazon Prime, using the same path as: Menu > Subtitles > Off.
In case you are accessing Prime Video on an Apple TV and subtitles are not working in sync with the video, consider turning them on using following steps:
Go to Settings
Next tap on Video and Audio
Make sure the Subtitle Language is ON, if it is already on, turn it OFF.
Exit the settings and head back once again to turn Subtitle Language to English if Amazon subtitles are showing in some other language.
On the other hand, you can take following route to enable subtitles while playing a video on Roku.
Head to Accessibility Settings
Then tap on Device
Next go to Manage Accessibility
Finally turn on Subtitling provided underneath Hearing Settings.
Note: If you wish, you can also customize the closed captions like adjust the color and size of the subtitles and alike.
Method#2: Check if the video supports subtitles
Subtitles on Amazon Prime might not work due to the fact that the video which is being played on your smart TV does not have subtitles associated to it.
All the videos with closed caption on Amazon Prime display the symbol denoted as CC on their overview pages. Where the "CC" symbol does not appear against a particular video, it indicates that the video does not include any subtitles.
Consequently you can't do anything to fix the subtitles issue in this case as the video itself does not include a subtitle.
Method #3: Update your app
One of the major reasons for the subtitles be out of sync is the current version of your application. If the version is out of date, you must update the software and make sure that you have the latest version installed on your device.
For the purpose of updating the app you need to go to the specific app store and test out for recent updates and get a new version installed (if available any).
Summing Up:
No matter what subtitle issue you are facing on Amazon Prime, the best proven way to get it fixed is by having an updated version of the app. Besides that you can also try hands on other methods mentioned above in the article, i.e.; to turn on the subtitles from your settings.
However if the video does not include any closed captioning, there is no way by which you can fix the issue as it solely up to the content creators to tender a fix.
FAQs
Can I add subtitles in Amazon Prime from an external source?
No! Currently Amazon Prime doesn't provide such facility that could add subtitles in a video on prime video from an external source.
Read Also:
Learn Everything About Amazon Prime Music Download Limit..
How To Fix Amazon Video Not Working on Samsung TV error!