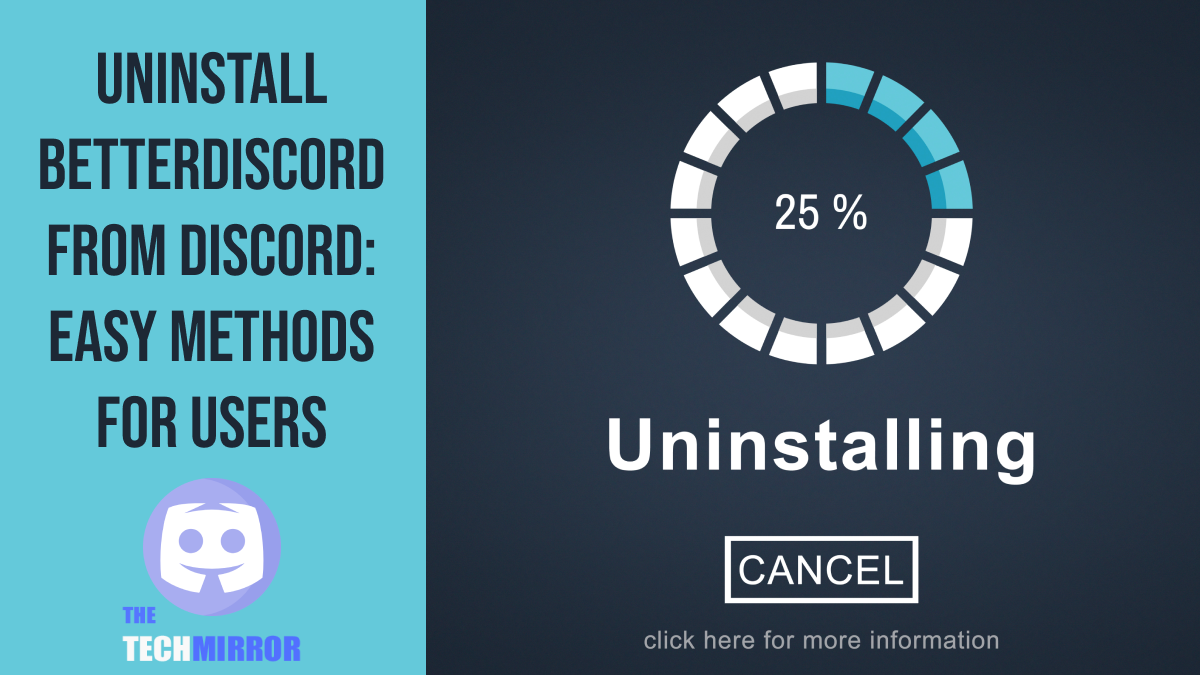 Within a few years of its launch Discord has gained a great popularity among various communities of netizens. Backed by its success BetterDiscord was introduced which offers some added features to its users. However, be an unlicensed application, Discord recommended to remove Better Discord as it may have security reasons. Moreover, Discord has the accurate authority to forbid users from using the Better Discord plugin.
So if you have decided, to get rid of BetterDiscord and finding it hard to disable BetterDiscord completely from your device. Just read through this blog post and try the methods mentioned herein about how to uninstall BetterDiscord.
About Discord and BetterDiscord:
In year 2015, Stan and Jason founded Discord to address an issue of gamers to stay in touch with friends while focusing on the online game. It brings to the users an easiest way to communicate over voice, video, and text as well as to livestream games and other programs from their computers. Primarily meant for gaming community today the application is being used and liked by millions of users across the world.
Soon after its launch Rauenzi came up with an extended application named as BetterDiscord. Available in GitHub, the purpose of this application is to bring about more custom feature that can enhance chatting experience. It provides following benefits to users:
Custom CSS to modify the Discord settings as per your fondness.
Support plugins (to be written or downloaded) to amend the theme, appearance, etc.
Control display mode where user can pick from different display modes, including minimal or voice mode.
However, there's no legal compliance for BetterDiscord and all the extensions are deemed to be illegitimate and aren't permissible as per the Discord's Terms of Service. Hence it is quite smart to uninstall BetterDiscord from Discord to stay safe and avoid legal proceedings and other possible complexities.
Uninstall BetterDiscord from Discord: Easy Methods
Once installed on your system, there is no direct method available to get rid of BetterDiscord. For that reason, in order to remove BetterDiscord, you have to go an extra mile and try some unusual methods. We are suggesting you couple of ways that fits well and help you uninstall BetterDiscord from your system fully. Read forth to know more details on these methods.
Method 1: Uninstall BetterDiscord by Removing AppData (Effective only for Windows)
For uninstalling BetterDiscord entirely from the Discord app you must remove it from the root, i.e.; its install sources. And to do so you have to perform following steps:
Open Run prompt by using "Windows" + "R" command
Type "%AppData%" and then press "Enter"
Make a Right-click on the folder with name "BetterDiscord" 
Now select the "Delete" option
Once again go to Run prompt and type "%localappdata%" followed by the "Enter" command
Head to the displayed location and delete the "BetterDiscord" folder
Also, make sure to delete the "App" folder from the same location
Now Launch Discord and you will see that BetterDiscord is uninstalled.
Method 2- Uninstall BetterDiscord by Replacing the Discord .exe file (For both MacOS or Windows)
Under this method, you need to download the Discord .exe file from the official website of Discord. After that you must carry out the fresh installation process without uninstalling the Discord app. Steps to perform this method is given below:
Go to Download Discord. Click from the available options "Download for Mac" or "Download for Windows" subject to your device and its operating system.
The .exe file will by default gets saved under the Downloads folder.
Now double click on the downloaded Discord Setup file to initiate the installation.
Wait for the standard installation to complete. This fresh installation will now replace the Discord app previously present on your system and also uninstall BetterDiscord in the process.
Method 3: Uninstall and Re-Install Discord 
If method 1 does not work for you in disabling BetterDiscord, you can proceed with another alternative method wherein you have to first uninstall the Discord application and then re-install it back on your system. This requires you to follow stepwise procedure (a bit varying for Windows OS and Mac OS) mentioned underneath:
Uninstall and re-install Discord on Windows:
Open "Windows" Go to Control Panel.
Now Click on Programs and Features option.
Right-click on Discord and then click on Uninstall.
This will remove Discord as well as BetterDiscord from your system.
Once the uninstallation process is carried out successfully, take a route to Download Discord and proceed with Download for Windows option.
Uninstall and re-install Discord on Mac:
Click on the Finder icon as provided on the bottom panel.
Go to Applications.
Make a Right-click on the Discord Application and select Move to Trash.
By doing so you will uninstall Discord from your system.
Now when the uninstallation is done, navigate to Download Discord and re-install the app with Download for Mac.
Conclusion:
This way by applying the above mentioned methods you can easily get rid of BetterDiscord.  Even after trying those out for your goodness; and if you still face difficulties in uninstalling BetterDiscord, you better contact Discord customer support for more professional solution.
Read Also:
Working Tricks and Tips on How To Unblock Someone On Twitch
Beware! This reasons you might be banned from WhatsApp
What is Animated PFP on Discord and How to Get one?