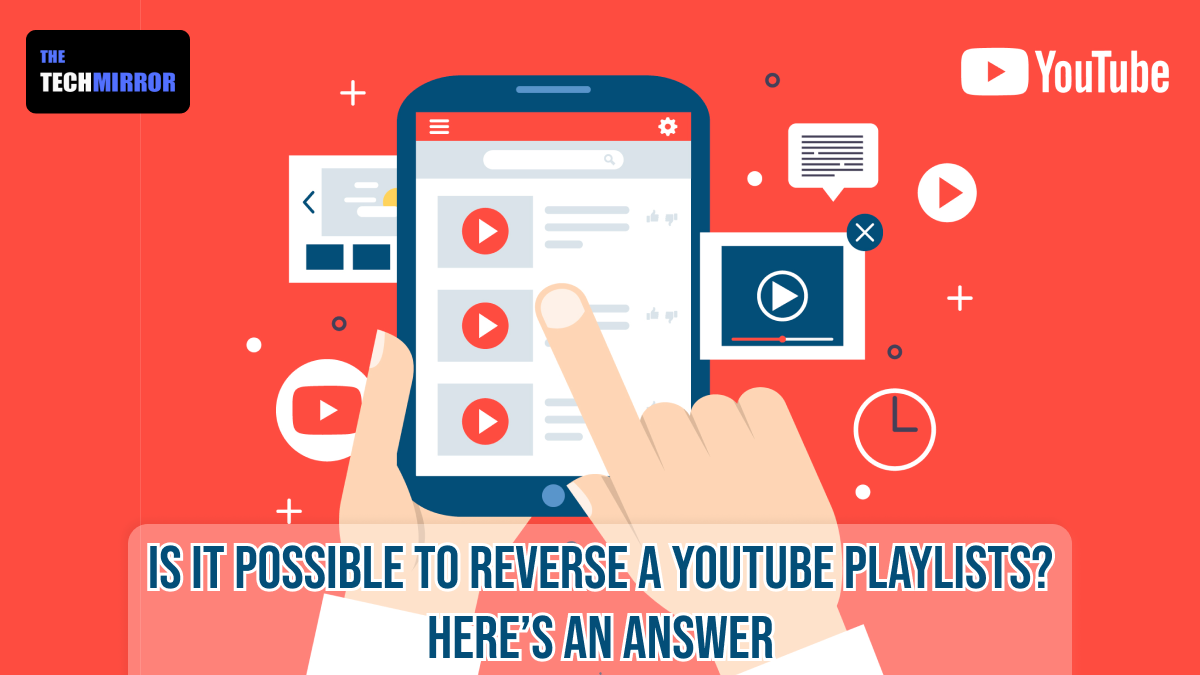 YouTube is a vast reservoir of videos covering almost any topic. With millions of video content hosted on the platform you can select videos of your choice and set a playlist to be watched as per your convenience. But have you ever tried to reverse the order of YouTube? Is there any way to reverse a YouTube playlist? Well we have got the answers ready for you. Just read through this blog article to learn more….
About YouTube Playlist:
You have this feature of playlist on YouTube; a playlist can be most commonly consist of music videos, cartoons or anime episodes, web series, and alike. However viewers find it difficult to get the proper order and most of them doesn't like the default arrangement where YouTube videos are always being played from the newest to the oldest.
Moreover such type of viewing arrangement by YouTube playlist make the auto-play feature meaningless as you always get the newer episodes of the web series or other stuff ahead of the older ones, yet to be watched. That way you will have to click on each episode to watch or skip it back and forth, making it pretty tiresome.
This let you to look for an alternative by which you can change the default play order and reverse a YouTube playlist. Check it here whether it is possible or not?
Is It Possible To Reverse a YouTube Playlists?
To be straight, there's no such direct feature available on YouTube by which users can reverse a playlist. Though they have been continuously asking for the one, YouTube is yet to respond on users' requests.
But fortunately, you can get the job done using different methods. There are quite a possible ways to reverse a playlist on YouTube or view a particular playlist in reverse chronology. There are certain third-party tools available on internet which can enable you to reverse YouTube playlists. Here's what it requires to reverse the playlist on your personal computer, Android device and an iPhone.
How To Reverse A YouTube Playlist on PC
As you can't directly access any feature on YouTube, you need to seek one out of many browser extensions available for this purpose on the internet. Just find a compatible extension and get started with the process. The frequently used browsers extensions (which are also safe and secured) are Improve for YouTube and Iridium for YouTube. Install either of these on your PC and get going as provided below:
Launch Chrome browser on your system and open Chrome web store.
Go to the search box, type the name of any one of the extensions (Iridium for YouTube or Improve for YouTube) and then press ENTER.
Now click on "Add to Chrome", followed by clicking on the pop-up option "Add extension" to add the selected extension to your browser.
Now open YouTube and go to the playlist of your choice.
Find and click the reverse button provided on the right side, just next to playlist contents.
This will make your Playlist videos to be played in a reverse manner.
How To Reverse A YouTube Playlist on Android
If you don't own the playlist which you want to view in reverse order, you have to rely on third-party applications. There are quite a lot of such apps available over the internet but you should not randomly opt for any considering the security issues. Keeping this in mind, we recommend you to use Playbackloop.com for reversing the order of your YouTube playlist online.
Following steps are to be performed to reverse a YouTube playlist on your android device using the above mentioned website.
Launch your browser and navigate to playbackloop.com.
Open YouTube on a new tab and go to the playlist you want to reverse.
Copy the link of the provided for this YouTube playlist.
Head to the Playbackloop.com back again and paste the copied link on the search bar.
Once you on the search button a new tab will pop up displaying all the videos of your playlist.
Here you will get to see an option at the top which can let you order the playlist as per your liking. The available options to select from are: Newest first, oldest first, title, and playlist order.
Just select the options accordingly and get the playlist rescheduled in reverse order.
How To Reverse A YouTube Playlist on iPhone
If you are an iPhone user and have created a playlist on YouTube, you can reverse the order of playlist using playlist settings ion. To make changes in the chronology of videos on your YouTube playlist, you must follow the steps given as under:
Launch the browser on your iPhone and go to the YouTube playlist for which you want to reverse the order.
Tap on the three dots provided underneath the playlist name and then tap on playlist settings.
Here you will get an option called advanced settings option; tap it to get a new pop up window.
Choose the order from a drop-down menu of options provided to watch/play the playlist according to how you want to it to be by tapping it.
Save the changes and enjoy the playlist in reverse order.
If case you don't own the particular playlist that you want to be played in reverse order on your iPhone, you can do that by following the steps given below:
Launch Chrome browser and search for Chrome web store.
From here, look for either of the software; Iridium for YouTube or Improve for YouTube and get it installed on your iPhone.
Now open YouTube and go to the playlist of your choice.
Find and tap the reverse button provided on the right side, just next to playlist contents.
That's it. Your Playlist videos will be played in a reverse order.
Summing Up:
This is how you can reverse a YouTube playlist on your PC or mobile phone using the above mentioned methods. You can get the play order rearranged as well as be able to watch your preferred YouTube series in an appropriate sequential order. In addition to the reversing of the YouTube playlist, you have also learned about a few browser extensions offering you more helpful and moving features to get benefit from.
Read Also:
YouTube Playlist Not Autoplaying: Simple Solutions
How to legally use Clips from other YouTube Videos?
Know How to Find Hidden Videos on YouTube With This Secret Trick!