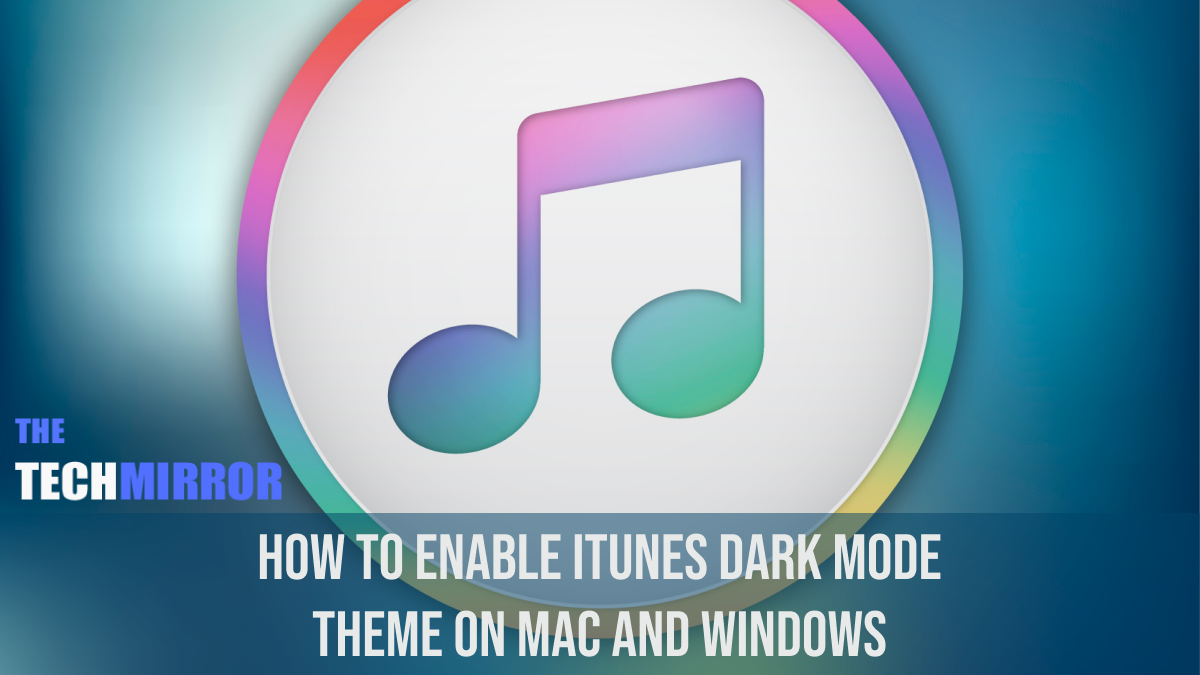 For many obvious reasons people prefer black or dark coloured themes for their smartphones, computer devices and other similar gadgets. Using black or dark mode not only gives a pleasant look to your device's screen rather it offers multiple health benefits. It cuts down the chance of insomnia and limits the strain on eyes while you use the devices for stretched time period. If you wish to turn on iTunes Dark Mode on your computer or laptop here's a guide which will tell you about How to Enable iTunes Dark Mode Theme on Mac and Windows.
But previous to going into the steps, let's have an understanding about iTunes and its Dark Mode Theme.
About iTunes:
iTunes is a free to use media player offered by the Apple. It grants an access to unlimited stock of music and allows you to organize the media files on your device and play them. In addition to this, the iTunes offer facilities including internet radios, open stream music, audio coordinated graphics, playback of audio files and alike.
Beside that the home sharing feature of iTunes allows you to connect with different computers in your house to share diverse music libraries.
Due to the popularity of iTunes as preferred jukebox software, you have certain applications through which you can use iTunes on a varied range of device.
iTunes Dark Mode and its Features
iTune gives you an option to enable Dark Mode. The purpose of this mode in iTunes is that to lessen the color contrast by a reduced amount of light emission.
In general, the system has two distinct sets of background colors – referred as the base and the elevated. The Dark Mode functions to improve the sensitivity of colors. While the Dark Mode is enabled on your system, it in particular highlights the system panel, dock and menu bar.
Why Use iTunes Dark Mode?
Dark Mode restricts certain type of problems caused by usage of phones and other light emitting devices. It lowers the eye strains and thus helps in avoiding severe headaches resulting from increased levels of strains which your eyes have to experience otherwise.
Moreover some researches indicate that Dark Mode add to the durability of your device, as it enhances the battery life for the devices.
Having said that let's proceed further to understand the stepwise process to enable iTunes Dark Mode on Mac as well as Windows PC.
How to turn on iTunes Dark Mode on Mac:
It is to be noted that Apple has an inbuilt iTunes Dark Mode feature in the MacOS Mojave. Thus many of Mac users have an easy and direct access to this feature, for other who doesn't have such privilege following steps will help them to access iTunes Dark Mode on Mac:
Power on your Mac device
Go to the Apple logo icon provided at the left corner of the home screen
Choose the System Preferences option from the list
Select the General option from the system preference window
Find for the Dark option provided under the Appearance section and click it
Select Launch iTunes on Mac.
That's all… having done it successfully you can now experience the beauty of Black!
Note: If you wish to access the iTunes Dark Mode on Mac PC ensure that you should have Mac OS Mojave. If that is the case then you can set the dark mode as default and the colors will automatically get changed from the base to elevate.
How to turn on iTunes Dark Mode on Windows:
Many people are not aware of the fact that the Dark Mode of iTunes can also be enjoyed on Windows PC. Even many among users who know about this don't have an idea about how to get access to this feature on their Windows PC. The below mentioned steps will act as a guide to help you in this regard:
Power on your Windows PC
Go to Start and select the Settings option
Now find the Personalization option and click it.
This will route you to another screen. Here select the Colors option.
Under the default app mode in the next tab select the Dark option.
Now launch the dark mode on your PC to experience the elegance of black!
Summing Up:
The article dealt with the concept of iTunes Dark Mode and also highlighted the features and methods to have an easy access of iTunes Dark Mode on Mac as well as Windows. By applying the aforesaid methods you can enable the iTune Dark Mode feature on your Mac or Windows PC.
Read Also:
How To Restore 'Account Not In This Store' Error On iPhone
AirPods Not Connecting to Mac? Try These Methods