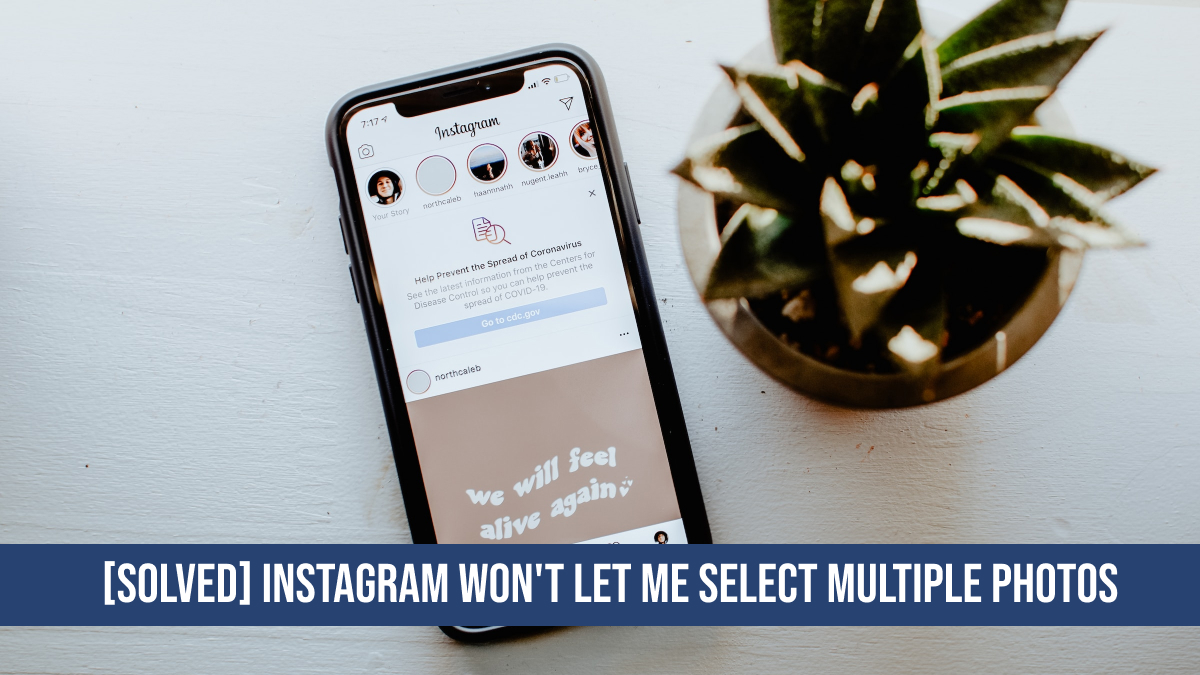 Instagram has a number of amazing features. One of the features that lets you upload up to 10 photos in a single carousel post. Carousels are highly effective to share information with your followers and also help increase engagement. But some people have reported that they are unable to select multiple photos while posting on Instagram! If you're also someone with problem Instagram Won't Let Me Select Multiple Photos, this post is totally for you. Give this a read and find the reason why you're not able to select multiple photos and how you can fix it in 2023.
Reasons Why You Can't Select Multiple Photos!
Some Instagram users reported that they won't be able to select the multiple photos while posting on Instagram. This could be because of :
Outdated version of Instagram:
If you are not able to select multiple photos on Instagram the reason could be you are using the app which is not updated. Each time Meta and other companies give their apps an update, they fix plenty of bugs that are causing issues to the users and it is possible that the version you're using isn't capable with uploading multiple photos or maybe there is something wrong with it. You can get rid of this issue by simply updating Instagram app from Play Store or App Store.
Bug in your app update:
This is unusual but in rare cases when you update the app, it could start behaving inappropriately. This happens because the installation wasn't fully completed or something went wrong while your device was updating the app. Cache files can also interrupt and make things go wrong! To fix this, you can uninstall or remove the app from your device and give it a new install from dedicated app store installed on your mobile phone.
Poor internet connection:
A slow internet connection could also be the culprit behind this problem. When your network is running slow, you just can't access some features of apps like Instagram as they're working over internet and when the app's servers are unable to communicate with your device, you will face problems like this. So, to fix this you can check your internet connection or connect to a Wi-Fi network.
How to upload multiple photos in an Instagram feed 
Instagram lets you select up to 10 photos to upload in a single post. If you also wants to upload multiple photos in a single post simply and effectively then follow the steps which are given below:
Step 1
Firstly open the Instagram app in your phone and tap on the Plus sign at the top right side of your phone. Select the Post from the pop-up submenu.
Step 2
Click and hold down the photo you want to upload until you see the number 1 appear.
Step 3
Now start selecting photos up to 10. After selecting photos click on the arrow or the Next button on the top right corner to proceed.
Step 4 
You can edit each photo and use filters on it, according to you. The photos will be numbered in the order that you choose them. The photo you select on first will appear first.
Step 5 
You can tag other people on your post. You can also add location and caption. After all of that tap on the arrow on the top right corner or the next button to post the photos.
Summing Up:
We've listed the most common reasons why Instagram won't let you select multiple photos along with how you can fix it. Also, you can find how to upload multiple photos in a single Instagram post easily. Keep visiting this space for more related articles and other information of that suits your need.
Read Also: