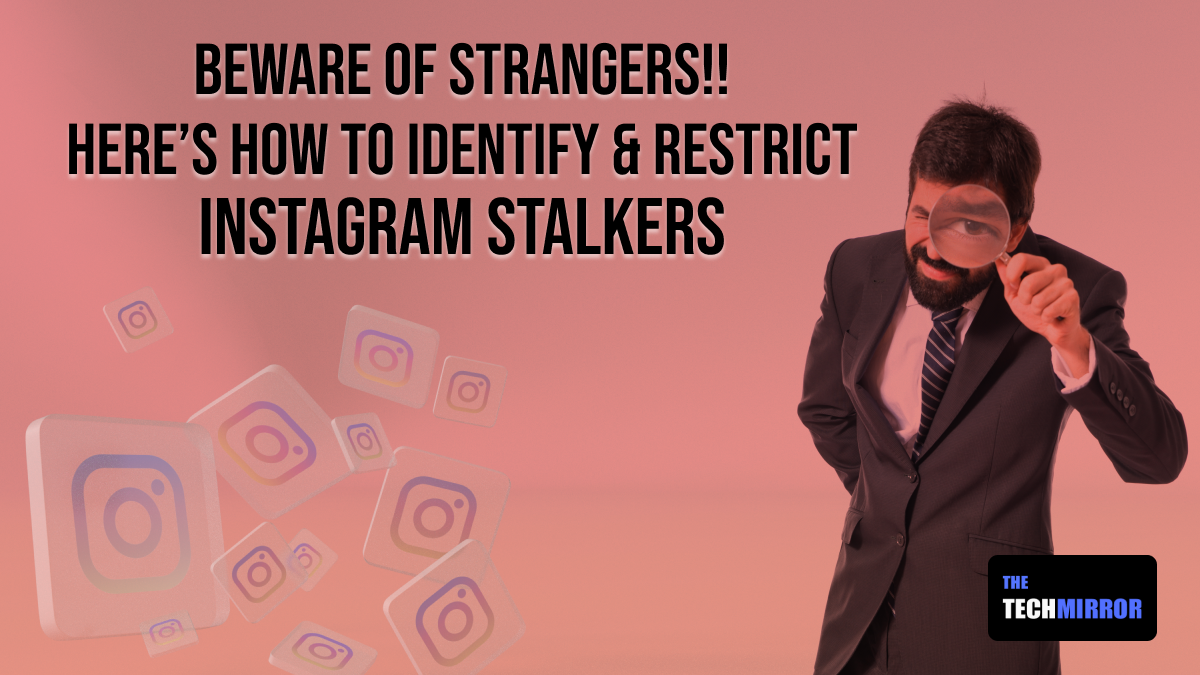 Who is not on Instagram these days? Not only common men, you may find nearly most of celebrities, sports persons, sharing their photos and videos on this ever popular platform. It lets you to follow your near and dear ones including family, friends and others and also allows you to be aware of latest life events about your loved ones or someone who matters you the most. Amidst all these happenings you might have obvious chances of some strangers keeping a constant track of your account. If you suspect that your activities on the platform are under the eyes of Instagram Stalkers, here's a must read for you.
This blog article will let you understand about who are Instagram Stalkers and how you can identify and refrain them from looking at your account activities. So with no further delay let's get straight to the topic.
With more than a billion users on platform, Instagram is one of the most liked and widely used applications to share photos and videos. One can follow, unfollow the users subject to the extent they know the other person or somehow related to them. But, there are also users who keep on spying accounts for one or the other unstated motive. The below mentioned section of the article provides you more insights on it and let you understand and identify Instagram Stalkers.
Who are Instagram Stalkers?
Instagram Stalkers are infuriating and bothersome users who target to spy on your account. They intentionally and secretly keep a constant eye on your activities. You can characteristically define them as people who visit your profile frequently without really interacting with your posts, i.e.; without liking or commenting any of pictures or videos posted by you.
Some users avoid such stalkers by switching their account to private, but in case you are having a public account on Instagram, stalkers can easily peep through your account and spy on your posts and activities without following you.
If you are curious to know about the feasible way to discover if someone is stalking you on Instagram, here's how to clarify your doubt by identifying your stalker.
How to identify Instagram Stalkers?
Stalkers are in all probability not following you and hence they are hard to identify. There is no built-in feature available on the app with which you can track Instagram stalkers. Moreover, Instagram does not let its users to know who has viewed their profile or posts other than Instagram stories. So if you want to know if someone is stalking you on Instagram, you can likely detect them via your story view.
All you need to do is simply post an Instagram story, once you have posted one wait for a couple of hours to check who has seen your story. The users appearing at the top of your viewer list for the story posted are top viewers and few among them are probably the ones who are stalking you.
Practically speaking, this is the only feasible way by which you can detect the Instagram stalkers. On the other hand, you can use an Instagram analytics app or other third-party tools to identify who has been stalking your account on Instagram. Using Instagram stalker apps can make it possible for you to know about your stalkers. Let's learn more about these applications.
What are Instagram Stalker Apps?
Instagram stalker apps are the exclusive softwares designed to detect who has been stalking your account on Instagram. Using these applications you can easily expose one or many of your stalkers and even know their username as well. In addition to that, you can text them or even block them so as to refrain them from seeing your posts and stories to any further extent.
However, we highly recommend you to be wise and not to use such unauthorized apps. You must note that these apps will have all your Instagram information and might misuse it or sell it to marketing companies or other agencies for commercial benefits. Thus you perhaps should say no to use Instagram stalker apps.
But if you still want to know make use of Instagram stalker apps, here are name of few Instagram stalker apps – Find My Stalker, Follower Insight for Instagram, FollowMeter for Instagram, InReports and so on. These apps are quite helpful for you in checking who all have viewed your Instagram profile, posts, pictures or videos.
Note: We like to warn you not to download these apps from any unauthorized source or website. The only authentic and safe place from where you can get such apps downloaded is Google Play or the App Store.
Summing Up:
That's it. You have just learned about who Instagram Stalkers are, what they do, how you can detect and refrain users who are stalking your account on Instagram. Hope you now have a better understanding on  Instagram Stalkers and use this information to avoid such stalkers in future.
FAQs
Can I Found who is stalking my Instagram profile?
No! There is no easy way to find out who stalks your IG profile. You can only find it out if they watch your stories of your public profile. Also, we do not recommend using of such apps that claim they can tell you who stalks your IG profile.
Read Also:
Is it really possible to know "Who saved your Instagram post?"
"Does Instagram Notify when you Screen record a Story?": Here's an Answer
Want To Check For Instagram Following List Order: Here's How To Do It
Here's How To Hide Number Of Likes On Instagram