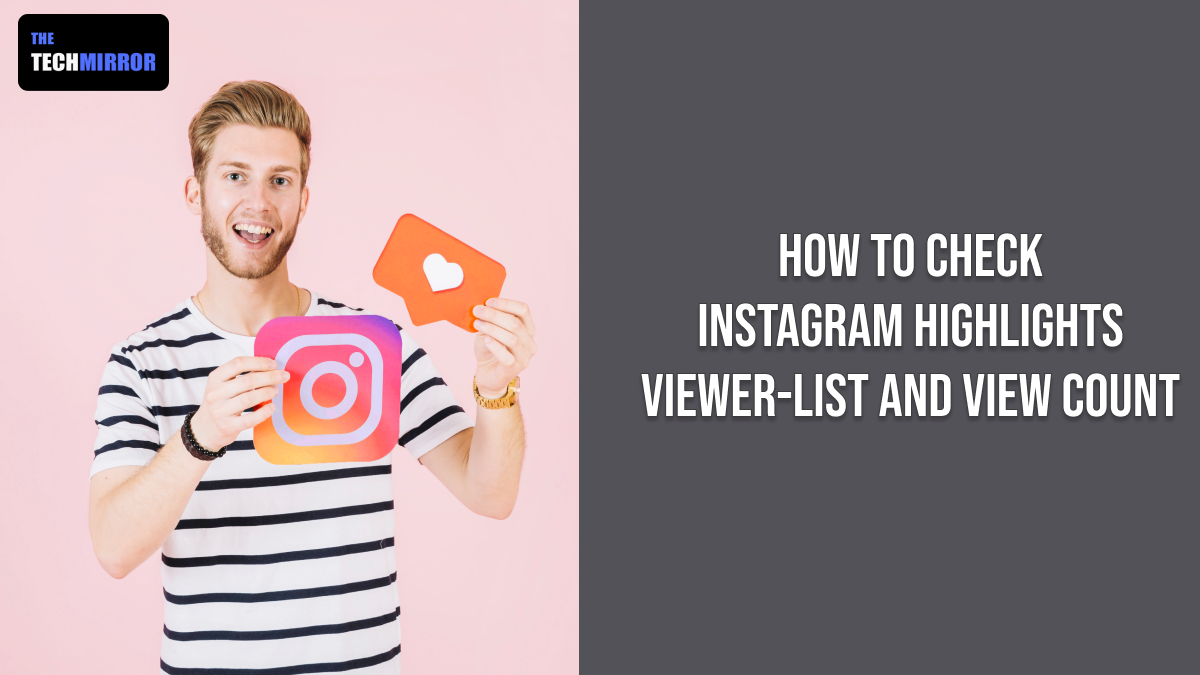 Instagram is certainly a great means to "highlight" your personal life or business activities. Instagram Highlights in this context is quite a unique feature which allows Insta users to save their favorite stories and share them with followers permanently. For someone who is running a Business account Highlights will be of great use as one can edit them from time to time to keep their profile up-to-the-minute and moving. If you are curious to know who have seen your Highlight and want to check for your Instagram Highlights Viewer but have no idea about have to go at it, here's an article to help your cause.
This blog article will cover a comprehensive text about the Instagram highlights, viewer list and count on highlights and other related topics. So without any ado let's dive straight to find more details on it
About Highlights: The new update on Instagram
Instagram Highlights are quite analogous to Stories, with the exception of the availability on user profile. They are permanently rooted in user's profile unless deleted or removed there from. Highlights allow you to showcase who you are or what you do or what your business is all about. They are usually placed at the front and center of Instagram profile page.
In the recent update from Instagram Highlights viewers list is made available for 48 hours instead of 24 hours as it was previously. So, if you want to have a look at the viewer lists of your Instagram Highlights then you must remember that the list is not lasting and is available only for 48 hours from it was first shared.
Who can view your Highlights on Instagram?
As the default settings, Instagram Highlights are visible to every other Insta user, unless you restrict its view. You can manage and control who can view your Highlights by selecting the option from your story settings.
If your account is set as Private in the Settings, your Instagram Highlights can only be viewed by your followers but if your account is set as Open or Public then you won't be able to control the Highlights viewers and anyone from your Followers list and other with whom you have a direct chat can view it.
How to Check Who Viewed Your Instagram Highlights?
Though your Highlights are permanent unless you remove or delete them, but there is a fixed specified time frame of the availability of view stats. And if you are curious to know who has viewed your Highlights you must check for it well within the limited time of 48 hours.
To see the viewers list you need to navigate to your profile and then tap on the Highlights for which you want to have view stats. Now tap on the eye icon to see the list of viewers and total view countyou're your Instagram Highlights. Here's a stepwise process to see who have viewed your Instagram Highlights:
Launch your Instagram app and head to your profile.
Tap on the highlight you want to check the viewers for.
Here in the left corner you will get to see an option named 'Seen'.  
Now either makes a tap on 'Seen' or simply swipe up your screen.
It will display the list of Instagram Highlight viewers as well as the total view counts for the respective highlight.
Note: It is to be noted that you are limited to a 48-hour window and post that, the information subject to viewer and view count will not be accessible from the archived section.
That's all you have to do to get Instagram Highlights viewers list and view count.
How to restrict people from viewing your Highlight:
As mentioned in the section above you can manage who can view your Highlights by making appropriate selection from Settings. By selecting your profile as Private you can restrict people who are not in your Followers list.
However, even if your account is Private but you want only selected users to view your Highlights, you can change the settings using the steps provided below:
Open Instagram
Head to Settings.
Select Privacy followed by Story.
Lastly select 'Hide the story from' and then choose the users from your Followers list whom you don't want to see your Highlights.
This is all about restricting Highlights viewers on Instagram.
Can you see who viewed your Instagram Highlights after 48 hours?
The latest update of Instagram has added an updated feature to its Highlights. The feature enables you to see viewers of your story highlights for up to 48 hours. Though the Highlights stay permanently on your profile, the list of the viewers can be seen only for 48 hours after posting it.
Thus the simple answer to the question above is, No. As all information wiped off from there after the expiry of 48 hours, you can't see who viewed your Instagram story after that.
Can you see how many times someone viewed your Instagram Highlights?
Sorry to say, but no, there is no such option available on Instagram that can tell you about how many times someone has viewed your Instagram Highlights. Instagram only displays the total view counts on your Highlights but there is no information available for how many times any particular user has viewed your Highlight. It will only let you know about who saw it but not the frequency as to how much time it is being viewed.
So this is it from our side. Hope you like this article and don't forget to share it with your friends and family members. For more such tech tips, how to and tech related information, keep visiting this space.  You can also follow us on Instagram, Facebook and Pinterest for latest updates.
Read Also:
"We Limit How Often…" Instagram Error: Key Pointers & Easy Fix
'Can't share post to story' Instagram issue: Here's a quick fix
Fixing "Try again later" Instagram Error: A Comprehensive Guide