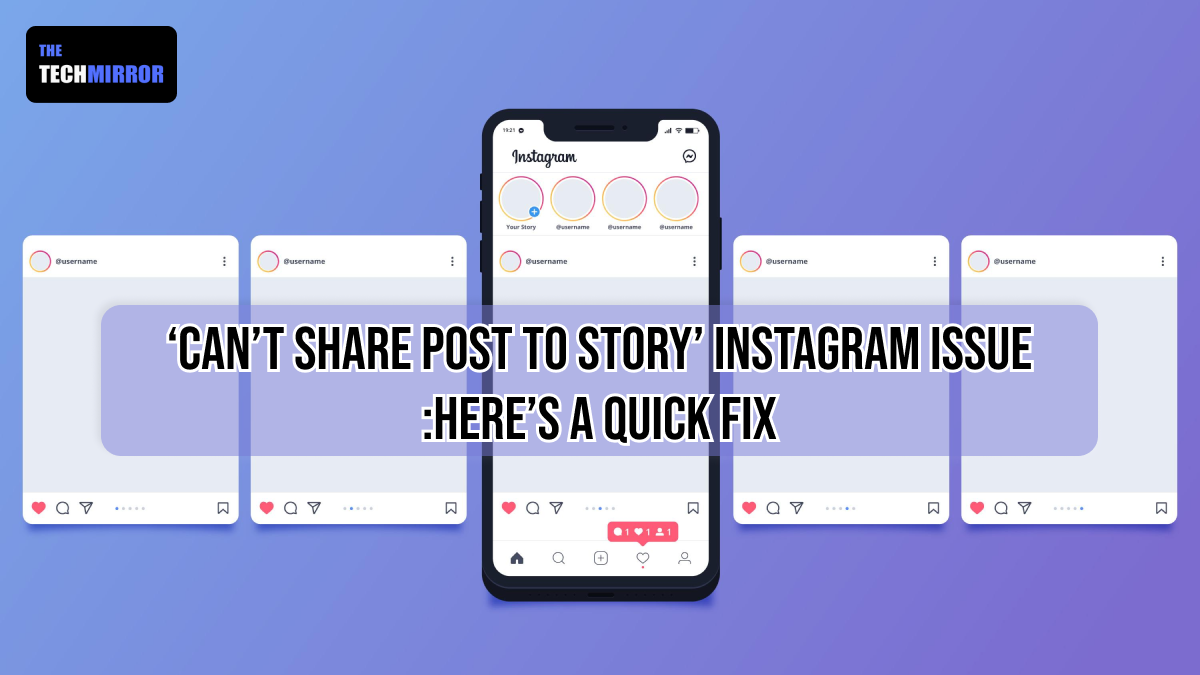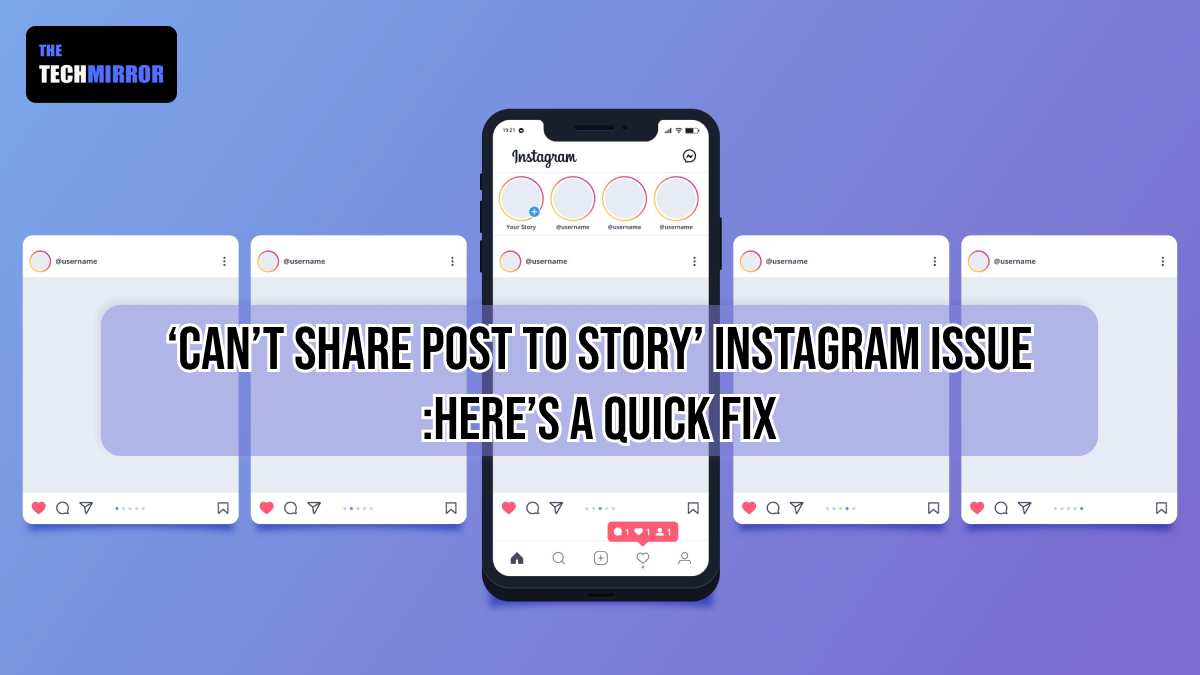 Instagram undeniably is the first choice on teens these days. The media sharing social platform has a lot of exciting features that add to its popularity. One of such aspect is the ability to share post to story. It is so fascinatingly that users can not only share the posts from their feed as Instagram stories, but also share that of others. But many Instagram users have raised the issue that they 'can't share post to story on Instagram'. If you wonder why this happens and how you can fix this can't share posts to stories Instagram error? We have got the answer for you.
So with no further ado, let's understand every bit of thing associated with Instagram's can't share post on story issue.
What's the point in sharing post to Story?
Instagram allows its users to share post from their feed to Instagram Story. This can be easily done by, just tapping on the PaperPlane icon provided at the bottom of the post and share it to your story with a single click.
Now if you are thinking like what's the point in sharing posts to stories? So we must tell you that it brings several benefits to you. First of all, it amplifies the visibility of the posts by making it reach more people. Next, it makes the post personal and interactive and help in boosting a business account. Finally, sharing post is far easier as compared to taking screenshots and then adding them to your story.
But, if you can't share post to story or find that option missing on your Instagram account there might be the different reasons behind that. Just continue reading to learn about potential causes which can lead to this issue.
Why "Can't share a post on the Instagram Story" occur?
There could be various grounds for not being able to share the posts to your Instagram story. In case you are unable to see the resharing of a post option on your IG account, there might be a few issues on your Instagram, ranging from the Instagram internal settings to presence of some bug or virus.
Let's get going to be familiar with some predominant ones, as mentioned below:
The Post is not Public: The first and foremost reason is that the post is either set as not public or comes from a private account.
Instagram Itself: One of the reasons can for this could be that your Instagram app has not been updated or the feature is missing from it. As Instagram typically rolls out its features in certain stages, there are all likely chances that the feature may be missing for your account.
Instagram Account Type: The 'Add post to story' button is just accessible for public accounts. If the particular post is from a private account, you won't get to see the option for sharing the post. To check whether the Instagram account is private or public:
Open the Instagram website in the incognito mode.
Make a search to find the particular account and go to the profile.
If you get to see their posts, then the profile would be public and if the posts are hidden, then the profile in all probability is private.
To verify, you can also check if 'This Account is private' text is written on the profile page.
Permission to Share: Well even in case of the public account, an additional thing which can lead to the missing of 'Add post to story' option is the permission to share. Here's how to enable/disable the permission to share your posts:
Open the Instagram app and head to your profile screen.
Tap on the three-bar icon provided at the top and then select Settings.
Now select Privacy and then tap on Story.
Lastly enable/disable the option by toggling the button provided next to Allow resharing to stories.
Having understood about the main causes behind the issue, let's now move towards finding the fixes to resolve 'can't share post to story on Instagram'.
How to Fix 'Can't share Post to Story' on Instagram?
It's time for you to learn about the methods to resolve this problem and make some quick fixes to it given as under:
Fix#1: Restart your Device
Putting the first thing first, you should try the basic troubleshooting method by restarting your device. Just power off the device and wait for a while before turning it on. Now re-launch Instagram and check if the problem is solved.
Fix#2: Turn Resharing Off And On
To fix the said problem you must try to repeat the steps mentioned above to grant permission to reshare. You can turn off and on the toggle button provided next to Allow resharing of stories. Ensure to disable it and then restart your phone to enable it back again.
Fix#3: Clear Cache Memory
If you are an Android user, you can resolve the problem by clearing the App Cache for the Instagram. To clear corrupted cache memory and data for the Instagram app, you need to follow these steps:
Open Settings on your android device and go to Apps & notifications.
Then find Instagram under All apps and tap on it.
Finally select Storage and tap on Clear cache.
Fix#4: Update your Instagram
As one of the reasons for this issue is Instagram itself, hence to solve this issue you can either update your Instagram app from the play store or apple store.
Fix#5: Uninstall Instagram
You can even try your luck to solve the problem by uninstalling the Instagram app from your phone. And then installing it back again.
Fix#6: Login From Alternate Device
One of the ways to fix this issue is to try logging in from an alternate device. Many users have reported that they managed to get rid of this problem by log in from a different device, if luck favors you, possibly the method may also work for you.
Fix#7: Contact Instagram for Help
If the option to share post is unavailable on your profile then you can request the Instagram support team to take care of the matter. You can approach Instagram help center from your device via Instagram app using the under-mentioned steps:
Launch the Instagram app and go to your profile.
Now open the account settings, and scroll down to locate an option named "Help". Tap it.
Soon after four options will appear on the screen as- "Report a problem", "Help Center", "Support Requests", "Privacy and Security Help". Select "Help Center".
You will now be redirected to the web browser and landed on Instagram's help center.
Here provide a detail of the issue in the provided box and let them know about missing feature. Make all necessary entries and submit your request.
Finally, wait until the Instagram team look into the issue and revert back with steps to solve your problem of can't share post to stories.
Hopefully, after following one of these methods mentioned above, you will be able to fix Can't share post to story Instagram error.
Read Also:
Fixing "Try again later" Instagram Error: A Comprehensive Guide
Instagram Can't Refresh Feed? Learn To Fix Couldn't Refresh Feed Error
Instagram Account Deleted For No Reason? Here's To Restore It Back