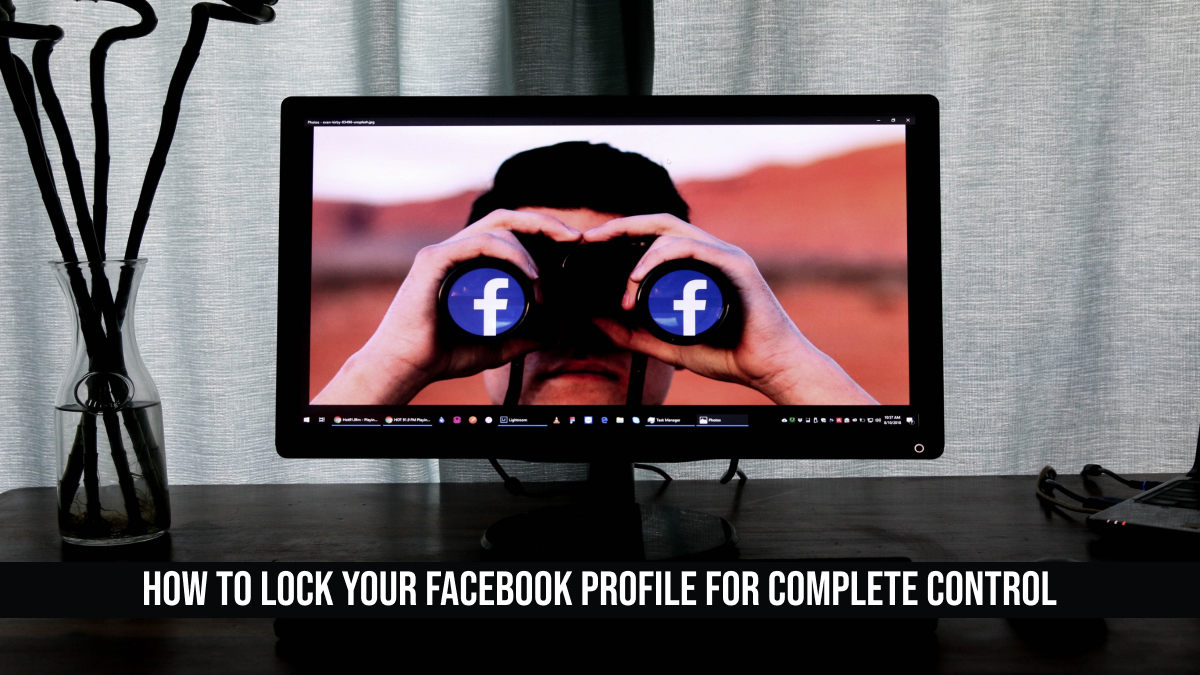 Nowadays everyone is fond of internet and social media. Yes, they're great things, there are so many benefits of using them but everything comes with two sides of it. There are both good and bad people on internet. Some wants to help you and others just want you to fall prey for them. Also there are many tools that could be used to forge your images and these forged images or videos can be used to blackmail you, insult you or ruin your life. You might have also heard about people getting robbed, murdered because some criminal is following all their activities on social media. So, it is really important to keep a layer of privacy between your real life and social media. Almost every social media platform provides you with an option to master your privacy and Facebook is one of them. It offers the functionality to lock your Facebook profile with ease. So, you can only share your activities with people who are in your friend list and whom you trust. Today we will be sharing with you some Online privacy tips and talk about what is a locked Facebook profile, how to lock Facebook profile and everything about it.
What is a Locked Facebook Profile?
Locking your profile means adding extra layer of security on your profile. Facebook profile protection enables you to decide who views your posts and personal information! Unlike a public profile, a Locked Profile ensures that only approved friends have access to your full content, photos, and updates.
How to Lock Your Facebook Profile
Well, that's super easy to do! You can lock your Facebook profile using your desktop, Android/iOS app. All you have to do is follow the below mentioned steps and get the Facebook account privacy in a matter of few clicks/taps.
on Desktop
Login to your Facebook account and go to your Profile by clicking your profile picture.
Look for three horizontal dots … which is located below Add to Story and Edit Profile Button.
Click those three horizontal dots … and select Lock Profile.
A popup will appear just click "Lock Your Profile" button. That's it! You have locked your Facebook profile.
On Mobile App
Go to your profile page and tap on the hamburger menu (the icon of three lines).
Tap more under your name.
Select lock profile.
A message will appear, select Lock Your Profile. That's it!
This is how you can change your profile visibility settings on both your desktop browser and Facebook mobile apps.
Benefits of Locking Your Facebook Profile
When you lock your Facebook profile, here's what happens:
No stranger could see your photo, posts on your profile. Only friends will be able to check that.
Only your friends will be able to see the full size of your profile picture and cover photo. So, you don't have to worry about getting your profile picture misused or something.
If you have shared any post previously under public settings, it will automatically be changed to friends.
Only a little or no information from your about info will be visible to others on Facebook.
Only your friends can see your stories on Facebook.
Profile and tag review options will turn on automatically.
Locking your profile means you are in full control of you sees your personal information, updates and posts. Only the friends you have approved will get to see your profile. This includes profile cover photo, profile picture and other information.
You don't have to worry about strangers knocking on your DM! They just stay away from you and they can not even download your profile picture.
With a locked profile, you have the freedom to post. You don't have to worry about that relative who always complains about your wearing specific dresses etc.
Who Should Consider Locking Their Facebook Profile?
Anyone can lock their Facebook profile. But, if you are having a business or a public figure or want to promote something, you should not lock your profile as it might not help you reach a wider audience on Facebook. If you fall under following category, you should consider to lock your Facebook profile.
If you are a student or a young user, you should consider to lock your Facebook profile.
If you'are a privacy seeker and values a lot about your privacy. Also if you are an introvert, you can lock your profile.
If you want to avoid unwanted attention, you can lock your FB profile.
If you are an employee or a professional and want to keep your life private, you can consider to lock your profile so people from work won't be able to take a sneak peek.
If you are a content creator and want to keep a strong bond with your audience or just want to share your content with a specific audience, you can opt for a locked profile.
Understanding Profile Visibility in a Locked State
Only your friends can see your photos, posts, personal information.
Only your friends can see your profile picture and cover photo in full size.
All your past posts will be set to friends only.
When you lock a profile, people can still search your profile.
When you lock your profile, people that you're not friends with can see any posts you've made in Groups, Events and other such places on Facebook.
People outside your friend list won't be able to tag you nor you will be able to tag a person outside your friend list in locked state.
Tips for Maintaining Online Privacy Beyond Locking
Online privacy isn't just about locking your Facebook profile. You should follow below mentioned tips for Maintaining Online Privacy Beyond Locking.
Review Your Privacy Settings Regularly
Be Mindful of Your Sharing Habits
Manage Your Friends List
Customize Your Post Visibility
Beware of Phishing Attempts
Keep Your Passwords Strong and Unique
Enable Two-Factor Authentication (2FA)
Conclusion
In conclusion, dear privacy-conscious peeps, you've now unlocked the secrets to mastering your online privacy with the power of a locked Facebook profile! By embracing this feature, you can take charge of your virtual world, ensuring that only your trusted circle gets a front-row seat to your digital adventures. With a locked profile, you create a personal sanctuary where prying eyes and strangers are kept at bay.
But remember, our journey to online privacy doesn't stop there. Beyond locking your profile, it's crucial to stay vigilant and practice savvy strategies for maintaining your digital fortress. Regularly review your privacy settings, think twice before sharing sensitive information, and curate your friends list like a pro.
Frequently Asked Questions (FAQs)
Can I still use Facebook normally after locking my profile?
Yes, you can use Facebook as usual. Locking your profile only restricts who can view your information; your regular activities on the platform remain unaffected.
Can someone I'm not friends with see my locked profile?
No, only your friends can see your locked profile. Strangers and people you haven't accepted friend requests from won't have access to your locked information.
How do I know if my Facebook profile is locked?
You can check your profile by logging out or using another account. If your profile appears with limited information, such as a profile picture and cover photo only, it's successfully locked.
Can I unlock my Facebook profile later if I change my mind?
Yes, you can unlock your profile at any time. Simply go to the privacy settings and revert the changes you made while locking the profile to make your information accessible again.
Read Also:
What is OBJ Emoji? Why am I seeing it on Facebook/Snapchat?
How to See How Many Facebook Followers You Have?
How Can I See Who Has Blocked Me On Facebook in 2023?