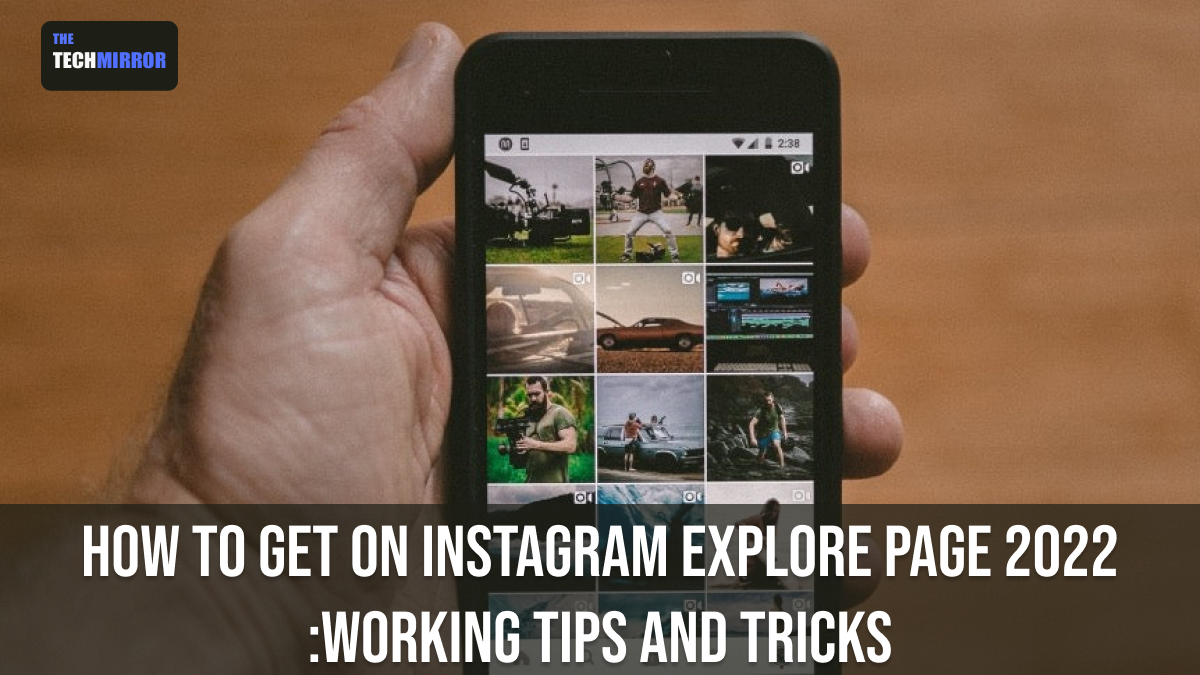 Instagram is surely most widely accepted and well-liked social media platforms in current times. There are loads of features that add to the ever growing popularity of this media sharing app. Having that said, one of the most talked-about and an all important feature is the Instagram Explore Page.
No matter whether you own a personal account or operate a business account to promote your brand, it's the Explore page on Instagram where you always want to be, but the ground reality is a bit bitter. It takes a lot of time, effort and resource to end up there. If you are in search for some proven ways as to how to get on Instagram Explore page 2023? We are here to help you in this regard.
This article will let you learn a variety of working tips and tricks to get your content on Instagram Explore Page. But before getting started, you must first grab a thorough understanding about what Explore page is and how it works. So, let's find it out…
About Explore Page on Instagram:
The Explore page on Instagram is nothing but a collection of content based on individual interests of a particular user. In other words, it is a collection of photos, videos, Reels, and Stories which are accustomed to topics Instagram believes you would like to view or want to engage yourself with. As per Instagram, they are "working to update the types of photos and videos you see in Explore to better tailor it to you."
You can find and access the Explore page by tapping on the magnifying glass icon located at the bottom of your app screen. Here at the top of it, you can look for other accounts, keywords, hash-tags, locations and so on. Apart from that you will also get to see various categories such beauty, travel, sports etc. This is so because Instagram believes that you'll be interested to them a bit more.
The algorithm behind the Explore page works on AI technology to know about what sort of content you get to fit into place with and thereby recommend you more engaging content which suits your taste and llikings. You won't find any identical Explore pages as it curates content on the basis of previously interacted content with comparable accounts. Moreover, the best thing about the Explore page is that soon after you click on any one of the featured photo or video, it will then automatically scroll feed of content related thereto.
How Instagram's Explore page works?
The answer is quite simple, as mentioned above, it depends solely on the fact that how you interact on the platform. For example, if you're checking on images of your favorite celebrity or movie, then you will be provided with celebs alike or movies of similar genre. Here's how the content on your Explore page is based on:
The accounts that you already follows
What all you follows or likes
The types of posts you engages yourself more frequently
Why brands or businesses want to be on the Explore page?
If you are promoting a brand or running some business, you would obviously want to be on the Explore. But why is it so? We have an answer to this
The central reason for being featured on the Explore page is that your content will get more reach and exposure when it gets on there.
You will be able to enjoy following benefits if you get on the Explore page:
More followers – when your content appears on the Explore page it increases the probability of converting more and more people to be your followers
Greater reach and higher engagement – as your content gets to a larger audience it is expected to be liked, commented upon or shared by more people and consequently add up the engagement level of users
More conversions – it may lead to a boost in the overall conversion ratio when it comes to a call-to-action on your content
Having understood the reasons so to why you must try to be on the Explore page, let's move to the tips and tricks that may help you be there. Here's how to get on the Instagram Explore page 2023.
How to get on the Instagram Explore page 2023?
It is quite a complex and challenging task for you to make your post appear on the Explore page. On a routine, millions of posts are being created each and to get a sound visibility on Instagram in such competitive scenario is very tough. However, if you create content smartly and strategically, you would definitely be able to catch the eyes of Instagram users. Here are some working tips and tricks that may help to improve your chances of getting on the Explore page:
Make it Worthy!! – Create & share engaging content
Engagement is what all it takes to be noticed on the platform. It is one of the key ranking parameters being taken into account by the Instagram Explore page algorithm.
Although creating engaging content may sounds bit straight and seem to be an easy task and the reality is completely diverse. It is by far the most difficult things out there. To help your cause you must first take a deep look into your target audience, research what sort of Instagram content do they engage with the most? And then you should move further to create and share it with them.
Preferably, if your content posses the qualities of being useful and appealing, you have good chances of making it to the Explore page. So just ensure that your content must add value for the user and it should seek attention by catching their eyes.
Timing is the Key- Select a perfect time to schedule your post
For the purpose of receiving optimal engagement timing plays an important role. Social media is flooded with abundant of content, and you will get to see thousands of new post feeds being posted and uploaded on almost every tick of the clock.
Hence, there is all possibility of your post being lost among the feeds unless it seeks immediate engagement. To overcome the issue, you must find out an appropriate and suitable time when your followers are most likely to have a view at it. However the best time to post your content is subject to change depending up on a lot of factors, which predominantly include your audience and their location.
So you must undertake a deep study to spot best times to share content and schedule your posts accordingly for an increased audience engagement.
Take an Idea – Draw inspiration from other content on the Explore page
We are not suggesting you to be a copy cat, but other posts on the Explore page could be a good source of getting an idea. You must scroll through your Explore page to draw inspiration from it. If you have absolutely no clue on how to create engaging content, just look at what types of content generally get to the Explore page.
Different things might work differently in keeping the audience engaged. Thus your content should be a proper blend of the stuff that people prefer to see. Note down the elements of the winning strategy and devise a new one for your own content.
Try it out – Keep your content fresh and in new formats
Trying out fresh content and new formats increases your likelihood of driving engagement and organic reach by keeping your audience interested. Don't stick to one thing to post, say photos or videos. Go and think beyond it, never be afraid to experiment with other content formats like Reels, Stories, info-graphic Carousels and so on.
See around the trending content format and on a regular basis switch between the formats to keep the feed diversified and leverage maximum gains out of your content strategy.
Money attracts money: Try to invest in paid ads
To earn a place on the Instagram Explore page through organic posts is not easy. To intensify and boost your efforts and help you reaching out for more and more audiences, investing in some paid ads could turn out to be a good choice.  
Instagram let you to run ads in Explore, which notably shows up your content to your target audience when they browse through the Explore page. Thus, putting money to improve your content visibility can be taken into consideration. Though it may likely allow your content to be placed on Explore page, yet theirs is no clear guarantee of it. So, be ready to bear the risk, and hope for you money to attract more money.
That's all from our side. You have successfully learned about how to get on Instagram Explore Page 2023. Use these tips to be on top of it.
Read Also:
Decided to Disable or Delete Instagram Account? Learn how to do it…
Forgot login credentials? Here's how to reset Instagram password
Here is How to Change Instagram Username Easily in 2023