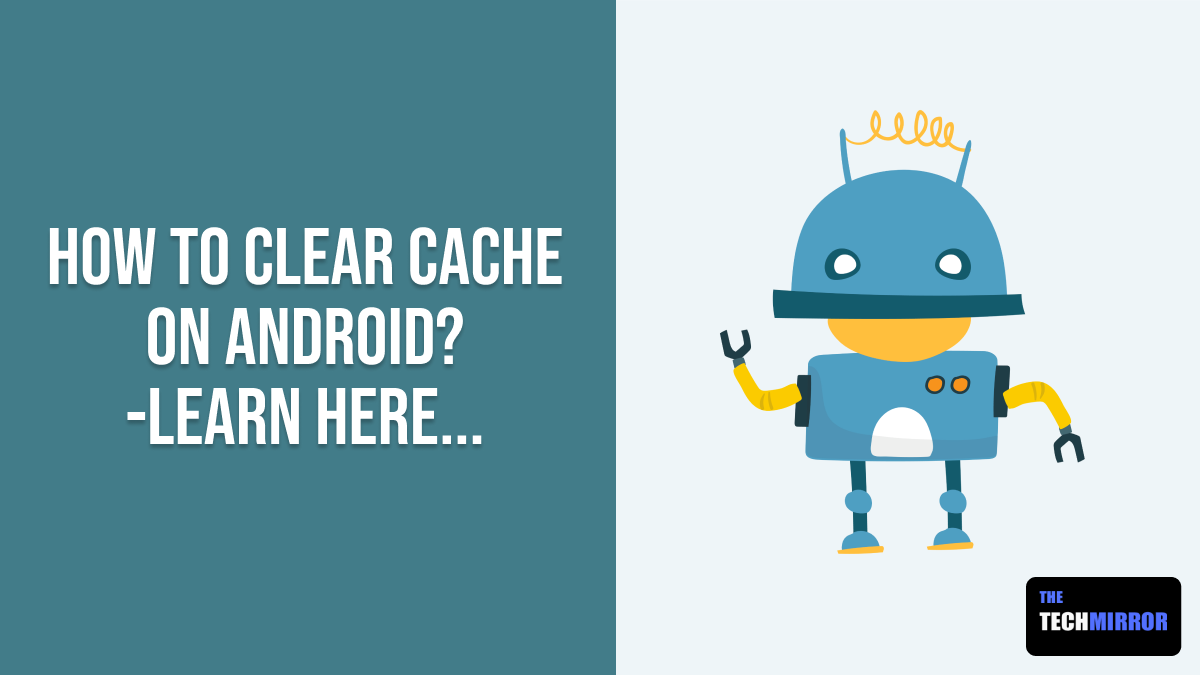 If you are running out of storage or getting a message that your Android phone is low on space? Or if your apps are pretty slow to open or facing operational problems while you use them? If you wonder what would be the reasons for such events, you must note that one of the most predominant one is internet debris gathered by Android's hidden cache. However there's nothing to worry about as you can get rid of it in literally any time with just a few taps. This article will guide you in removing the corrupt cache data from your Android phone.
We have compiled this blog article to let you understand how to clear cache on Android phone and keep it in top shape. So don't wait further, just read through to learn how to keep your phone tidy.
Clearing cache on Android:
It is quite a good practice to clear cache data for apps installed on your Android phone. This can be done by clearing the system cache option available in your Android settings. On the other hand, while using your Android browser, you can get rid of the cache in your browser settings. But, what purpose does it solve? How it proves to be useful for the overall health and smooth functioning of your device? let's check it out.
Why to clear cache on Android?
Clearing the app cache on Android is really a key step to troubleshoot many problems on your device. When you use a browser to surf internet, some of the information from websites gets stored in its cache and cookies. Clearing cache fixes quite a few problems, such as loading or formatting issues on sites.
On the other hand, it will help you to free up storage space and let you to fix speed issues related to opening and functioning of apps on your phone. When your device runs out of storage you can resolve the issue by clearing the cache of the apps which have been consuming the most space.
In addition to that, clearing cache on Android can also get rid of unsafe apps present on your phone (if any) that have been using a lot of mobile data. If you clear your app cache on a frequent and regular interval, it will help you in streamline your phone and keep the storage from getting too full. 
Having understood the benefits of clearing cache on Android, let's get straight to the topic and understand how to clear cache on Android.
How to clear your app cache on Android
If you want to clear app cache on Android phone, here's how to get the job done:
Go to the Settings section on your Android device.
Thereafter tap on the Storage option.
Here you can choose a category to clear the Android cache for that particular category. You can do that by tapping over it. You can tap on Other Apps to open a list of apps installed on your phone.
It will now provide you with the list of all apps, select the app for which you want to clear the app cache files. (Note: Usually the apps are listed by size. If that's not the case, you can tap the three vertical dots located on the upper right of the screen and then select the option of Sort by size)
Once the apps are ordered according to the size they are and storage consumed by them, tap on Clear cache to clear the app cache for your listed apps one-by-one.
Note: Clearing the cache removes temporary files the app uses or stores in. Clearing cache resets the app to its default settings, and deletes all passwords, and other information which you have added to it previously.
What happens when you clear cache on Android?
Are you eager to know what happens when you clear data on apps like Facebook, Instagram, or YouTube? Let's find out here….
The browser or app cache retains information about parts of web pages, such as images etc., and thereby helps them launch and load more rapidly when you next visit the particular page or site. When you clear cache, then all the stored data of a specific app or browser is wiped out.
Similarly, clearing the cache on your social media apps will also removes temporary files, for example – liked or saved photos or videos, half-watched or paused videos. While the key account details are saved in the cloud, you will still have to log in back again. Thus it is advisable to ensure that you know your username and password (better to note it somewhere) before clearing the app cache of your preferred apps to avoid any inconvenience. 
How often should you clear cache on your Android phone?
Although there is no golden rule to it, you must make sure to clear cache on your Android phone after a few weeks or couple of months. However you can keep a check on your apps and should clear the app data for Android apps which are behaving inconsistently, or the ones that are not loading correctly or crashing suddenly without warning. 
That's all you have to do for keeping your phone tidy and in good health.
Hope we have addressed all your doubts about how to clear cache on Android. For more tech tips and articles keep visiting us.
Read Also:
OsuLogin Android: Here's What You Must Know About
How to tell if text message was read on Android