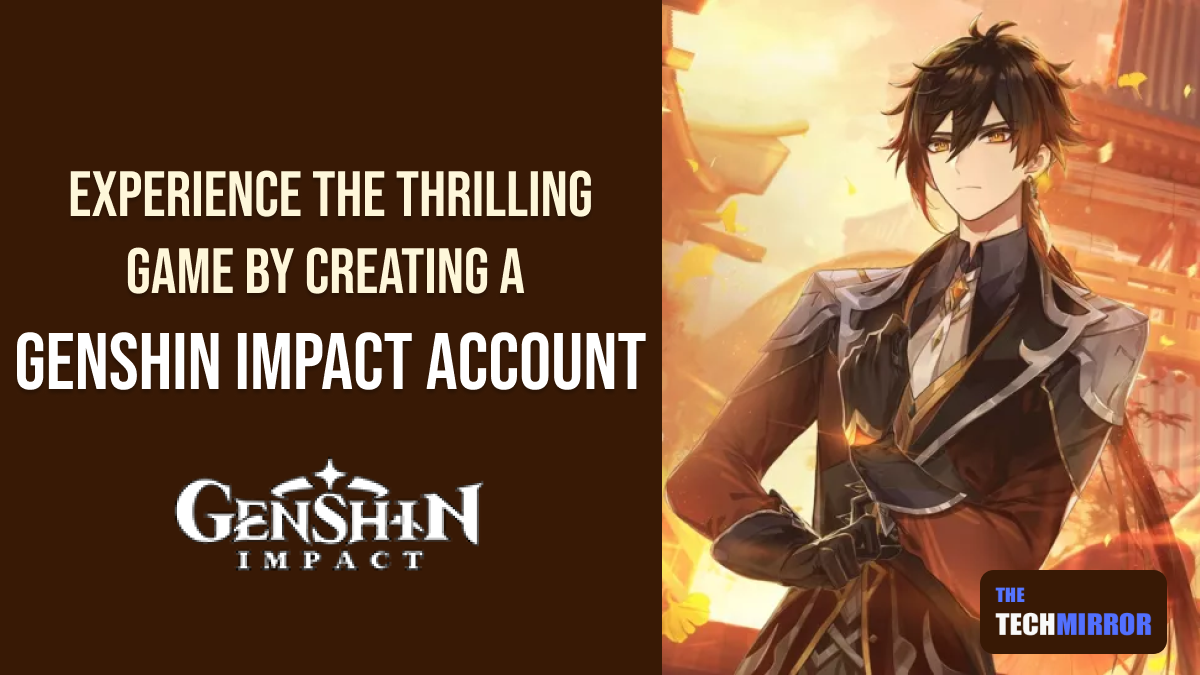 Genshin Impact is not a new term for gamers around the world. This action packed role-playing game, designed and offered by miHoYo, is quite popular free-to-play game available for almost all devices including PS4/PS5, PC, Android, and iOS. If you are looking to join the group of Genshin Impact gamers and want to try hands on the game, then you must have a miHoYo account so as to download the game and log in to your account. And through this blog article, you will come to know about how to create a Genshin Impact account.
So, why are you waiting for?? Just read through the article and go on to discover immense areas, bump into dominant rivals, and realize secrets of an Unknown World of Genshin Impact.
Creating a Genshin Impact Account:
Having a Genshin Impact account is quite simple. To create a one for you just requires your Facebook or Twitter account, as you can register for Genshin Impact account via these social platforms. All you need to do is to visit the official website of Genshin Impact and navigate to registration page. On the registration page, simply click on the Facebook or Twitter icon.
As an alternative you can register for an account using your email address. Once you are on the registration page, you just have to enter your email address and verify it using a 6 digit verification code to create the Genshin Impact account.
Here's a detailed process covering all necessary steps to be followed for creating a Genshin Impact account:
Step 1: Navigate to the Registration page
The first step is to navigate to the registration page. To start with, you need to visit the official website of Genshin Impact by using this link: https://genshin.mihoyo.com/en/home.
Once you landed on the website, click on the "Log In" icon provided at the top navigation bar. This will now route you to go to the login page, where you can log in to your Genshin Impact account.
As you are not having an account you are required to create it first. It can be done by clicking on "Register Now" optionprovided justbelow the "Log In" button. On the other hand, you can also register for an account via social media platforms including Facebook or Twitter. In addition to that you can also use the email address method for the purpose of creating an account.
Step 2: Verify your email address
Once you clicked on "Register Now", the next step is to verify your email account.
Soon after clicking on the "Register Now" button you will get landed on the "Register by Email" page. Here you will find several fields, including "Email", "Verification Code", "Password", and "Confirm Password".
First of all,you must provide a valid email address in the "Email" field. (You must remember to supply a fresh email which you have not used before to create an account on Genshin Impact).
As you are done with entering your email, now make a click on "Send Code" option. You will now receive a 6-digit code, look for this code in the inbox of your email which you have just supplied in Email field, get it copied and paste it in the provided "Verification Code" field. In case you did not receive any code in inbox, then you should go on to check your junk and spam folder as well. Or else, resend the code once again by clicking on "Send Code" after waiting for 60 odd seconds.
After that, pick a password(preferably a combination of alphabets and numbers) and enter it in the "Password" field. To finish this step, you need to confirm your chosen password by re-entering it in the "Confirm Password" field.
Step 3: Click on "Register"
You have to go back to the registration page after copying the 6-digit verification and once you paste the code in the "Verification Code" field, the last and final step to complete the Genshin Impact account creation process is to click on "Register".
Once registered yourself for a Genshin Impact account, following the aforesaid process you will be directed on the homepage of the website. It will show your email address on the top navigation bar, which confirms that you have successfully created Genshin Impact account. It also indicates that you are automatically logged into your account. If for some reason you are not logged in by default, click on the "Log In" icon, provide your email address, password, and then again click on "Log In" to get yourself logged in.
As you have successfully created an account you can now download the game by clicking on the "Download" button provided on the top navigation bar of the home screen.
That's all.. Now go enjoy the game and have lots of fun!!!
Read Also:
Enjoy Seamless Gaming: Learn To Fix NP-34957-8 Playstation Error
Is For Honor Crossplay Game or Not? Get An Answer Here…