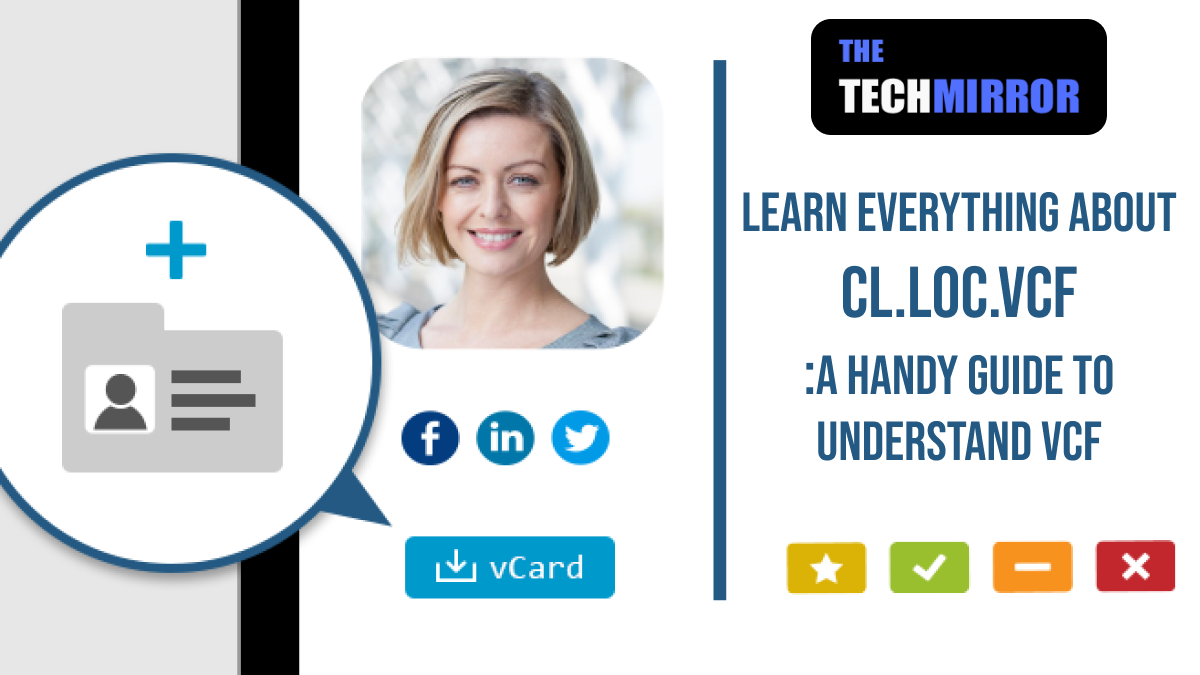 Received a cl.loc.vcf file on your device and wonder what exactly it is? You might be thinking and searching about what does this code or extension means? So in that case this article will be a great help to let you understand the meaning and functionalities of cl.loc.vcf.
Most of us often receive files with such type file extensions through mail or contact from your android or iPhone. And as an answer to the question what it is; vcf is the file extension used for 'virtual contact file'. When you open such file, you will get to see all preferred fields one use to take into account while saving someone's contact information.
Let's explore more about currentlocation.loc.vcf or cl.loc.vcf by getting into details of VCF (virtual contact file).
What does VCF file mean?
A Virtual Contact File (.VCF) is a type of contact file (or vCard). It stores all the necessary information subject to a given contact. In general this information comprise of name, home phone, mobile phone, place of work, thumbnail photo, and so on.
.loc in this indicates that it happens to be a file sharing a geographical 'location', commonly related with a map app function, such as a 'share my location'. A loc.vcf is a map location provided with an address or possibly even GPS coordinates. While regular .vcf files can be opened on any mobile phone, but loc.vcf (or CL.loc.vcf) seems to be working only on iPhones.
Although some alternate ways are available to read them on Android, but they can't be read via the built-in text apps that come with the device.
Whenever someone sent you their current location or the address/location of certain contact, then generally a small map image is included with the loc.vcf file. And as you make a tap on this file it will automatically open your default map app and route you to the particular location.
Note: Android allows you to SMS a location, but it does not use the same format as the iPhone use to with the loc.vcf extension files.
How to Open VCF files?
VCF files can be opened easily using a programme which displays contact information. Following are the ways in which VCF files can be opened and read on various platforms:
1. On Windows: Windows People (referred as Contacts in Windows Vista and newer versions of Windows) is an in-built function in Windows 10 and can be used to open VCF files.
2. On iOS: VCF files are well-matched with Apple devices as almost all versions of iPhones and iPads are compatible to them; they can be opened by importing them directly into the Contacts from an email, website, or other sources. All you have to do is to just follow the path:
Navigate to Settings > Import in the Contacts app, and then select the.vcf file option to locate the vCard file on your phone or Google Drive account.
3. On Web Based Client: VCF files can also be imported into web-based email clients like Gmail. For doing so you are required to locate the Import button on your Google Contacts page and then select the VCF file from the Select file button.
4. Beside that Microsoft Outlook and Handy Address Book are other probable alternative platforms that can open VCF files. If you're using Microsoft Outlook, you can import the VCF file following the path as:
File > Open & Export > Import/Export > Import a VCARD file (.vcf) menu.
How to Convert VCF files?
If you want to convert the file format for VCF files; CSV is a one of the most preferred file format to convert VCF files into. Since CSV format is supported by Excel and most of the other programmes to import contacts, it is suggested to get the VCF file converted into CSV. Following steps can be used to convert a VCF file:
Open vCard to LDIF/CSV Converter to convert VCF to CSV online. 
You will get the options to select the type of delimiter as well as to export only contacts with email addresses, make selection according to your need. 
To view all of the contacts, use the path, File > Import menu to open the VCF file.
Now, select the ones you want to export and go to File > Export to select an output format (it supports CSV, TXT, and ABK).
Read Also:
How To Change NAT Type On PC?: Easy Methods
How To Install Google Chrome On FireStick & Fire TV?