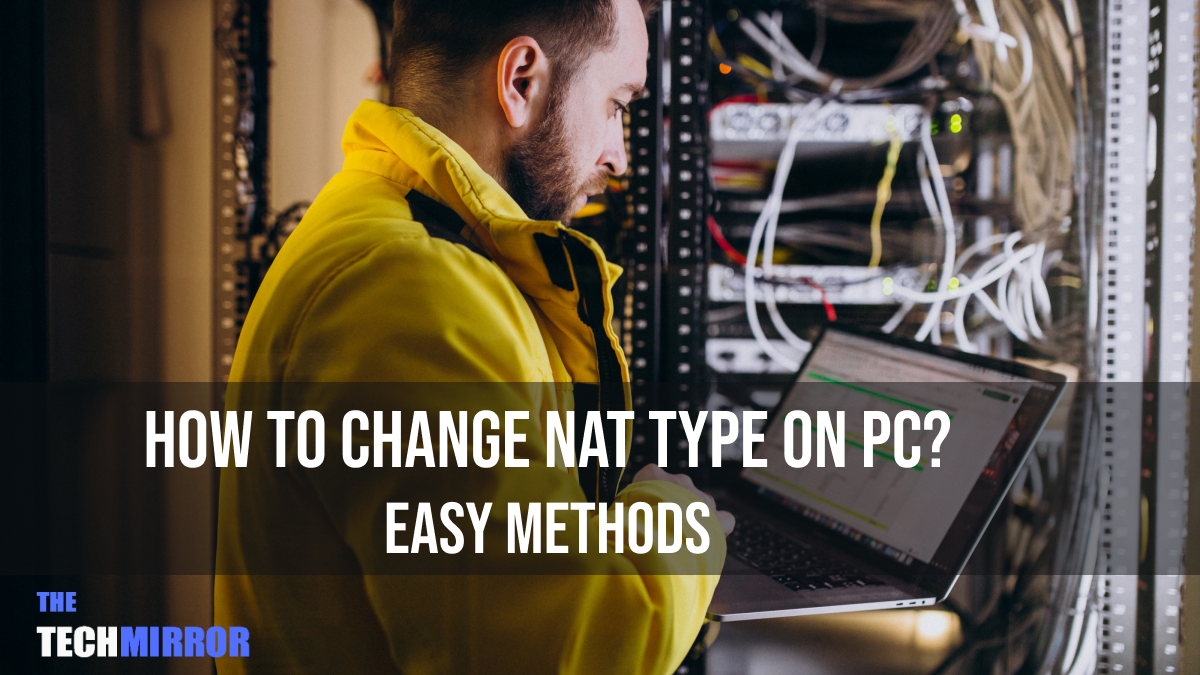 From time to time you are required to change the NAT type on your PC. If you have no idea about why is it needed and how to do it, this article will provide you a complete understanding of the topic. So let's get started to know about how to change NAT type on PC.
Basics about NAT:
NAT or Network Address Translation is a technique designed for IP address conservation. NAT can be configured to present a single address for the entire network to the outside world. In other words, it creates a sole unique IP address which is used to represent a whole set of devices to any outside network or connection.
NAT allows private IP networks which use unregistered IP addresses to connect to the Internet. It works on a router, typically connecting two networks as one, and translates the private addresses in the internal network into legal addresses, prior to packets being forwarded to another network.
Normally implemented in remote-access environments, NAT is designed to meet two-fold objective of address conservation as well as network security. This provides added security to you by successfully hiding the entire internal network behind that IP single address. NAT gives you more protected way to access the internet that limits the risk of someone stealing your personal data or information.
However one thing to keep in mind is that the restrictions put into operation by the NAT will not always be the same and differ depending upon the type of NAT. Here's a brief note on it:
Classification of NAT
In general there are 3 broad categories of settings for the NAT. These settings will lead to the quality of online experience. The types of NAT are given as under:
1. Open NAT
As it is obvious from the name itself, this is the type of NAT settings wherein there are no restrictions and all the connected devices can send and receive every kind of data over the internet. There exists no firewall to stop or control the flow of data. This result in easy traffic and data can flow without restrictions but, unfortunately such a network setting is susceptible to hacking and other cyber attacks.
2. Moderate NAT
This type of NAT allows one or more ports to remain open making it more secure as that of Open NAT. It will also act as a firewall and hence allowing connections from a selected group of applications. This type of NAT doesn't open all the ports for data transmission but only opens one or two ports. This acts as a firewall which will restrict the connections to interfere in to your network. On the other hand, a little amount of lag is likely while you play games or run heavy applications using moderate-type NAT.
3. Strict NAT
Again when you go by the name, this type is the toughest and most secured type of NAT wherein the data entering in to your network is strictly restricted. This type of settings will protect you against every sort of risk and thus most of the services will have problem in getting connected to the internet. It doesn't allow any data transmission through the local network. Beside that in such settings the user will be able to connect exclusively with users who have NAT type open. When it comes to gaming users experience plenty of lag while using this type of NAT.
Why do we need to Change NAT?
It is very often that most of the gaming consoles including PS4 or Xbox 360 among others usually face a frequent NAT issue, leading to poor gaming experience. Furthermore when it comes to running some bulky application or watching a HD movie on your PC which is connected to NAT, you have to suffer with lag.
However you don't have to worry as this problem can be fixed with ease. Most of the time, this problem occurs as a result of the integrated firewall in routers restricting access to certain files or features. Hence, you need to open some ports by altering your router's settings and by doing so you can fix the problem. This can be achieved through two different methods, viz.; port forwarding and port triggering. As you open the ports, the NAT type will by default get changed from open to moderate.
Now having said that, without any further delay let's get straight to the methods by which you can change NAT type on your PC.
How to Change NAT Type on PC?
Changing NAT type is not much of a complicated task and can simply be achieved by performing any of the below mentioned methods. Let's have a look at them:
Method 1: Turn on UPnP via Network Infrastructure
Universal Plug and Play (UPnP) is a set of protocols that facilitate devices in your network find each other. It also allows automatic port forwarding. The most common of the methods is turning on UPnP via network settings. To do so you need to take steps given as under:
Power on your PC and click on the 'My Computer' icon, find the network button at the bottom left corner and click it.
Now make a right-click on the Network Infrastructure button and click on the 'Properties' icon.
Then go to the Settings menu and click the "Add" button.
This will lead to a new window appearing on the screen, click add button again provided at the bottom of this window.
Another window will now appear, here in the first tab where the service name is provided type the name accordingly and in the second tab give your IP address, in the third tab type 28950 and remember to put UDP with that, and in the last tab again type 28950. And then click the OK button.
Once again click on add option. Here in the 1st tab, type MW3 OPEN NAT or whatever text you prefer, in the 2nd tab type your IP address, in the third one type 3074, and finally in the last tab again type 3074.
As you are done performing these above steps, click on the OK button.
Then select Apply followed by OK
Close all the windows and run the game or application of your choice freely as you now have an OPEN NAT type.
Note:You have to repeat the above procedure whenever you reboot your router or restart each active connection. This solution is momentary and will take you 2-3 minutes to open NAT.
Method 2: Turn On UPnP via Router
Launch Run command using WINDOWS + R
Type cmd and press enter
Type ipconfig and press enter
Find the default gateway address and copy it.
Paste the address on web browser and go to the router settings menu
Now locate WAN, as well as "Internet" menu or "Local"
Search for UPnP and turn it on
Click on the save/apply button and then restart your router
Method 3: Turn on Network Discovery in Windows
Power on your Windows PC and open the Start Menu.
Go to Settings.
Then click on Network & Internet.
Find the Sharing option and click it.
Expand the network profile assigned to the network connection.
Under Network Discover section, select the "Turn on network discovery". Furthermore, check the box "Turn on automatic setup of network-connected devices."
Click on button Save changes.
That's it… Check whether the problem is resolved or not.
Method 4: Using Configuration files
This method is the one which will help you to permanently fix the problem. The steps need to be undertaken are:
Open web browser and Log in to your router's page.
Head to the router's configuration page.
Search for "Save or Restore Configuration" option and click it.
Then select the "back up configuration now" option on the page that will appear next.
Wait for the pop up window to appear and then click on save the file, followed by OK. (It is suggested to have extra copies of this file so if in case anything goes unexpected you will have a backup.)
Open this file to continue.
Press Ctrl + F and type [connection.ini]
Next to that find the last bind.
Under the last bind type or paste, "bind application=CONE(UDP) port=3074-3075", then under the last one type or paste "bind application=CONE(UDP)port=3478-3479", thereafter  type or paste "bind application=CONE(UDP)port=3658 (while doing this you shouldn't forget to change ports according to your game)
Once you have finished with it save the file (most likely the file is opened with the notepad)
Go back to the router's page at the configuration one more time.
Browse for the new configuration file by using the option.
Then click on the option "Restore Configuration Now". Be patient and wait.
Close router's page and reboot your router. Now when you open the game NAT should be Open.
Method 5: Port Forward
When there is no UPnP option available to you, then you can go with this option; using port forward.
Navigate to portforward.com, and then select your router model.
Choose the game you want to consider, read the related instructions and note down the default ports of this particular game.
Go to your router's homepage via your default gateway IP address typed on web browser's search bar.
Log in with valid credentials for your router.
Under advanced settings, search for the Port Forwarding section on homepage of your router. (Refer the router's manual for more help if required.)
Now set the rules for port forward as per your preference depending on your router. This can be done by using a button that says Add or something alike.
In the required port fields, type the default ports of your game, as noted earlier.
Enter IP address in the IP Address section as well as the Output IP or Server IP for the port forwarded.
Select both the options, called UDP & TCP
Click on Save or Apply button and now reboot your router.
Conclusion
The article covered various methods by which you can change your NAT address. It also dealt with three basic categories of NAT. Hope you have got answer to your quest How to change NAT type on PC.
Stay tuned for more of such articles and enjoy reading the same.
Read Also:
How to Enable iTunes Dark Mode Theme on Mac and Windows
How To Install Google Chrome On FireStick & Fire TV?