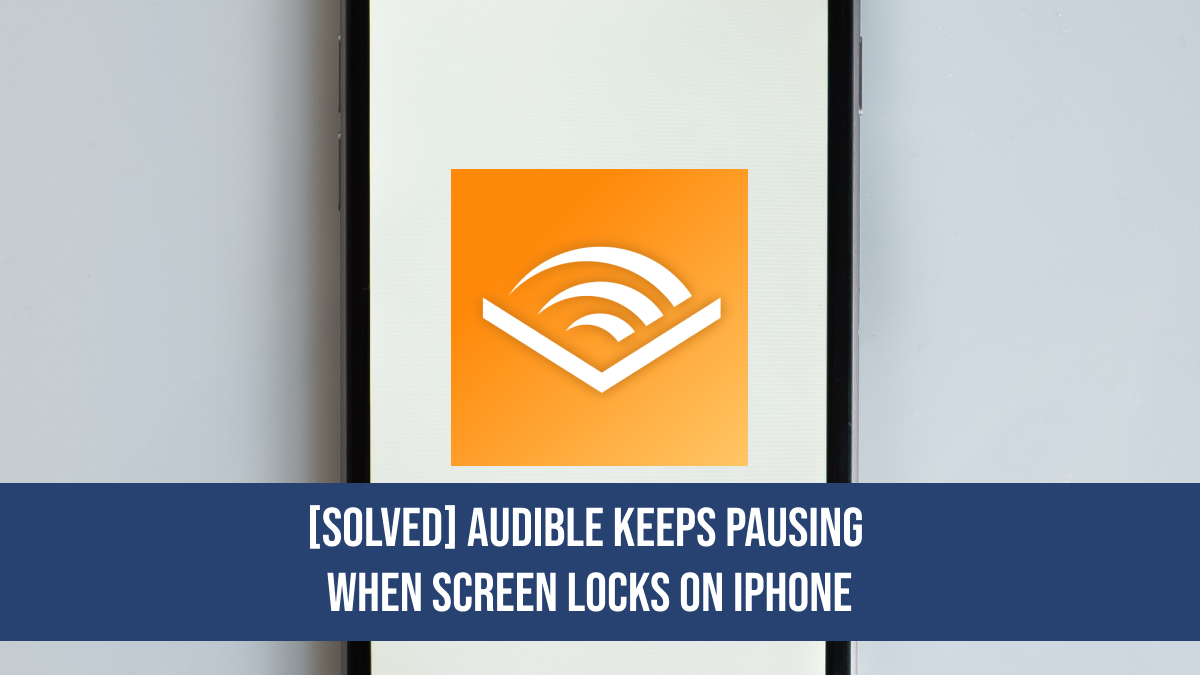 The 27 year old American online audiobook and podcast service Audible is the preferred choice of every American when it comes to purchasing spoken word content. It is also the largest audiobook producer and retailer in United States. It is a subsidiary of Amazon and has a headquarter in New Jersey. The Apple-Audible agreement of 2003, also made it very popular among Apple users. If you are also an Audible user and can't miss an episode of podcast on it but it keeps pausing when screen locks on iPhone or sleep, what would you do? Worry not! We have found the ways to get rid of this situation.
Why Audible Keeps Pausing When Screen Locks on iPhone?
There are several reasons that could cause audible to keep pause when screen of your iPhone locks or sleeps. But, the main reasons behind it could be problem with your device's network settings or background app refresh restrictions. In this post, you will find out how you can fix the problem easily.
Reset Network Settings
Some technical issues might make your device's internet go off after a few seconds of locking the screen. It could make the Wi-Fi or mobile data turn off automatically. If this is happening with your iPhone, it could be the main culprit. How to fix it? Well, just follow the below mentioned points and reset network settings of your iPhone.
Head to the Settings app and go to General.
Now scroll to the bottom of this tab and select Transfer or Reset iPhone.
Another screen will appear where you have to tap on Reset.
Now on a bottom sheet, you will see 5 options. Just select Reset Network Settings from it.
Confirm! That's it.
Resetting the network settings will probably vanish the bug that's causing your device to disconnect from internet after it goes to sleep or the screen is locked.
Turn on Background App Refresh
Background App refresh on iPhone is a cool feature that helps you preserver battery life and enhance the performance of your device. But it could be an enemy to your favorite apps when the background app refresh is turned off for that particular app. So, make sure you allow background app refresh on Audible to make it keep working flawlessly even when your screen is off. How to do it? Check these easy steps.
Go to Settings of your iPhone and look for General and tap on it.
In General tab you will find Background App Refresh.
Go to Background App Refresh and look for Audible app.
Just turn the toggle on/green to allow the app to refresh in the background.
That's it! Trying these two methods will surely help you fix the problem. If it still continues, you can jump to the next section.
Restart iPhone
Restarting the iPhone could also help you get rid of the audible app pausing when screen is lock issue on iPhone. To restart your device, jus go to Settings and then General and tap on Shut Down button and confirm it. Now wait for a few seconds and press and hold side key until you see the Apple logo on your iPhone.
Reinstall the App
You can also try reinstalling the audible app when you're facing this kind of problems while listening to your favorite podcast or book. Just touch and hold the Audible app and tap Remove App, a popup will open and here you have select Delete App. Once you're done removing the app from your device, wait for a few seconds and go back to App Store, search for Audible and Install it.
Read Also: