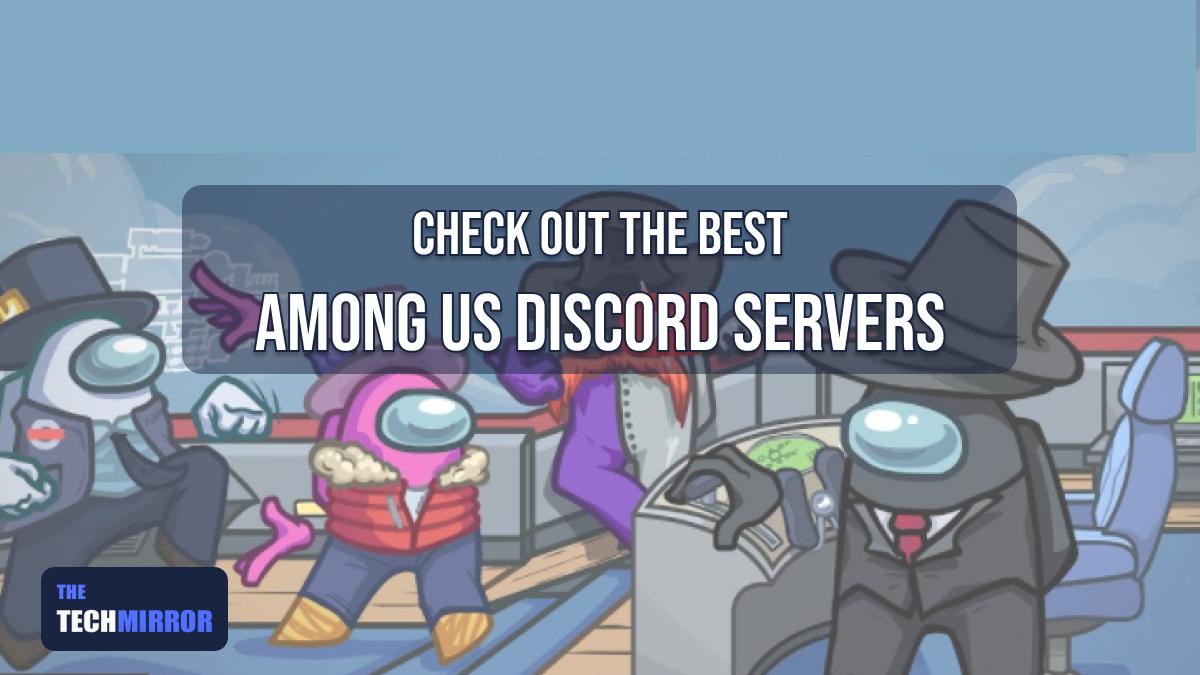 Among Us, a party game of teamwork and betrayal, was introduced in June 2018, but it raised to the peak of popularity during pandemic and touched a user base of half a billion by November 2020. It has ranked as one of the most popular games of last year. If you are also a fond player of this game and looking for some good Among Us Discord Server for a better playing experience, you are reading the right blog. In this blog post, we have complied details on some of the most admired Among Us discord servers of recent times. So let's go on to explore them and find the best server to suit your needs.
About Among Us: 
Among Us is an online multiplayer game developed and launched by InnerSloth. More like Mafia or Werewolf this game can played online or via local WiFi with 4-15 players – either people from your known circle or even some strangers. 
The game is based on a space-themed setting and each player looks like colorful armless cartoon astronauts out there in an attempt to hold the spaceship together and survive, but have to be careful of Impostors bent on killing everyone!
Among Us Discord Servers:
As a common practice most of the Among Us players use discord servers. Dedicated Among Us Discord servers allow gamers to connect with netizens, gamer communities, and other players and friends and communicate over a voice chat, video call, live stream or text, making their gaming experience more enjoyable and interactive.
Among Us is a kind of game which call for player interaction. Although the game permits text chat among players, it is less interactive when compared to voice chat. And since the game heavily depends on having a discussion with fellow players at the end of each round, turning to Discord servers is what gamers always look up to. By doing so the players can socialize and find new friends for them, in addition they can share ideas via voice chat, and much more.
And that's why Discord servers are the most preferred place for any Among Us player to hang out. If you are also in search of the best Among Us Discord servers, check out the list given below.
Here Are The Best Discord Servers For Among Us
Innersloth:
The first Among Us Discord Server on the list is the official discord server of Innersloth, the developers of the game itself.  It is one of the largest Discord servers for Among Us with over thousands of members across the world.
This is just the right place where you can talk about almost everything related to Among Us including; hints, metas, spoilers, updates, and so on. With over 60 voice channels, the server allows you a separate text-channel for members who are unable to use VC (Voice Chat).
The best thing about this server is that you can find a group herein and start playing Among Us with voice chat in the background. This way it helps in making the game even more interactive and thus enabling the crew to find the impostor pretty quickly using voice chat.
However you must comply to with the rules set out by the server or else you have to face a ban. In the nutshell, Innersloth is a perfect Among Us Discord server for gamers.
Among Us:
The next server on the list is named after the game itself as 'Among Us'. The server has a member count around half a million and is the largest Discord server available for users. It allows members to use separate text-channels depending on their ethnicity and offers in excess of 180 diverse voice channels (counting much more in comparison to Innersloth) to assist the players.
Although one can avail numerous benefits on the server like audio chat, giveaways, fan art, matchmaking and much more, this Among Us Discord server is not meant for beginners. At times, the server gets lethal, and the moderators have to forcefully ban users.
Given that the group is too large and hundreds of bots being deployed to enhance user experience, you need not have to look beyond this Discord server.
Among Us Community:
'Among Us Community' is another popular and widely used discord server on this list. This server is well known for organizing and hosting Among Us tournaments on frequent intervals. It presently has a count of 200 thousand+ members worldwide and offers nearly 200 voice lobbies for the use of players alongside other valuable features to make the most of.
Among Us Global:
Yet another large community Discord server for this game is Among Us Global. With a user base of around 150K members, this server has 4.4 rating which indicates that the server is non-toxic in principal. Similar to other servers, Among Us Global also allows you can do matchmaking and pick players to play along. The server has dedicated voice channels which let the gamers to have audio conversations during the gaming sessions.
Moreover, Among Us Global offers you lots of giveaways, and even provides you a chance to hitch either the premium version or a Steam copy of Among Us. If you wish for wining free goodies while enjoying the game, then Among Us Global is probably the best alternative for you.
Among Us India:
If you come from India, Among Us India is the best server that you must join. This Discord server boasts the largest Among Us community of Indian, having more than 25K members. It allows you to play the game together with people from your native country and grants you access to all the custom features such as voice chat and bot support.
To boost your zeal and to entertain you through, vibrant community of Among Us India tender fresh features like Karaoke VCs, Game and Music Bots as well.
Summing Up:
So that's our list of the best Among Us Discord servers which will be a great choice to join in current time. You can join these community servers and meet people from other places, find a match, play along, share ideas and have voice chat with them and much more for you to entertain.
Go on to join any of the servers mentioned in the list above for a better gaming experience and more fun.
Read Also:
Express with exciting Emotes: know how to Download Discord Emojis
Is Spotify not showing on Discord? Here's how to Fix it…