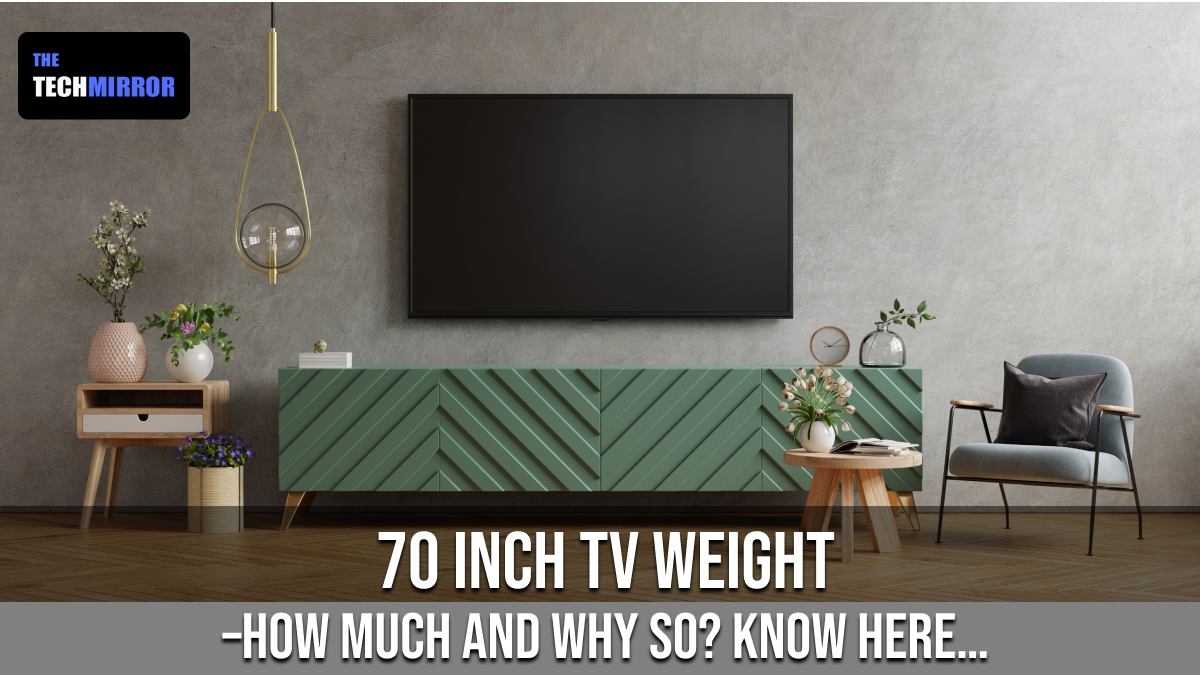 A TV is considered to be one of the most common household products. Ever since the introduction of first Television set, the design and features of TVs have changed a great deal. Initially it was the tube TVs which used to be heavy and bulky, but the advent of smart technologies has paved way to the modern day sleek flat screen LED TVs. Today we have much lighter TVs well within the weight range.
If you are planning to buy a new 70 inch TV or just out of curiosity wanted to know how much a 70 inch TV weigh?; we have the answer for you. This blog post will provide you with the information about the 70 inch TV weight. So let's get started and find it out here…
About 70 inch TVs:
There are these people who want a cinematic experience at their home and prefer to have large screen televisions. More often than not such people use to buy TVs with 70-inch screen size. Seventy-inch TVs are popular come in two categories viz., LED and UHD 4K.
When it comes to the features and weight of a 70 inch television it varies from brand to brand as well as from model to model. But no matter what it is not much heavy and can be moved by two persons with no trouble and light enough that wall mounts can held it at ease. Wall mounts of seventy inch TVs normally have a bearing capability to hold up to 200 pounds.
For your information, you must note that usually the 70 inch TV weight falls in the range of 50-70 pounds. You can consider the example of two brands here; the 70-inch Samsung LED Smart TV weighs 54.5 pounds, while the weight of 70-inch Smart 4K UHD from VIZIO is 56.9 pounds.  
For more precise and accurate information you can opt to visit the official web site of the brand you wish to buy and check for the exact weight from the product specification.
Average Weight of Samsung TVs
Samsung is among the most preferred Smart TV brands with availability of a wide range of Smart TVs. The weight of these TVs varies from model to model, and is largely depends on its size. It is obvious that weight and TV size are by and large correlated. Thus, if your TV is of larger screen size, then it will possess a greater overall weight. Apart from this, the weight of TV is also affected by the components used in manufacturing, as well as the specific production period. Below are the figures depicting the average weight for different sizes of Samsung smart TVs.
50-55 inch TV: The Samsung weight for 50-inch 4K UHD Smart TV is 29.3 pounds, whereas the weight of a 55-inch LED TV is 36.4 pounds (approximately 16.51 kilograms). 
60-65 inch TV: In case ofthe 60-inch category, there are just a few models and the Samsung UHD TV weighs the most with a weight of 42.8 pounds.
70 inch TV: The 70-inch TV category of Samsung is most popular of all with much higher ratings. 70-inch LED or UHD 4K TVs from Samsung use a wall-mounted installation which has a bearing capacity of up to 200 pounds. Samsung 70-inch LED Smart TV weighs in at 54.5 pounds heavier than the standard model.
That's it. You have successfully grabbed an idea about how much 70 inch TV weight is.
Read Also:
Here's How To Get Tubi TV Activation On Your Smart Device
Element TV Troubleshooting: Handy Do-It-Yourself Fixes