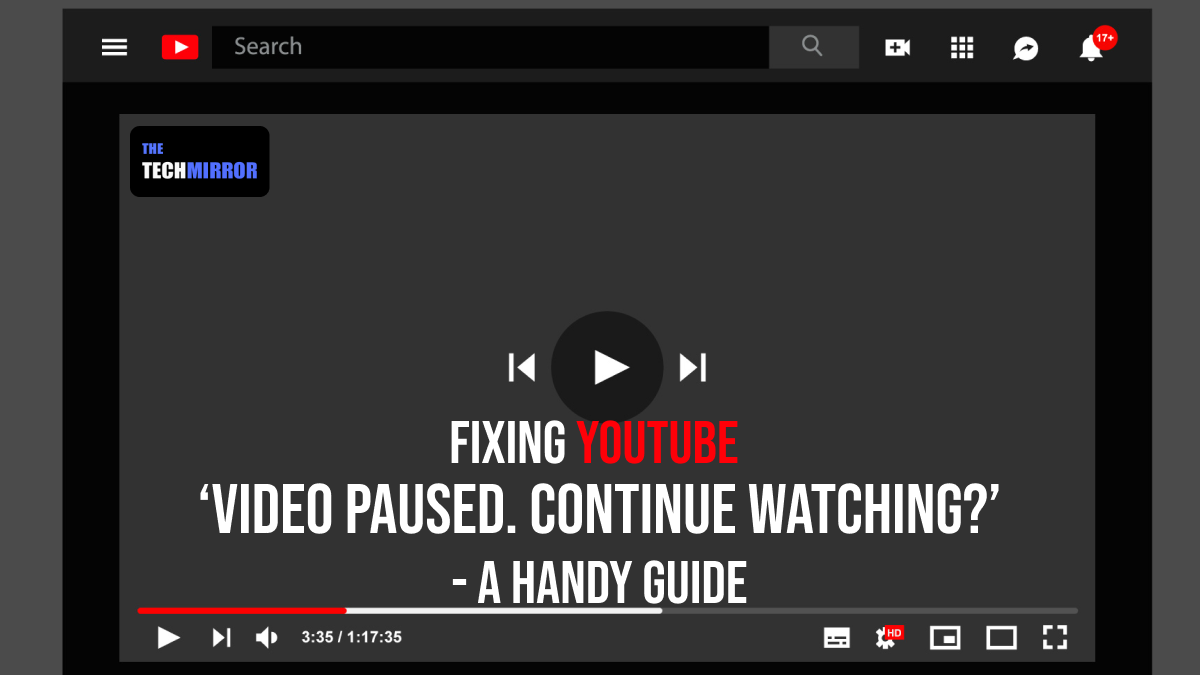 Have you just played some random mix playlist on YouTube and get to see that after playing for some time, the video automatically gets stuck and shows up an error message which reads 'Video paused. Continue watching?'
Now if you are thinking what this message is about and how to respond in such situation to avoid getting same message time and over again. This is probably the right place to have answers for your queries.
This blog post will address YouTube 'Video paused. Continue watching?' error and let you understand every aspect associated to it. So with no further delay, let's get straight to the point and learn more about this message with its causes and fixes to get rid of 'Video paused. Continue watching?' on YouTube…
What does YouTube 'Video paused. Continue watching?' means
In case where your favorite YouTube video playlist stopped playing and instead it display 'Video paused. Continue watching?' message on the screen, then this might be because of the YouTube recent play-protect feature. The feature is meant for limiting data loss and prevents needless or avoidable data usage, thereby it also reduce a few bit server load.
In other words, you can say that if no click or action is done on YouTube window playing in the background, it just stops the player after some time considering the fact that the user might have left the YouTube on play mode by mistake.
However, if you want to play YouTube videos without any pause, you can definitely have certain ways to fix the error that pops up on the screen. But before heading to the solutions you must know about the reasons behind YouTube 'Video paused. Continue watching?' error message.  So here are the potential causes.
Why Does YouTube show 'Video paused, Continue watching?'
Most likely reasons behind getting the 'Video paused, Continue watching?' error while playing music on auto-play or playing a mixed playlist are listed as under:
Long play time for videos on Auto-play mode:
The first reason behind this could be the time duration of using auto-play video feature. In case the user play videos for a long (say for about 45 minutes) and at the same time leaves it opened in the background, then is may possibly show the message 'Video paused. Continue watching?'
Here this pop-up acts as an alert to remind the user has left the page inactive and needs to attend it.
No interactivity (No action or click) on that YouTube window:
Video paused, continue watching often appears when you have just left a video unattended in the background playing for a quite some time now.
This typically happens if you listen to mix playlist on YouTube and suddenly leave the window in the grey zone. When there is no action taking place or no click marked for a while on that YouTube window, it shows pop up message 'Video paused, continue watching' to seek your attention.
So now that you are aware of the reasons behind this error, let's move on to learn about how to respond to this error.
How to fix YouTube 'Video paused, Continue watching?' error
There are some workable methods which may help you to fix this problem on YouTube. Apart from that you may also use a few extensions that are the best suited to resolve the issue for you. So here's how to let you play the YouTube videos without getting this error message.
In order to resolve this problem just tap on the 'YES' button when the pop-up shows up or else you can use the extensions mentioned below in this article to play and enjoy your favorite YouTube videos constantly with no interruptions whatsoever.
Additionally, the most basic remedial action you can try to avoid this error is to open the YouTube window frequently and scroll through it or just make some random clicks. This will surely keep away the YouTube 'Video paused, Continue watching? error message to appear.
Now, let's discuss about these methods in detail.
How to Disable Auto-pause on YouTube? – Desktop
When you are watching YouTube videos on your personal computer and if the auto-play video mode is on for long. Additionally, if you have left the window open in the background, you will likely to get the Video paused, Continue watching? pops up.
If you wish to disable this auto-pause feature on your PC, you need to perform following steps:
To start with, you must add an extension to your chrome browser.
Launch the Chrome browser on your personal computer.
Now open the extension page and click on 'Add extension'.
Soon after you add the extension page, the video auto-pause prompt is disabled.
Note: If you use Chrome on other devices also, you can just turn on the 'sync' so as to get the extension page synced as well.
Moreover, while using YouTube on PC there are a few trusted extensions that you may take into consideration to let you play the YouTube videos constantly. A couple of extension we would recommend you in this regard isYoutube Auto Pause Blocker and YouTube NonStop Extension.
Once you click and add either of these extensions to your desktop PC, it will automatically blocks the 'Video paused, Continue watching?' auto-pause video pop-up on YouTube.
How to Disable Auto-pause on Mobile? – iPhone/ Android
YouTube lacks any inbuilt setting option to disable this play-protect video prompt feature. And you must know that although this feature is undoable for mobile devices you can still exclude it while playing the YouTube videos on your Android phone using a hack given as under.
To enjoy watching videos on YouTube continuously with no pause, you should undertake these steps:
To start with, go to the app settings on your phone and clear cache for the YouTube app.
Now install the 'DON'T PAUSE' apk on your Android mobile.
Thereafter, just turn on the apk DON'T PAUSE by tapping the play icon.
Now, your playlist won't be paused anymore while playing YouTube on your mobile phone.
That's all. You have now successfully learned about how to fix the YouTube 'Video Paused. Continue watching?' issue. Hence you need not have to worry further about the auto-pause video prompt popping up on YouTube.
Read Also:
YouTube Playlist Not Autoplaying: Simple Solutions
Know How to Find Hidden Videos on YouTube With This Secret Trick!