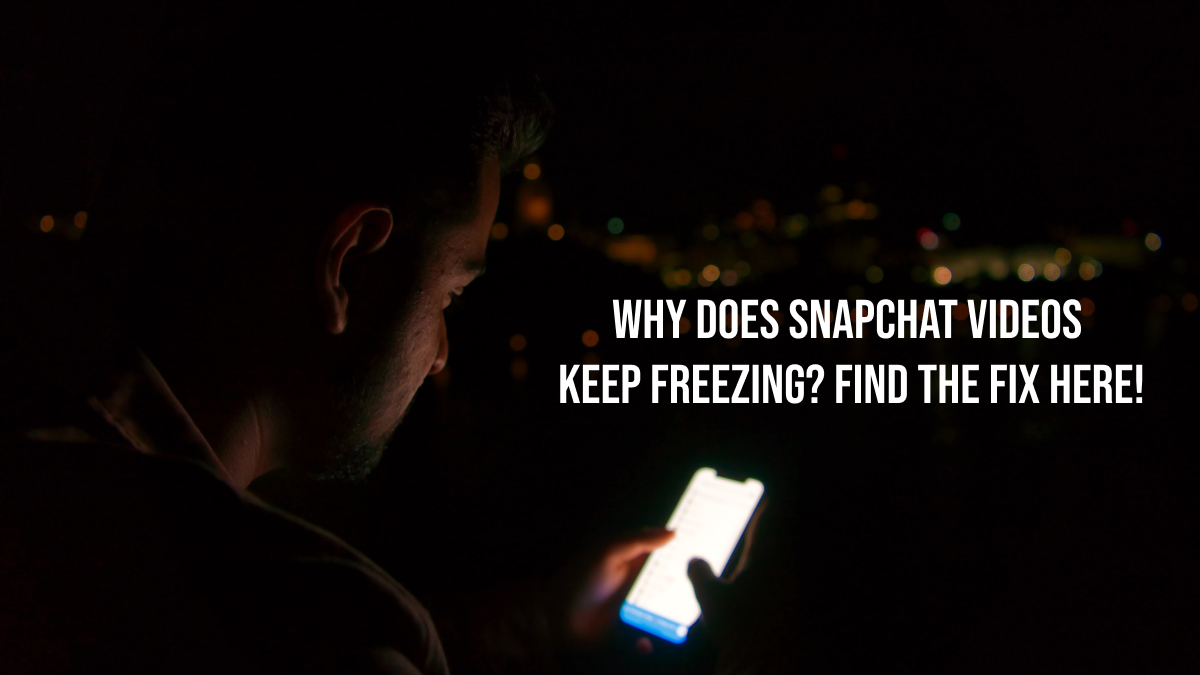 Snapchat is one of the most popular apps. It keeps you connected to your friends and the world. Snapchat is being used by 190 million people everyday. It is quite obvious that it will glitch when millions of people are using the same app at the same time. If Snapchat is freezing randomly, and you are getting frustrated with it or your Snapchat videos keep Freezing. It is really annoying to use an app that keeps freezing, so today we will tell you the fixes you should try and make it work smoothly on your device. To run all the applications smoothly, your device needs a certain amount of memory and CPU cores.
How to Fix Snapchat Videos Keep Freezing
When you're using Snapchat and watching videos sent by your friends and they keep freezing, follow the below mentioned methods to fix the issue in 2023.
Check if Snapchat Server is down?
If your snapchat is not working properly and it keeps freezing, the first thing you can do is check the servers. Sometimes the server is not working properly that is why the app keeps freezing. You can simply check it on google by searching "is snapchat down?"
Restart Snapchat
A temporary problem can be a reason for snapchat freezing. Restarting the app can solve this problem. 
On android, you can restart snapchat with the app switcher. For that swipe up from the bottom of the screen and that will open the app switcher. Now drag it upwards to stop it from running. 
If you are an iPhone user and want to restart the app with the help of an all-screen display. For that, swipe up on your screen to pen the app switcher. After that, find the snapchat and flick it upward to remove.
Clear cache
If you are having problems on snapchat. And it is not properly working or sometimes it is just keep freezing. Your app might have corrupted data. You have to clear the cache to run the app smoothly. You can clear the cache in simple steps: 
If you are an android user 
Go to the Settings app on your phone.
Tap Apps & Notifications.
Tap See All Apps and find Snapchat.
Scroll down, Tap Storage & cache.
Tap Clear Cache.
If you are an iPhone user 
Open Snapchat and tap your Profile Picture.
On the next screen, tap Settings Gear on right top.
Scroll down and under Account Actions you will find Clear Cache.
Tap on it and hit Clear to clear cache of it.
Check your internet connection 
The app allows some of its features offline but to exchange snaps with your friends or watch the stories, you need to have a proper internet connection. If you're having problems with your internet connection or it is working slowly, you might be facing buffering or your snapchat videos might keep freezing. To fix this, you can connect to a Wi-Fi network or troubleshoot your mobile data.
Check network Permissions
Network issues occur for sure when proper permissions are not set for an app. If snapchat does not have the proper network access permissions, it is obvious that you won't be able to exchange snaps with anyone or the video you're watching is going to freeze. To fix this, you should fix the permission settings.
For android users
You can check your network issues by the following ways:
First open Snapchat and then click on Profile. 
After that you have to scroll down to Privacy.
Finally, you can set your Permissions and can ensure that your snapchat is working properly
For iPhone users
You can check your network issues by following ways:
First open Snapchat and then click on Profile.
Now, go to Settings and then tap on Additional Services. 
Scroll down to Manage.
Finally, you can set your Permissions and can ensure that your snapchat is working properly.
Why my Snapchat videos keep freezing?
Are your snapchat videos freezing when you try to play video? Well, it could be because of a slow internet or other related issues. Check how to fix them.
Read Also: