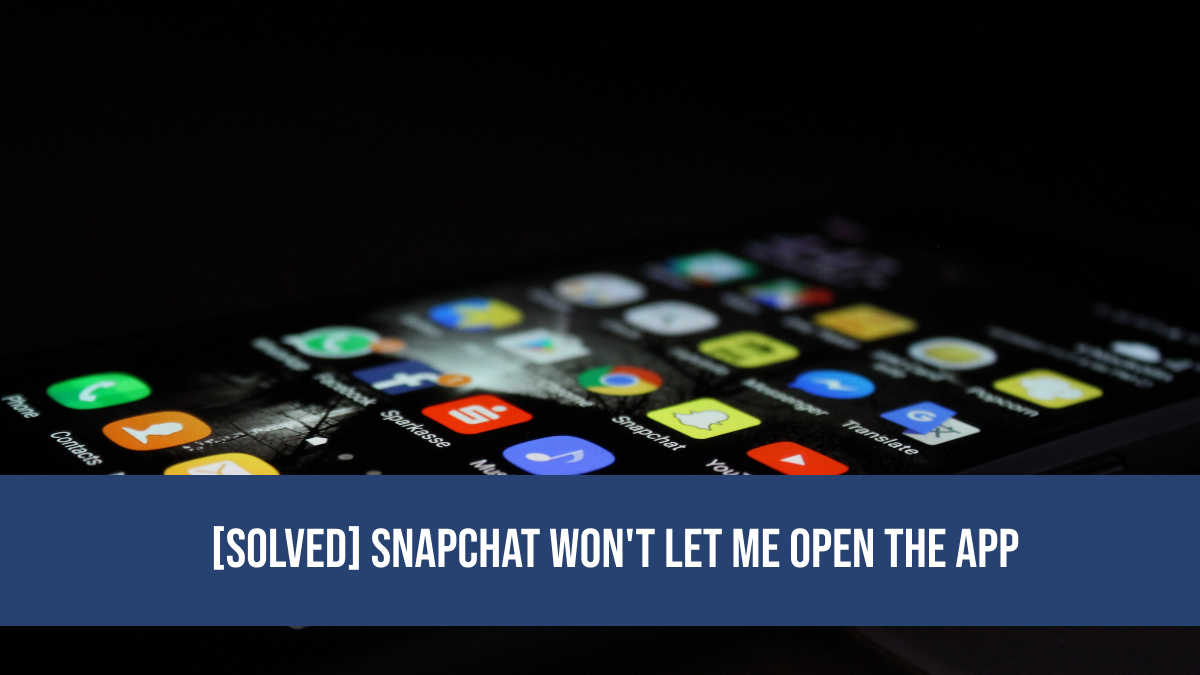 Snapchat is one of the most popular social networking sites. People use snapchat to share photos and videos with others and these photos, videos and messages get expired after a period. People also use snapchat for video chatting. It has become the most favorite app of teenagers! Nobody wants their streak get broken. It is a good app that works perfectly, But sometimes it might not work properly and it can be frustrating when the service is offline or does not appear to be working. If you're facing an error on Snapchat and you're frustrated with a thought in your mind that Snapchat won't let me open the app, then this article is totally for you. We will tell you how you can get it working again.
What can I do when my snapchat is not working?
There could be various of reasons when snapchat app is not working and doesn't allow you to open the app. Here are the approaches that you should try next time when you have trouble while using snapchat and make it work properly for you.
Check your permissions
If your snapchat won't allow you to do certain things like you can't take a photo or you can not use the filters. That could be because of permissions issues. To check the permission settings follow these steps:
Open the Snapchat app on your phone
Tap on bitmoji that appear at the top left side of your phone's screen.
On the next screen, tap the gear icon on the top right side of your screen
Scroll down and select permissions under the Account Actions.
Enable all the permission. 
Doing this will allow Snapchat to use all the features in your phone.
Check your internet connection
Snapchat is an app that runs on the internet. It might sound obvious, but make sure you have a good connection to the internet. If you are using Wi-Fi or cellular data, check your internet speed. If you're running on a slow network, switch the network or try doing some troubleshoots.
Check Snapchat servers
Snapchat is one of the most reliable services. If you are having a problem accessing it, the issue is probably with your phone or network, not snapchat. But no service can be 100% perfect every time, so check if snapchat is experiencing an outage. You can check it by simply by isitdownrightnow.
Clear cache
If you are having problems using snapchat and it is not properly working or sometimes snapchat won't let you open the app. Your app might have corrupted data. To fix this, you have to clear the cache. You can clear the cache in simple steps:
If you are an android user:
Go to the settings app.
Tap Apps & Notifications.
Tap See All Apps and find Snapchat.
Scroll down, Tap Storage & cache.
Tap Clear Cache.
If you are an iOS user:
Open Snapchat and tap your Profile Picture.
On the next screen, tap Settings Gear on right top.
Scroll down and under Account Actions you will find Clear Cache.
Tap on it and hit Clear to clear cache of it.
Update the app
Sometimes updating the app to its newer version could also fix the problems. So, to update the Snapchat app, you can follow below mentioned methods.
If you have an android phone:
Go to the Google Play store.
Search Snapchat 
Tap on the app
Select the green button that reads Update.
That will install the latest version of the snapchat app.
If you are an iPhone user:
Go to the App Store.
Search snapchat. 
Tap on update.
That will install the latest version of snapchat on your iPhone. 
Read Also: