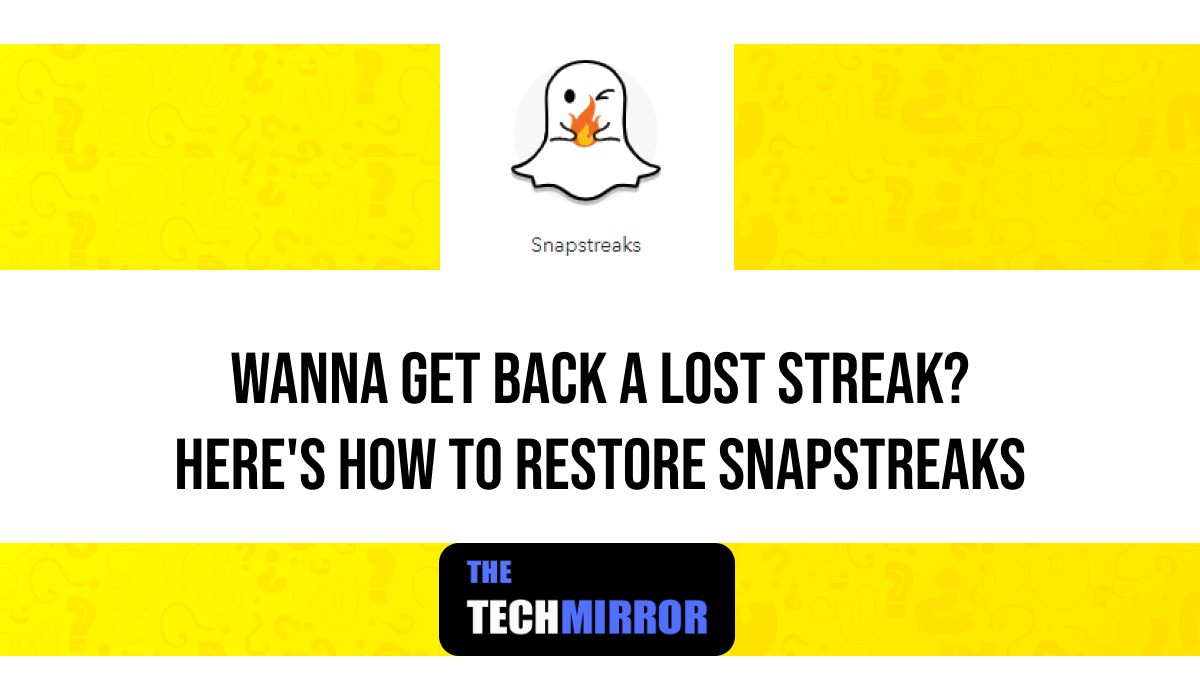 Snapchat is a well-liked and pleasurable social media platform that lets you chat with friends, dig in, discover and view worldwide stories. This media sharing messaging app allows its users to exchange snaps which go off once viewed. However users can reload a snap only for one more time within 24 hours. Sending and receiving regular snaps with your friends using funny and cool Snapchat filters, lenses as well as other effects results in Snapstreaks. But, what if you lost one of your most valued Snapstreak with a dear friend? Are you looking for the way to somehow restore Snapstreak? Leave all your worries aside and read through this blog post to an answer for your querry.
Before knowing how to restore Snap streak, let's first understand how Snapchat streak works and what benefits you get out of it.
What is Snapstreak?
Snapstreak is a commitment on a daily basis to share fun snaps between two Snapchat friends. Snapchat streak takes place when two friends send direct snaps (i.e.; photos or videos) to each other for three days consecutively.
As soon as you get a Snapchat streak, a fire symbol will appear next to your name and the person with whom you were chatting. It also displays the number indicating for how long you both have been maintaining it.
How Snapstreak Works?
It is important to note that Snapstreak is a result of mutual efforts and timely reciprocate to snaps shared, thus it can't be created alone. As most of the times, Snapstreaks are intentional (having a mutual agreement with friends) rather than natural, you must work it out by talking with some of your friend to have a Snapstreak.
A streak starts when you exchange snaps with a friend every 24 hours for three days in a row. As a requisite for having a streak is that you must send a snap to your friend and they should respond within 24 hours. This must continue for three days.
At the end of the third day, a fire emoji will emerge against both of your names and also the number of days for which the streak lasted. For example, if you have number '12' next to your names, it means you both have Snapped (not chatted) back and forth for '12' days.
Note: You must keep in mind that for Snapstreak to occur the shared snaps shouldn't include snap from memory, video calls and chats. Snaps sent with Memories or Spectacles content do not count towards Snapstreaks.
Why Snapstreak Matters?
Snapchat frequently rewards Snappers who are active and outshine other users on one or the other parameters. The rewards vary and include unique emojis. The benefit of maintaining a Snapchat streak is that is adds to your Snapchat score.
Why You may Lose a Snapstreak?
There may be different reasons as of why you may lose a Snapchat streak. The most basic and practical reason of them is when your friend didn't respond within 24 hours. Apart from that you are likely to lose your snap streak due to some network problem or connectivity issue. In addition to it a bug within the app may also result in a loss of Snapstreak.
For whatever reason it may be, if you have lost Snapchat streak, and you want to get it back?, then below mentioned steps can help you restore Snapstreak.
How to Restore Snapchat Streak?
Snapchat, as a rule restores a lost Snapstreak when you contact the support team and requests them for the same giving an appropriate reason behind the loss of your streak. All you need to follow these steps:
Step one
Navigate to the official website of Snapchat, Go to the support page and then click on Contact us.
Step two
Select "My snap streak has disappeared" from the list of potential problems displayed on the page. Soon after that a contact form will appear on the screen where you will be required to enter the necessary details, including your mail address, username, and phone number.
Step three
You will also have to provide details related to the streak, like how many days the streak lasted, why you lost it, the exact day you lost your streak, etc. Make sure to provide as much information as possible and also to be honest at the same time.
Step four
Submit the form and then wait for a reply. If Snapchat finds that your reason is valid, it will restore your Snapstreak.
Conclusion:
Practically it is possible to restore Snapstreak which you have lost for some valid reason. To get the lost streak back all you need to do is contact the support team of Snapchat, be honest to them in telling why you lost your streak and then wait for them to reply keeping your fingers crossed.
Read Also:
Unable to Login? Know How To Change Password On Snapchat
What does S/U mean on Snapchat? : A briefing on the recent Snapchat Acronym