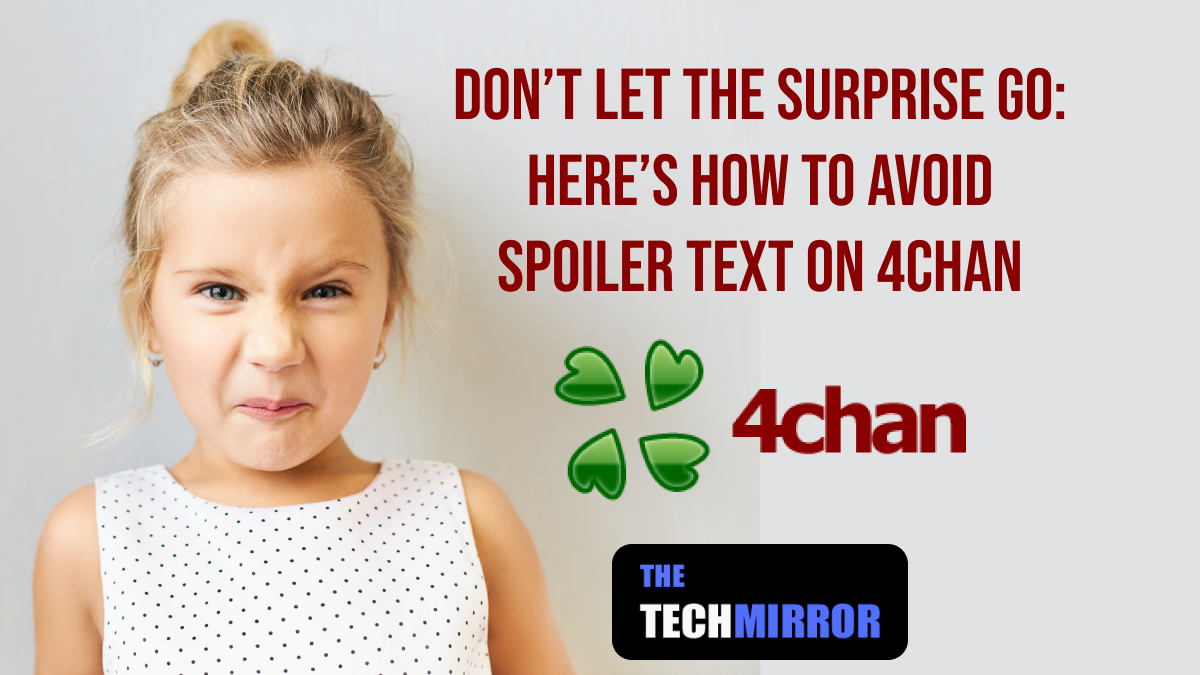 4Chan is an image-based platform where anybody can share images and post comments anonymously. This is widely used as a bulletin board to give a summary of Movies, TV shows, video games, books and so on. Nevertheless, to maintain the interest of the audience you must avoid giving away key plot or central idea. To do so Spoiler Text 4Chan is what you should be looking for. If you wonder how to avoid spoiler text in your description about the particular subject matter, here's a guide to serve your purpose.
But before we get started let's have a brief introduction to 4Chan.
About 4Chan?
4Chan is a simple image-based that has been introduced nearly two decades ago by an Englishman named Christopher Poole in 2003. Described as a hotbed of Internet subculture this site ranks among the most influential websites on the Internet. It hosts dedicated bulletin boards to wide range of topics, including anime, film, music, video games, events, sports, fitness, politics, and alike.
Spoiler Feature on 4Chan:
If you want to conceal the key points on 4Chan message boards, you can use the "Spoiler" text. 4Chan has this special feature called "Spoilers" tags to keep the plot points hidden. As there are certain points which can spoil the surprise for the users pertaining the film, game, or book who have not yet watched, experienced or read it. So, in order to uphold the curiosity some texts must be covered with black. The black-colored background behind the words ensures that the text is not readable to anyone.
As the black backgrounds supported by black texts don't allow the users to read the 'spoiler' messages. If you still want to read it, then you have to highlight each word unless they are unreadable.
How to avoid Spoiler Text on 4Chan:
It is essential to use black text for the spoiler in discussions because if you end up reading one of these spoilers it kills all your excitement. 'Spoiler' tags can be used by anyone. These tags create a black background behind specific words and phrases concerning key plot points. Following steps are to be performed to add Spoiler tags on 4Chan:
Open your preferred web browser and navigate to the 4Chan website.
Go tothe 'Boards' listing area and select the board.
Find and click the "Reply" option provided next to the image or comments in the post.
Fill in all the necessary details in the fields, 'Name', 'Email' and 'Subject'.
Type 'Spoiler' in the comment section to open the spoiler tag.
Then here enter the words you want to appear as black text on a black background.
Use [/spoiler] to close the spoiler tag.
Click on 'submit' button to wrap up the process.
That is it. Spoiler text will now be hidden by black text, placed on a black coloured background.
Summing Up:
Hope this article will help you in looking or avoiding spoiler text on 4Chan. If you've already gone through the movie or book and don't care anymore about the spoilers, you can simply highlight the hidden text to see and read it. This is how you can look (or avoid) spoilers on the 4Chan website.
Read Also:
How to Fix Vizio TV Black Screen of Death
Experience the New Age Entertainment: Get Hulu on Sharp Smart TV