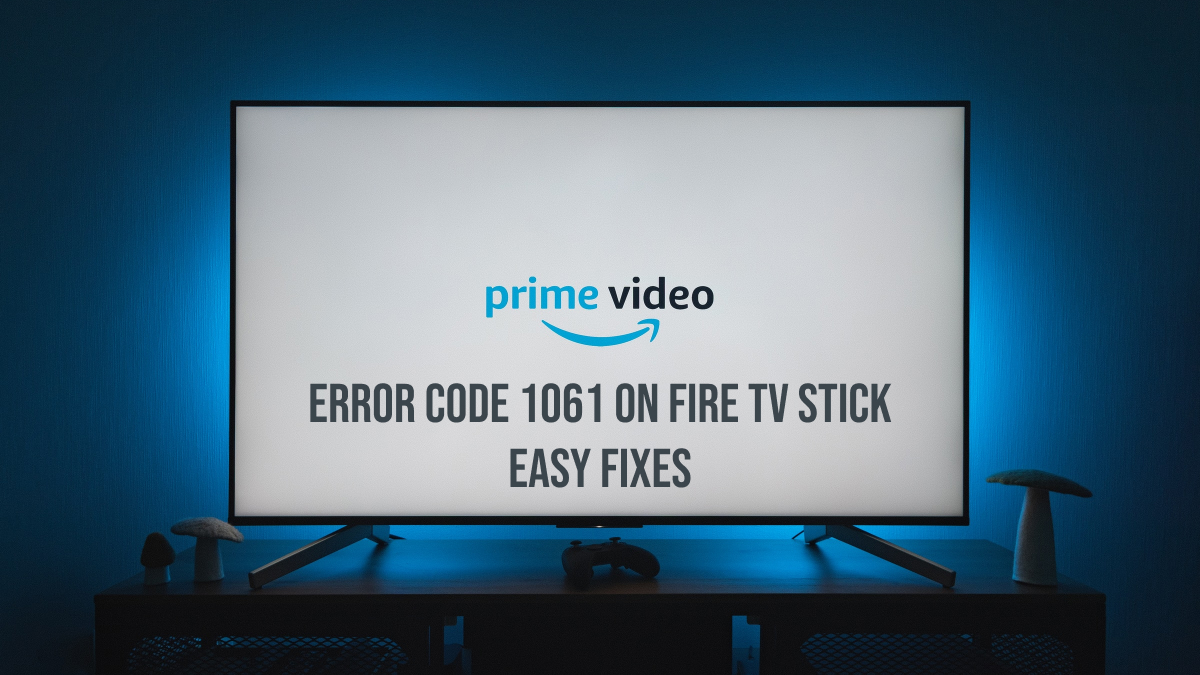 There are multiple streaming devices available in market that allows you to stream Prime Video on your TV. But, Amazon's Fire TV devices are mostly recommended by everyone. Their Fire TV line up includes Fire TV Stick Lite, Fire TV Cube, Fire TV Stick 4K and the Fire TV Stick. If you own any of them and facing Prime Video Error Code 1061, here is everything you need to know about it along with the easiest fixes for 2023.
What is Prime Video Error Code 1061?
Prime Video Error Code 1061 on Fire TV devices usually comes across when there is some issue with your network connection. When this issue occurs, a black screen with message "Home is currently unavailable" OR "Could not connect to Home" will appear. The real culprit could be a low or no signal from your Wi-Fi router or weak bandwidth strength from wired connection. Troubleshooting this error is really easy and below are the ways to fix this issue in several minutes.
How to Fix Prime Video Error Code 1061
1. Restart the Device
Before trying anything, you should try restarting the device. Because most of the problems disappear after a restart. Completely exit the prime video app and restart your Fire TV Stick and try opening it again. If you're still facing the issue, lets try the next step.
2. Troubleshooting the Internet
Below we've mentioned some methods to troubleshoot the internet connection issues.
First check if your internet is working or not using another device like mobile or laptop.
Check if you're getting proper signals in the area where you've Fire TV device.
If you're using Wi-Fi connection, try switching to ethernet or vice versa.
Try restarting your modem.
If this still doesn't fix the problem, deregister the Fire TV device from your network and register it again.
Also don't forget to check if the Fire TV device is on block list of your network.
3. Force Stop Prime Video App
If you're continuously facing the Prime Video Error Code 1061, you can also try to force stop Prime video and Fire TV default video app on Fire TV Stick. Here is how to force stop an application on Fire TV.
Go to Setting and choose Applications on Fire TV Device.
Now head to Manage Installed Applications and select Prime Video app.
Select Force Stop.
That's it! Now check if problem still exists or not.
4. Clear Data and Cache of Prime Video App
Another thing you can try is clear data and cache of Prime Video App. Here are the steps that you need to follow.
Head to Settings on your Fire TV device.
Choose Applications.
Go to Manage Installed Applications and Select Prime Video app.
Select the options Clear Data and Clear Cache.
Now restart your Fire TV Stick and check. The error may have been fixed now.
Re-Install Prime Video App
A small bug or some misconfiguration could also make the application to not work properly. You can easily uninstall the previously installed app by visiting Manage Installed Application section.
Once you're done uninstalling Prime Video, go to the app store and re install a fresh version of Prime Video App.
FAQs
What is Amazon Prime Video error code 1061?
Amazon Prime Video Error code 1061 is usually experienced by Fire TV users. It occurs because of networks connectivity issues. You can get the fix from this issue on this article.
Read Also :
Amazon Prime Video Unavailable: Here's How To Make It Work
Amazon Prime Subtitles Not Working: Here's How To Fix It & Play In Sync