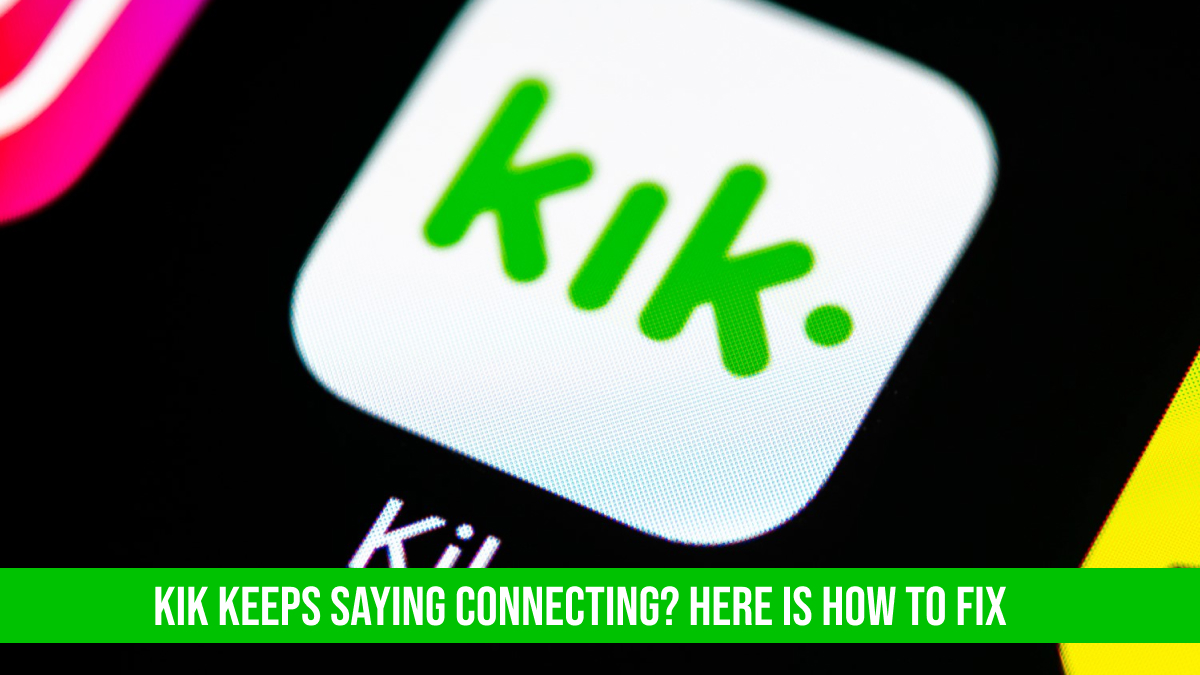 Kik is an instant messaging app that allows you to send direct messages to your favorite people or join group chats. It is like just WhatsApp and other instant messaging app but what makes it different is, you can join public groups on Kik. You can search for groups with topics you're interested in and become a member of group and chat with people who are unknown to you. The messaging app is available for both android and iOS. It is a freeware app that was developed 11 years ago and is still favorite of many people. If you are facing the Kik Keeps Saying Connecting issue in 2023, here is how to fix it.
Why Kik Keeps Saying Connecting?
It is a common error that multiple users have faced in past years. This usually occurs when your device isn't connected to a stable network connection. Other reasons that might cause these issue are incorrect date or time, corrupted file, faulty cache files or an outdated app. Below we will give you a guide to troubleshoot all these errors with ease.
How to Fix Kik Stuck on Connecting?
First thing that you should try when your Kik gets stuck on connecting is, check if your internet is working properly or not. To fix an unstable mobile data network, try turning the data or airplane mode on and off. If you're on a Wi-Fi network, try switching off your router for a few minutes and turn it back on. This will sort your problem. If you're still having trouble connecting to the app, try the below fixes.
Check your Date and Time Setting
When your date and time settings are incorrect, the Kik app might have difficulties connecting to the server. This issue can be fixed by correcting the date and time setting of your device. We recommend you to turn on "Set Automatically" for date and time settings. If you already have it turned on and still the date and time is incorrect, turn set automatically off for a couple of minutes and turn it back on.
Restart the Device
Once again we will say that restarting the device is remedy to each and every problem that occurs in a phone, tablet, PC or a laptop. It automatically fixes glitches, clears the background apps and makes things smooth again. Try restarting your phone and hope for the best.
Clear the Cache
Cache files are important as they help operating system to load apps faster. But, too many cache files with a bug could also make things worse. When Kik keeps saying connecting, you can clear the cache of Kik to make it work again.
To Clear Cache follow the below mentioned steps.
Go to Settings of your Android Device.
Select Manage Applications or Applications or Apps
Look for Kik and Tap on it
Now head to Storage Usage
Under the storage usage tab, you will find clear data and clear cache. Choose Clear Cache.
Bonus Step : You can also try clearing the data to fix the issue.
Update Kik
When an application stop working for too many people, they report the issue to developers. Also, testing department keeps an eye on bugs and errors an application is causing. So, they usually push an update after fixing the bug and adding some enhancements. So, check the play store or app store and if there is an update available, install it and your issue will be fixed for sure. If you're still having trouble, you can also report it to Kik team.
Reinstall the App
Sometimes restarting the device, clearing cache doesn't work. It could be because files inside the app might have got corrupted. To fix this, Uninstall Kik from your Android or Offload/Remove it from the iOS and reinstall it.
Issues at Kik End
If nothing fixes your issue, maybe the Kik servers are facing some outage. Ask your friend if their Kik is also working or try it on another phone. If it doesn't work for anyone and the problem is at Kik side, you can not do anything to fix it. All you need to do is, sit back and relax until they make the bug go away.
FAQs
Why is my Kik message not sending?
If you see three dots, it means that Kik isn't connecting to server. It could be an issue with your internet connectivity.
Read Also: