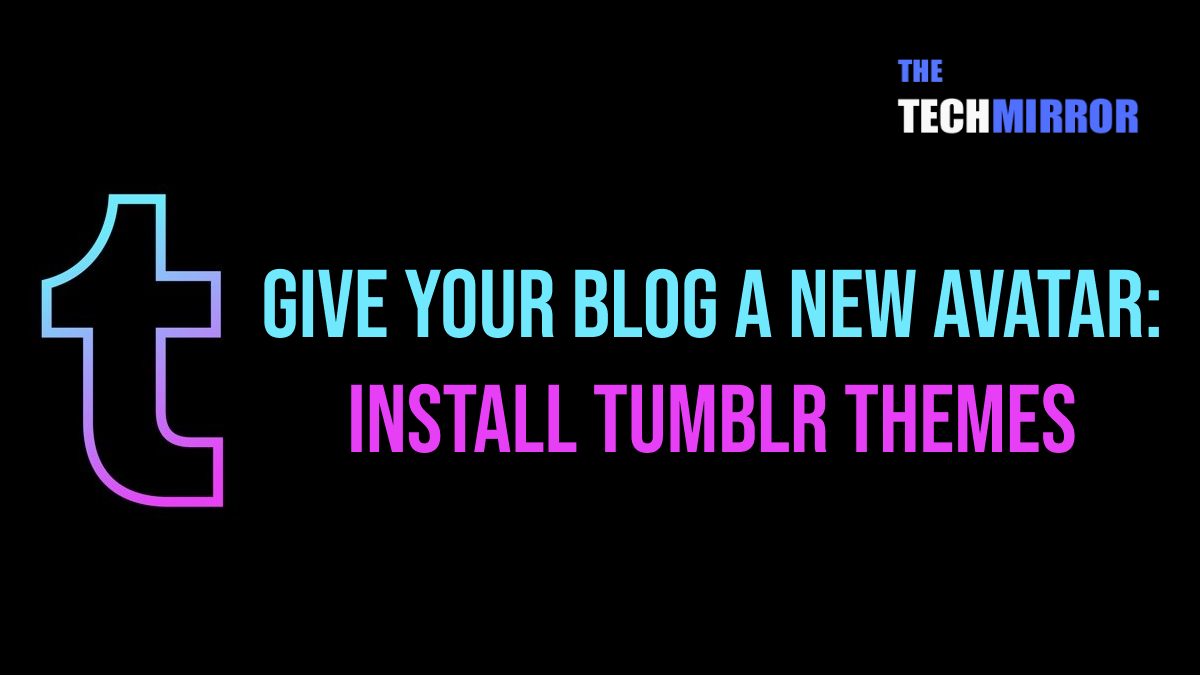 After the twitter tragedy, nowadays everyone is switching to different social media platforms and Tumblr is also one of their preferred choice. Want to give your Tumblr blog a personalized look? Then you must ensure that your theme code makes your blog more striking. Though you can easy pick a theme of choice from hundreds of beautiful themes available at Tumblr theme garden, or else install a one from various open sources on internet. To your surprise, installing a theme on your Tumblr account doesn't necessarily need you to be an expert in coding rather it just requires a basic overview of how to copy and paste theme code. To help you serve the purpose this article will enlighten you further on how to install Tumblr theme code in 2023.
About Tumblr Themes:
Tumblr themes are an all important element of blogs. The platform offers thousands of inbuilt and ready-to-use themes in its theme garden. While these themes work well for most of the blogs certain blogs such as a business or an ecommerce blog demands for more personalized themes other than the ones accessible on theme garden.
In these cases you need to install Tumblr theme codes from hundreds of custom themes which are readily available on the internet. Some of them are free of charge while others are paid. Here's how you can get custom themes for your Tumblr account.
Installing Custom Tumblr Themes:
Although getting themes from the Tumblr theme garden is simple, installing a personalized theme seems to be a bit difficult. Luckily, it isn't that challenging as Tumblr users don't have to do much of HTML editing in order to make use of custom themes.
As the custom codes are written in HTML text format, installing theme codes just need you know how to copy-paste the theme code and you are ready to go at it.
While a few Tumblr users may have working knowledge about the use of HTML and for the one who are completely raw can also accomplish the task by performing under-mentioned steps:
How to Install a Theme Code to Tumblr
Step 1: Getting the Code
The first and foremost step is to get a desired Theme code. Tumblr theme codes are available at various open sources in many different ways. They may exist and circulated in form of a text file or hosted online on sites like Pastebin.
Step 2: Copying the Codes
The next step you need to undertake is to highlight all the codes in the website or file. If you are using Windows, go with the shortcut CTRL +A, and if you are using the Mac OSX, the shortcut CMD+A, to everything gets copied.
After that you need to copy all the codes. Make a right-click on it and select the copy option, or just use the shortcuts CTRL+C or CMD+C for Windows and Mac respectively.
Step 3: Inserting the Customizer
Now log in to your Tumblr account by entering valid credentials. Click on the human icon and then select your blog from the column provided at the right hand side of the screen. Click on 'edit appearance' followed by the edit theme option.
Step 4: Editing the HTML
Once you landed on the new page, click on "Edit theme". Find the 'edit HTML' button provided on the left side of the screen, click on it to get to your blog's current theme code.
Step 5: Pasting the New Code
Paste your selected theme code to get it replace with the existing one. To do so you can also use the shortcuts CTRL +V in Windows and CMD+V in Mac OSX. (Make sure to delete all the texts existing in your blog's present coding.)
Step 6: Updating for a Preview
To get a look at the proposed changes post applying the new theme, select the preview option.
Step 7: Saving the Changes
Lastly, click on the Save button to reflect changes pertains to the new custom theme.
To Sum It Up
Installing Tumblr theme codes is not that complex task, as you might be thinking of. You can do it by yourself with the help of steps mentioned above.
Hope you find this article useful. For more of such tech-based articles keep visiting TheTechMirror.
Read Also:
Stay safe from fake profiles: Know how to Block Someone on Tumblr App
Best ways to download music and audio from Tumblr
How to Fix Tumblr Videos Won't Play